Wysocki, Sexton just behind after a flurry of moving day action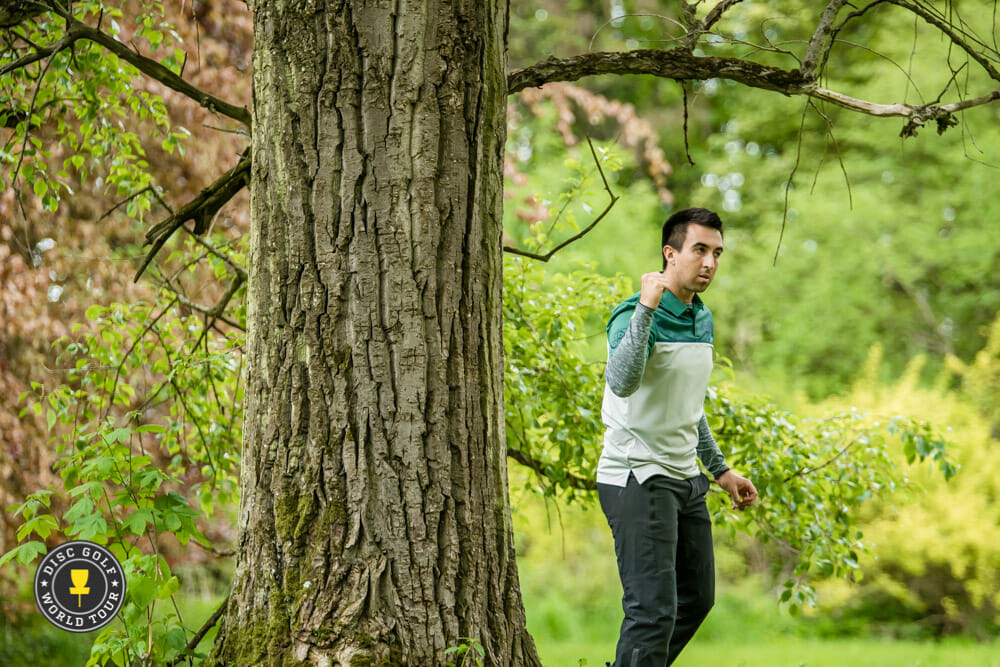 As he has demonstrated numerous times in the past, Paul McBeth showed yesterday that a four-shot deficit after the first round of a tournament is nothing to fear.
McBeth's round two 15-under par 52 not only matched Ricky Wysocki's Konopiště Open course record from the prior day, but also vaulted him into a one-shot lead over his counterpart with a 26-under par 108 total. Wysocki, meanwhile, struggled to a 10-under par 57 to bring him to a 25-under par 109 overall, while Nate Sexton improved on his round one score with a 13-under par 54 to land in third place with a 24-under par 110 total. Simon Lizotte rounds out today's final round lead card after his own 10-under brought him to a 21-under par 113 overall, while Teemu Nissinen climbed six spots on the leaderboard and rounds out the top 5 alongside Luukas Rokkanen with an 18-under par 116.
While McBeth has had plenty of hot rounds in recent memory, rarely have they dovetailed with a low performance from Wysocki. McBeth's four-shot improvement over round one saw him cleaning up the inaccurate tee shots that plagued him Friday, while Wysocki's five-stroke swing in the opposite direction was marked by a decline in accuracy.
"I was getting all my drives off the tee," McBeth said. "I just drove it really well and then made all my putts and had a few bonuses outside the circle."
Indeed, McBeth's day was highlighted by a field-best 12 green hits and a 100 percent inside the circle putting accuracy. Those statistics led to 12 of the birdies he carded on the day, while his one bogey — he found the OB water from his second shot on the 201-meter, par 4 hole 12 — was offset by yet another eagle on the par 5 hole 11.
Wysocki, meanwhile, failed to repeat his sterling round one performance, and instead he found himself out of position multiple times off the tee. On hole 2, his upshot from a knee caromed off a tree before he took a par, and he suffered a similar fate on hole 5. On hole 14 his drive drifted too far right, leaving him with a roller for a second shot and an overhand for his third. His green hits percentage — which led the field during round one — plummeted to 50 percent.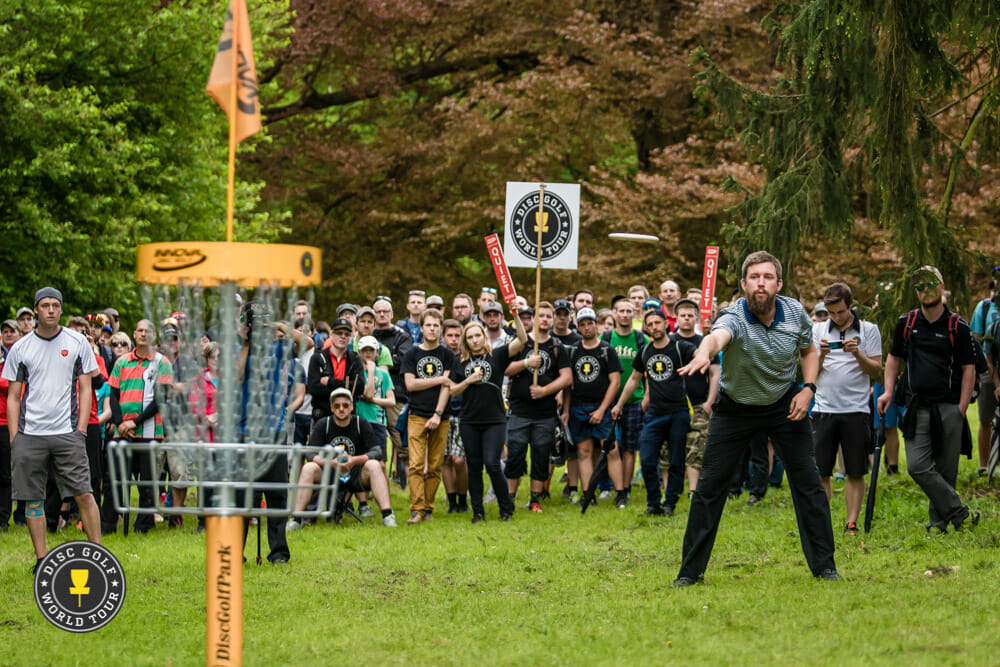 Like McBeth, Sexton also made up for some round one difficulties by cleaning up his performance on the back nine. He birdied seven holes after the turn, including five straight to close the round, to improve by two strokes over his Friday showing. His 55-foot birdie putt from the right side of hole 18's fairway — "The last putt I hit was huge," he said — was one of the highlights of the round and brought him to a total of five makes from outside the circle.
"I think I just got off the tee a little bit better, focusing on committing to when I do throw a Destroyer to making sure I get some power behind it," Sexton said. "I made some really good low ceiling shots. When I did get off the fairways I made some good saves on 14 and 15 from underneath the trees."
Those were the same low ceilings that often were Wysocki's undoing throughout the round. And though Sexton said the rough is more difficult on other courses, he said the Konopiště Castle Park's length made fading off the fairways particularly punitive.
"Considering you still have probably 600 feet to go, anything that's hindering your ability to put a full power shot is a killer out here because the distance is just so great," Sexton said. "While the rough isn't all that thick in most places, just because you now have to make a weird shot or don't have good footing — that's enough to take birdie out of the equation sometimes because these holes are so long."
Lizotte's day, meanwhile, ended in stark contrast to his opening round. Coming off a Friday showing in which he hit everything inside the circle and three putts from outside, he closed out Saturday's play by missing a 15-footer on hole 17 and three-putting on hole 18. Naturally, he was dismayed with the finish.
"The weather was just gorgeous, so it was fun — it was a fun round, good vibes," Lizotte said. "But a tough finish leaves such a bitter taste for the rest of the day. I just wanted to punch myself in the face after that. That was my true feeling."
As he checked the leaderboard after the round, Lizotte sounded resigned to fourth place, but left the door open for a glimmer of hope coming down the stretch.
"If I look at the scores, I have three strokes until fifth [place] and three strokes to third, so I've got to kill it to even move at all and the people behind me have to kill it to move, as well," Lizotte said. "So I think I'm kinda stuck at fourth right now, which is horrible. I'm ending my top 3 streak, but then again maybe I'll play great tomorrow. Who knows?"
Sexton, meanwhile, said he was focused on putting in another strong performance and wouldn't necessarily be worrying about trying to chase down McBeth.
"I'm not even concerned with what he does, really," Sexton said. "If he plays that good again it's gonna be really hard to catch him. I can't do anything about that. Golf is a game where trying harder doesn't really work. You just have to play your game. If trying harder worked, I'd do it every time."
McBeth, for his part, said he would be aiming for a score between his first two days' performances as he looked to salt away sixth victory of 2017.
"It's just one of those things where I know if I play my A game I won't be beat," McBeth said. "It's just going out and playing well. If I shoot my A game, I don't think there's anyone that can touch me."
The lead card tees off at 2 p.m. local time, with live scoring and highlights available at the Disc Golf World Tour's website.