With a deep field and dastardly weather, the second stop on the PDGA National Tour looks to be an unpredictable affair.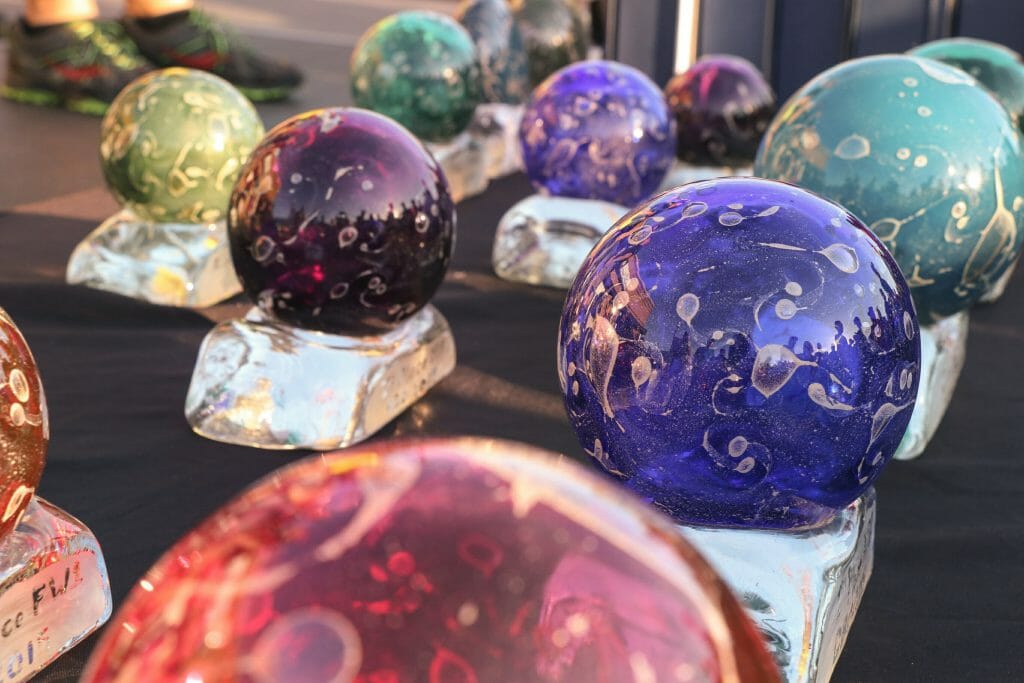 The PDGA National Tour is back after a long hiatus with its regular stop in Emporia, Kansas, for the Dynamic Discs Glass Blown Open. This is the third straight season the GBO is a National Tour event, and it's been only eight months since the PDGA Professional Disc Golf World Championships and the top pros were in the eastern Kansas town.
With both the Open Men's and Women's fields chock full of talent, we'll be treated to two stellar feature cards for the opening round today. With multiple broadcast crews on site producing live and next-day footage, all the fans at home can feel just as close to the action as the 1,095 competitors in the professional and amateur events that take place through Saturday.
Storylines
It's not just the National Tour that is back on the disc golf tour scene: Two of the game's most prominent faces are making a return to top-level competition, as well. Defending PDGA World Champion Valarie Jenkins and three-time PDGA World Champion Nate Doss are back after a busy few months creating another collaboration beer in Wisconsin, stopping by Washington D.C. for the Craft Brewers' Conference, and teaming up for another beer with Emporia's Radius Brewing Company.
With all that time away from top-level disc golf, it's hard to say how the pair will do compared to the rest of the field. Jenkins was the last woman to win in Emporia, getting the "surprise" Worlds win last year, and she's won this event before, when it was an A-Tier in 2011. It shouldn't shock anyone if she does that again and upsets the GBO streak Catrina Allen and Paige Pierce are on.
Since 2012, Allen and Pierce have alternated winning this event, with Allen taking the first one and both having won it since its status was moved to the National Tour level. If this back-and-forth is set to continue, that means it's Pierce's turn, and would be quite the figurative "homecoming" for her considering her recent move to the Emporia-based Dynamic Discs team.
A Pierce win — or a victory by anyone other than Allen — would also mean the GBO would continue its Open Women's tradition of having no back-to-back winners; in the fourteen years of the event, only Pierce and Allen have won the event more than once. In the Open division, a back-to-back winner has only been crowned once: Will Schusterick, in 2012 and 2013. The only other player besides Schusterick to win a GBO more than once is local hero Eric McCabe, who won his first when the event was a B-Tier in 2005 and his last in 2010.
With Jenkins' World Championship win and Cam Todd's come-from-behind victory at last year's GBO fresh in everyone's mind—not to mention the expectation of inclement weather to mix things up even further—this is one National Tour event where, even if there is a clear favorite, the rest of the competition won't be that far behind. With so many different winners over the event's 14-year history, don't be surprised if an unlikely name rises to the top.
Venue and Courses

Eagle Disc Golf Course at Olpe Lake (Thursday): Par 60, 8,315 feet – The first round will be played at the championship level Olpe Lake course. The long track features an abundance of water in play as it runs counter-clockwise around the lake. You can read about more the course here and see a video course review here.

Jones Park East (Friday): Par 59, 7,710 feet – The second round features the shortest of the three courses in a more traditional park-like setting. There are some eagle-able par 4s here, so get ready for some highlights. Check out the video course review here.

Emporia Country Club (Saturday): Par 63, 9,712 feet – Just as it did for last year's PDGA World Championships and Glass Blown Open, the longest course in the Emporia area will play host to the final round festivities. There's that island green on hole 16 and a massive par 5 to end things on hole 18, so always make sure to watch until the end. For more information about the Country Club course and a video review, look here.
Past Glass Blown Open Winners
| | PDGA Tier | Open | Open Women |
| --- | --- | --- | --- |
| 2022 | DGPT | Ricky Wysocki | Kristin Tattar |
| 2021 | NT | Paul McBeth | Hailey King |
| 2020 | DGPT | Paul McBeth | Paige Pierce |
| 2019 | NT | Paul McBeth | Catrina Allen |
| 2018 | NT | Eagle McMahon | Paige Pierce |
| 2017 | NT | Paul McBeth | Paige Pierce/Hannah Leatherman |
| 2016 | NT | Cam Todd | Catrina Allen |
| 2015 | NT | Paul McBeth | Paige Pierce |
| 2014 | A | Simon Lizotte | Catrina Allen |
| 2013 | A | Will Schusterick | Paige Pierce |
| 2012 | A | Will Schusterick | Catrina Allen |
| 2011 | A | Cale Leiviska | Valarie Jenkins |
| 2010 | A | Eric McCabe | Liz Lopez |
| 2009 | A | Nate Doss | Robin Reimer |
| 2008 | A | David Hemmeline | Liz Lopez |
| 2007 | A | Eric McCabe | Jennifer Allen |
| 2006 | A | Kevin McCoy | Angela Tschiggfrie |
| 2005 | B | Eric McCabe | Tavish Sanders |
| 2004 | B | Daniel Stacy | Terri Clark |
| 2003 | B | Ron Convers | Shelly Bunch |
Extended Forecast
Thursday: A few afternoon showers may put a damper on a relatively cool day for late April. With gloomy skies overhead, high temperatures are only expected to be in the low to mid 60s.
8:30 AM: Partly cloudy and 42°F. Light southwest wind.
3:00 PM: Mostly cloudy with showers possible and 62°F. Southeast wind around 10-15 mph.
Hole To Watch: Southeast wind on day 1 may cause a little chaos as players tackle Eagle Disc Golf Course at Olpe Lake. With most of the course playing around Olpe Lake, any amount of wind will make things exciting. With southeast winds later in the day, players may face a headwind on the 800-foot hole 12. The approach shot to the peninsula green, in particular, may play directly into the gale, so it will be interesting to see how players navigate this tough par 5.
Friday: Friday may be the best weather day for the entire tournament. Rain chances should diminish as the sun rises, leaving Emporia with mostly cloudy skies. Those mostly cloudy skies should keep temperatures relatively cool once again as highs struggle into the mid to upper 60s.
8:30 AM: Mostly cloudy and 51°F. Light west wind.
3:00 PM: Mostly cloudy and 65°F. Northwest wind around 10-15 mph.
Hole To Watch: As the players take on Jones Park East on Friday, they should be greeted by a northwest wind of similar magnitude to Thursday. Northwest wind may cause a headwind on hole 11, a 395-foot par 3 with a lot of OB. Players must also throw to the left of a tree that protects the green of hole 12. The intriguing part of hole 11, though, may be the strip of OB water that stretches into the fairway near the green.
Saturday: Saturday looks to bring the worst weather to the Glass Blown Open. A strong low pressure system will be located just to the south of the region, bringing plenty of rain to the area. Some embedded thunder may also be possible during the afternoon. With a tight pressure gradient, conditions will also be quite windy. With abundant clouds, rain, and northerly flow, highs will creep into the 50s.
8:30 AM: Rainy and 41°F. Northerly wind around 15 mph with gusts as high as 25 mph.
3:00 PM: Rainy and 51°F. Northwest wind around 15 mph with gusts as high as 25 mph.
Hole To Watch: Do we even need to talk about the potential trouble on Saturday? The forecast seems pretty self-explanatory. No hole will play any easier due to the copious amounts of rain and strong wind. With that being said, hole 1 may play especially difficult. The iconic starting 555-foot hole, which tees off of a patio, will be throwing into a steady headwind. This may turn over discs into the OB located to the right of the fairway.
It should be noted that wind forecasts do not take into account the local topography of the courses being used in the Glass Blown Open. If there is quite a bit of elevation change some swirling of the wind is possible. However, given the prevailing wind direction a good guess could be placed on holes that may see troublesome winds.
How To Follow
As usual, the Glass Blown Open organizers are going all-out in providing extensive video coverage of the two top professional divisions. All three rounds of the Open lead card will be broadcast live by SmashboxxTV on their YouTube channel and simulcast on Dynamic Discs' YouTube channel and the Dynamic Discs Facebook page.
Post-produced video of the Open lead card will be provided by Jomez Productions, while Central Coast Disc Golf will be covering both the Open Women's lead card and the Open chase card each round. Live scoring will be available via PDGA Live, and keep an eye out here on Ultiworld Disc Golf for round recaps and other content throughout the event.