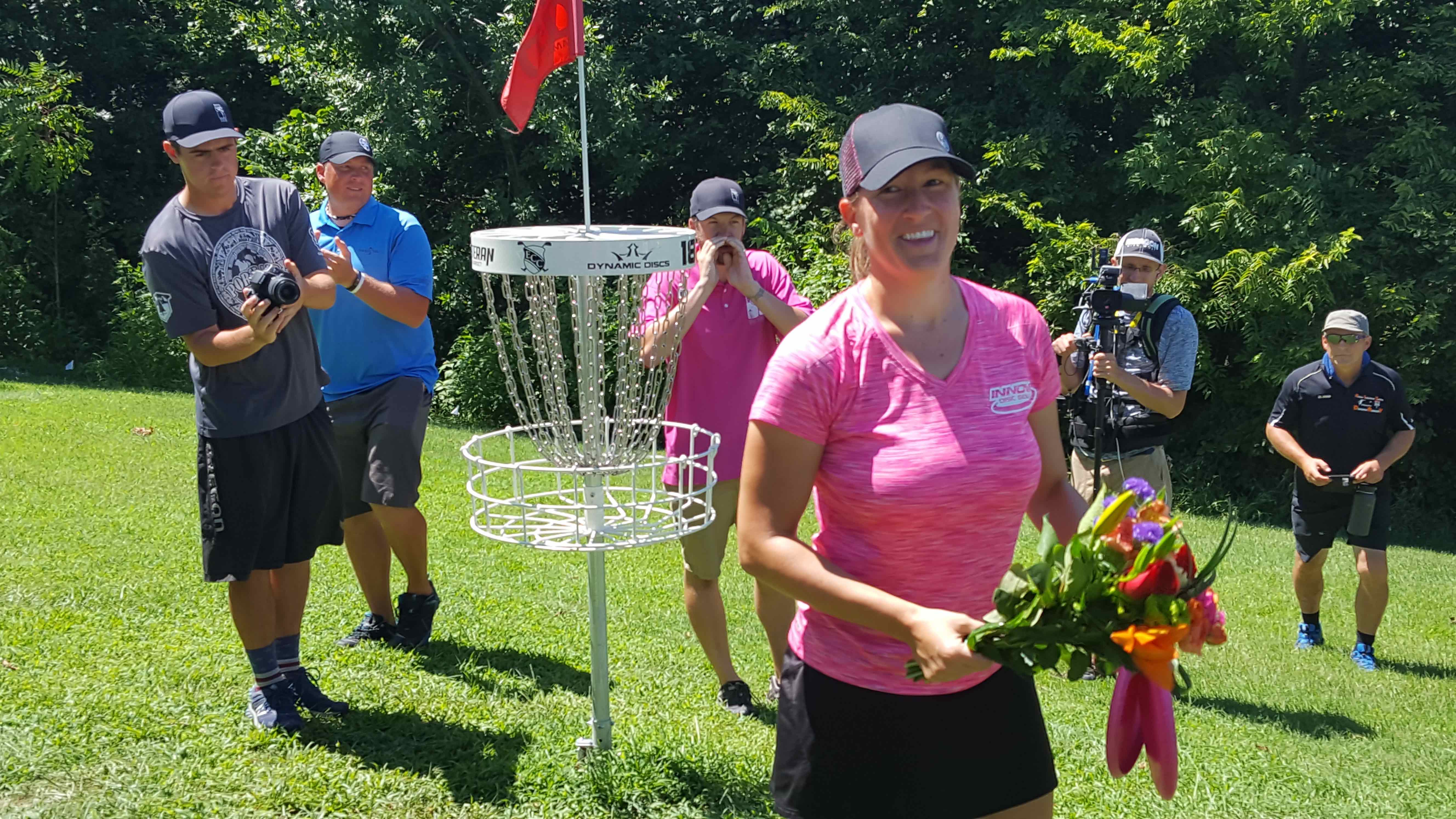 EMPORIA, Kan. — Steady as she goes.
A laser-focused Valarie Jenkins delivered another fine performance in the Final 9 at the Emporia Country Club on Saturday to capture her fourth World Championship and her first since 2009. As her cardmates collapsed around her in the final nine holes, Jenkins played the same game she played all week: smart, accurate, consistent golf.
"It feels incredible," she said. "It feels amazing to throw the shots that I wanted to throw, to make the big putts under pressure. And that's what it all comes down to. These Final 9s, you never know what's going to happen, with the crowds and all the excitement. So I was just really happy to play how I wanted to play."
Jenkins teed off on Hole 1 at the Country Club behind by a stroke. She had never led in the tournament, and was only tied for the lead for the first three holes of the very first round on Tuesday. Four holes later, she had a four shot lead and another World title in sight.
Earlier in the week, the tournament looked poised to be a battle between the worlds #1 and #2 players, Catrina Allen and Paige Pierce. Allen held a lead through the first three rounds, but collapsed in the fourth round as Pierce surged to the lead. Friday's semifinal round was the opposite: Pierce had a disastrous front nine and quickly gave back her lead. Allen and Pierce were tied at -10 heading into the Final 9. All the while, Jenkins was simmering just below the lead.
"I just kept steady, steady, especially with my emotions," she said.
She pulled even with Pierce on Hole 11 — the third hole of the final nine holes1 — with a 30 foot birdie putt. Allen was two shots back after bogeying Holes 1 and 2.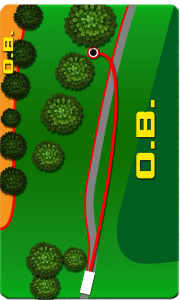 After all four players shot par on 12, the players stepped to the tee box on one of the trickiest holes on the course. Hole 13, with a large swath of out-of-bounds area to the right and a narrow green with OB to the left as well, looks simple but plays very tough. Jenkins was first to tee off and skipped off the OB sidewalk and safely onto the green. Her cardmates did not fair as well.
Pierce's drive didn't have sufficient hyzer and stayed about five feet OB. Allen's shot didn't make it inbounds either.
Since neither player ever had their shot come inbounds, both had to re-tee. Pierce stepped up first. Again, she sailed her drive too far right. She went on to take a quadruple-bogey 7 and fall four strokes back of Jenkins, who shot par.
"My first shot, I was definitely going for it, got a little too aggressive," said Pierce. "I knew either way it was going to come down to that hole. In my mind. That's a hole that I was worried about coming into the Final 9. I tried to be aggressive and get the two there and went out of bounds. And my second shot I was not trying to go for it, it just come out a tad bit late and went straight out of bounds."
After having trailed the entire week, Jenkins was now up four shots with four holes to play. Scores didn't budge on Hole 14. They didn't budge on 15. Four shot lead, two to play. But one of those two give a glimmer of hope to Pierce and Allen: the island hole.
Hole 16 features a true island green and a very real chance of going in the water. Everyone in the gallery was waiting for Jenkins to take the conservative lay-up approach and just take the par.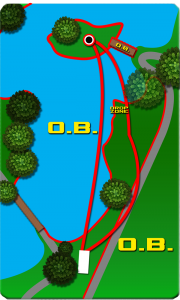 Instead, she made one of the iconic shots of the entire tournament, parking her tee shot 10 feet from the basket as the crowd erupted.
It was an unpredictably bold shot from Jenkins, who had played relatively safe shots the entire week. This was a Championship shot, a statement that the 2016 title would be hers. "I don't want to throw nervous shots," she said after the round. "I was confident that I could make it."
"I was thinking that she was going to lay up and I was going to ace run and try to get myself two strokes back right there," said Pierce. "And when I saw her with the mid in her hand, going for it, and making the island — that was not a Val move right there. That just shows how much she wanted it and how much she's been working for it."
Pierce and Allen both went out of bounds as they tried to run it for an ace. Jenkins tapped in a birdie.
As the gallery shuffled over to the 18th tee, there was a poignant moment as Pierce came up to Jenkins and embraced her on the bridge off the island.
"She goes, 'I know your family is going to come up and bombard you at the end, so I want to take the time and give you a hug and congratulate you,'" said Jenkins. "That was really cool."
With a six shot lead headed to 18, the final hole was merely a formality. Cheers swelled as Jenkins put in her par 4 and she was, once again, world champion.
"It's been a long time coming for Val," said Pierce.
---
They played Holes 1, 2, 11, 12, 13, 14, 15, 16, and 18 at the Emporia Country Club for the finals. ↩