Championship Saturday looms with potential for photo finish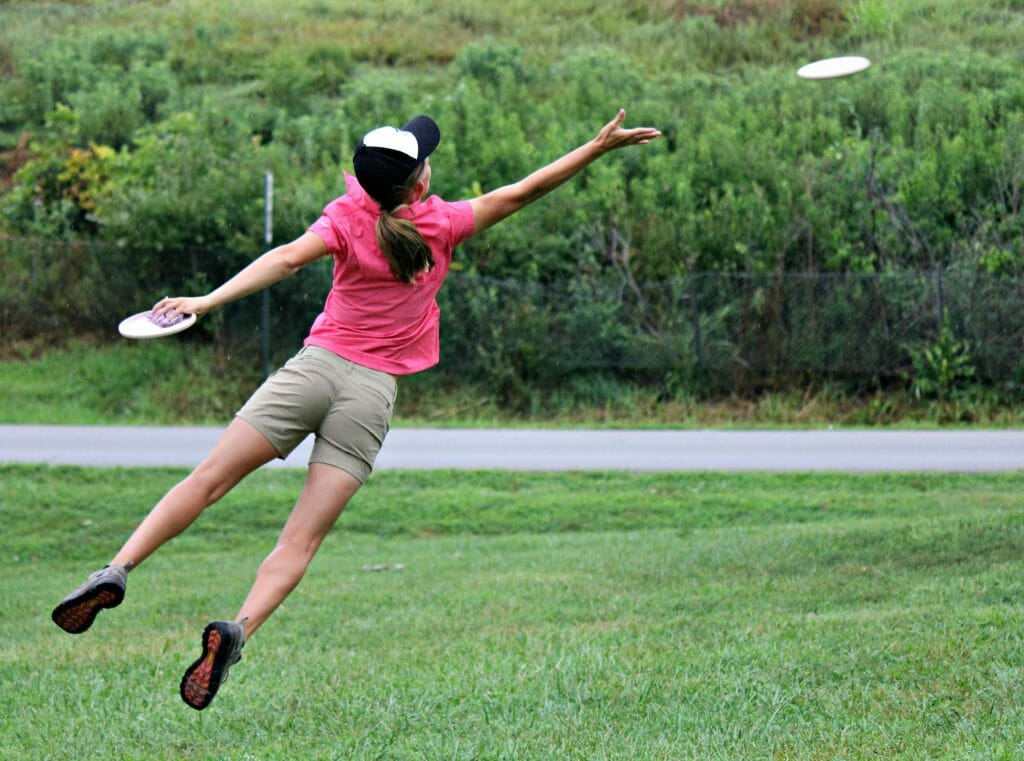 EMPORIA, Kan. — A rocky round for Catrina Allen, whose putting woes continue in Emporia, dropped her to third place at the PDGA Professional Disc Golf World Championships as Paige Pierce continued her strong play to take a four stroke lead into Championship Saturday.
Pierce's 6-under 55 sent her to 12-under for the week, four shots ahead of Valarie Jenkins, who matched Pierce with a 55 today. Allen, who began the round with a two stroke lead over Pierce, finished with a 2-over 63.
Despite two early birdies, Allen struggled to make putts beyond 15 feet and did not card a single birdie after Hole 4. As the round progressed, her drives started to deteriorate as well; she double-bogeyed Hole 9 after her tee shot bounced off a tree and out-of-bounds. It took two more approach shots to get into putting distance, but she missed a putt that could have saved a bogey.
As Allen floundered, Pierce and Jenkins flourished. Pierce hit seven birdies, including on six of the seven par 4s. Her lone birdie on a par 3 came on Hole 15, when she buried a 45 foot putt.
"There was a pretty steady wind so I was actually slightly running it but more or less just trying to get myself close," she said. "I kind of floated it. I didn't do my straight spin putt. I kind of lofted it a little bit and the wind just allowed it to carry into the basket."
She said she feels confident heading into Saturday's final 27 holes, but that she needs to continue to make quality shots.
"I feel decent, but I've still got a lot of work cut out for me," she said after the round. "But it does feel nice to have a cushion so I can make an error or two here or there."
Jenkins didn't have Pierce's distance off the tee, but her precise throwing got her plenty of birdies on the par 3s. She finished with six birdies and no bogeys, flashing consistency that she found part way through Thursday's round.
"Today felt good," Jenkins said. "Yesterday's round was really good as well, but today I cleaned up on some of the holes that are a little more difficult, a lot more OB. They're par 4s. I managed to get pars on them today, instead of bogeying them as I did yesterday."
Jenkins had some great moments today, including a nice shot out of the woods behind the pin on Hole 16 to nab a birdie and two great shots on Hole 18 to set up her only birdie on a par 4.
"Anything can happen with 27 holes to go," Jenkins said. "I'm feeling really confident — my putter, my drivers are feeling good."
The players change courses again tomorrow, heading back to Peter Pan Park for a second round1 starting at 8 a.m. Allen had the hot round there earlier this week, shooting a 5-under 52. Pierce and Jenkins shot 3-under and 2-under, respectively. After the round, the top four will play nine holes at the Emporia Country Club to close out the tournament.
"Tomorrow I'm going to try to get myself closer and give myself shorter putts," Pierce said. "I keep leaving myself 25 to 35 foot putts and those are kind of hard to do when you're nervous."
Jenkins said she is looking to be aggressive.
"I'm gonna go for it," she said. "There's a ton of birdie opportunities out there, so I'm not going to take it easy. I need to get those birdies to keep up with these girls, so I'm going to give it all I've got."
With the Open division looking less competitive tomorrow thanks to Ricky Wysocki's seven-stroke lead over Nikko Locastro, the Open Women's division could be the lead card to follow tomorrow in Emporia.
---
they played the tournament's opening round there on Tuesday ↩