An exciting Final 9 awaits this afternoon.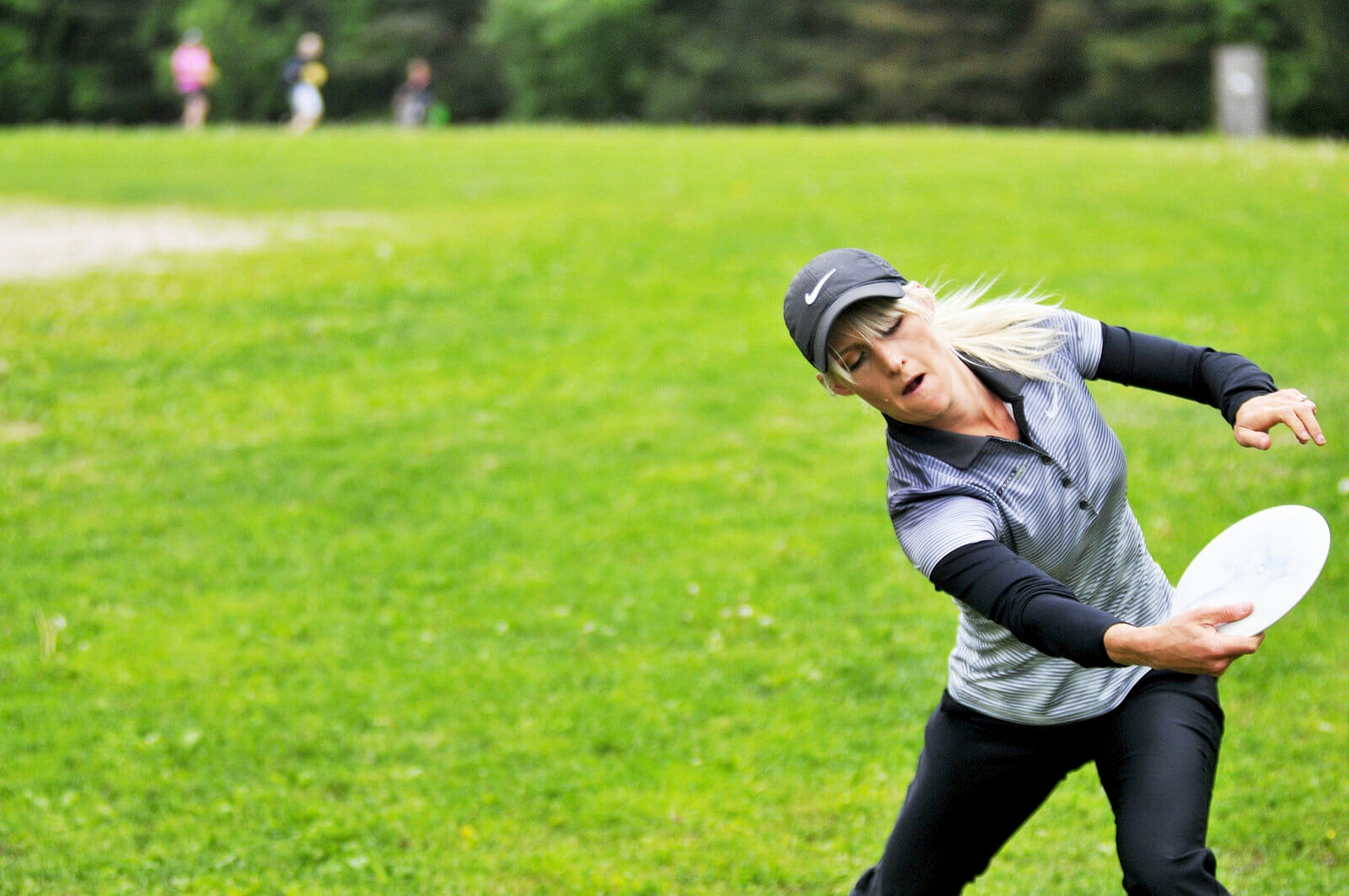 EMPORIA, Kan. — A disastrous front nine for Paige Pierce in the semifinal round of the PDGA Pro World Championships gave back her four stroke lead that she built yesterday and sends her into this afternoon's Final 9 dead even with Catrina Allen at -10.
Allen bounced back from her 2-over performance yesterday at Jones East with a 4-under 53 to surge back to a tie for the lead from her six stroke deficit after Round 4.
"I told myself yesterday, even though it was going really bad, that if I just kept pushing until the end that maybe [today] I would still somehow have a chance," said Allen. "And here we are."
Valarie Jenkins posted a solid 1-under 56 and is one stroke back with nine holes to play. She was so focused on her own game that she didn't even know where she stood on the leaderboard after the round. "All I know is I've got nine more holes," she said. "Anything can happen and I'm going to try my hardest to get my fourth [World title]."
Pierce, who finished with a 2-over 59, stabilized her play in the back nine and closed out strong, playing even with Allen and gaining a stroke on Jenkins. Her front nine, however, sunk her round.
After getting the card's only birdie on Hole 1, her tee shot on 2 sailed to the wrong side of the tree line and ended up in a bocce ball court, which was, somewhat randomly, carved out as an out-of-bounds area in the course rules. She took a bogey, giving back her shot gained on 1 immediately.
That seemed to set off a cascade of mistakes. On Hole 3, her tee shot hit a tree. Her second shot ended up in the bushes and she had to scramble for a bogey as Allen dropped in a birdie after parking her drive.
On Hole 4, Pierce's drive went to the right of the mando tree that required shots to go left. Her shot was dead even with the tree, so she called a provisional and played two shots — one from her lie, one from the drop zone. Her penalty shot ended up closer and she took a 4 with that disc, but ended up bogeying with her shot from the trees. There was a lot of uncertainty about the specific mando rules — a discussion with officials after the round determined that her shot did not miss the mando1. That meant she took the bogey.
Pierce went OB twice more — on Holes 5 and 7 — and dropped two more strokes to Allen.
The misery was not over. She hit a tree branch off the tee and her drive only went 60′. She had to shoot her second shot to where most of the card placed their tee shots. As she waited for her third shot, she was emotional with her head in her hands.
Allen, on the other hand, had a strong front nine, putting in birdies on two par threes — 3 and 9 — thanks to great drives. She made up her entire six stroke deficit before the group walked to Hole 10.
A much more stable back nine — featuring a number of long par 3s where no player could create separation — sets up a thrilling Final 9 holes back at the Emporia Country Club. Allen, Pierce, Jenkins, and Hokom tee off at 12:30 PM Central. Watch live coverage of the finals on Smashboxx.
---
The mando line is created as a plane perpendicular to the line by the tee box and the mando. The plane is created through the middle of the mando tree. Since Pierce's shot was deemed to not be completely behind the plane, it was ruled to be a legal position. ↩