Some shuffling at the top highlights this week's big board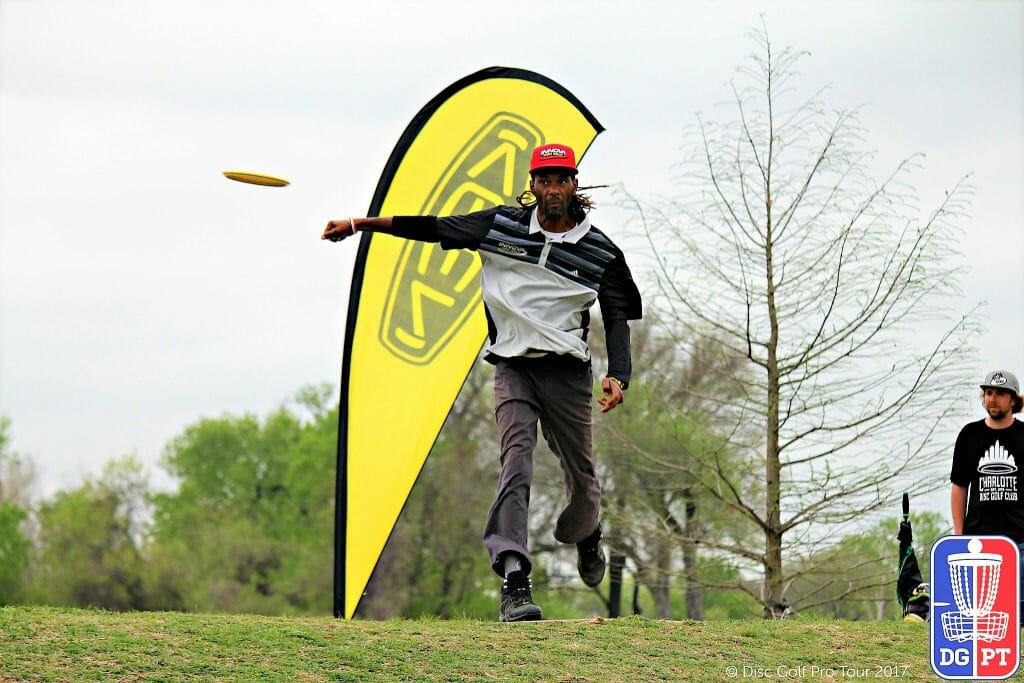 For a player who set the disc golf world on fire last season with his albatross at the Beaver State Fling, it seems like Philo Brathwaite has flown under the radar for most of the 2017 season.
Let's change that.
The Southern California product hasn't been on the small screen much since he went viral last year, but his play certainly warrants the attention. Though he struggled a bit early on the Texas swing — two of his three Waco Annual Charity Open rounds were below his rating, and his 22nd place finish at the Nick Hyde Memorial was marked by some struggles inside the circle — he's come on strong over the last few weeks. He tied for third place at the Texas State Championships witha 1047-rated final round, then followed that up with a ninth place showing at the Jonesboro Open. He's currently in eighth place in the Disc Golf Pro Tour's points standings — putting him in line for a round one bye if the season were to end today — driven by top 10 showings in both fairway hit percentage and birdie percentage.
He's poised to perform well, then, at the Dynamic Discs Glass Blown Open next week, where he came in sixth place in 2016. And with most of the professional circuit shifting back toward his west coast stomping grounds, we expect him to continue to move up in our rankings. For now, he's back in the top 10, right where he belongs.
1) With two straight wire-to-wire wins, Ricky Wysocki is the very definition of power.
2) What more can we say about Simon Lizotte? He's on an absolute tear.
3) We'll probably get killed by the Paul McBeth fan club for this, but consider: He was 10 shots off Wysocki's pace at Texas States and did not play Jonesboro. He was our consensus number 3.
4) Nikko Locastro is ranked 4th on the Disc Golf Pro Tour in hitting circle 1 in regulation, but is only converting on 87 percent of his putts from that zone. Connect on a few more of those, and look out.
5) From the department of no surprises: Nate Sexton hasn't finished outside the top 5 at any event in 2017.
6) After a third place finish at Texas States, Jeremy Koling slipped a bit at Jonesboro to a 10th place tie. Still, his highs this season have been high, and if he can clean up the lows he'll continue to creep up the board.
7) James Conrad continues to shred on the Pro Tour, where he's currently in 4th place in the league standings.
8) JohnE McCray, hanging with the kids once again.
9) We've barely seen him on film since the Albatross, but Philo Brathwaite quietly put together consecutive top 10 finishes.
10) Talent-wise, Eagle McMahon should be higher on this list. But for the power rankings, you've got to play to stay.
11) Chris Dickerson bounced back from a couple off showings in Texas with his 5th place Jonesboro Open finish.
12) Drew Gibson's last five finishes: T12, 10, T11, T6, T14. This feels about right, then.
13) Lewis "Red Shoes" Bitney (yes, we just gave him that nickname) didn't exactly come out of nowhere, but his 6th place tie at Jonesboro registered as unexpected.
14) Dave Feldberg doesn't need to play every week to show up. Eighth place at Jonesboro after skipping Nick Hyde and Texas States? Not too shabby.
15) Gregg Barsby: As fine a commentator as he is a disc golfer.
16) After struggling through the Texas swing, Paul Ulibarri has started to show some rejuvenation in his game with consecutive top 15 performances.
17) Peter McBride has yet to replicate his hot Nick Hyde opener, but he's still in 13th place in the Pro Tour's standings.
18) After a solid start to the season, Austin Turner has cooled recently, tying for 34th place at Texas States but jumping into sole possession of 17th at Jonesboro.
19) Devan Owens can put the disc near the basket – he's ranked 8th in the Pro Tour's Parked measurement and 10th for landing in circle 1 in regulation – but struggles to finish the job with an 86 percent circle 1 putting conversion rate.
20) Let's see if Matt Orum can keep up his winning ways in a crowded Glass Blown Open field this week.
On the bubble: Eric Oakley managed a 12th place tie at Jonesboro, rebounding nicely from finishes in the 20s and 30s in Texas…Jordan Castro took home the W at The Rumble last weekend.
1) Two wins in a row have Paige Pierce back at the top of our power rankings. The come from behind win in Arkansas should lead to plenty of momentum for the Texas Women's Championship and Glass Blown Open.
2) Sarah Hokom leaned on consistent play and led for much of the Jonesboro Open, but came up just a few throws short in the end.
3) Catrina Allen lost to Pierce in a playoff at the Texas State Disc Golf Championship but did not compete in the Jonesboro Open.
4) Consecutive third place finishes rocket Jessica Weese up the board. Her next event is the Glass Blown Open.
5) Jennifer Allen rebounded from a tough first round at the Jonesboro Open to finish one stroke out of a top 3 finish.
6) Melody Waibel continues her solid play: 5th at the Jonesboro Open after an identical finish in the prior Disc Golf Pro Tour event, the Nick Hyde Memorial.
7) Lisa Fajkus sits in 6th place in the Disc Golf Pro Tour's points standings.
8) Christina Linthicum makes her first appearance in our rankings after a 4th place Texas State Disc Golf Championship finish.
9) Elaine King nearly cashed in the Open Masters division at the Dogwood Crosstown Classic in North Carolina.
10) Valarie Jenkins won the Skyline Classic B-Tier in Wisconsin as she and Nate Doss trekked to the area to brew a collaboration beer. She'll be back in action at the GBO.
On the bubble: Jessica Hill has played well of late, but hasn't competed since our last set of rankings…Maria Oliva took 6th place at Texas States.