Lizotte, Locastro make final round push, but come up just short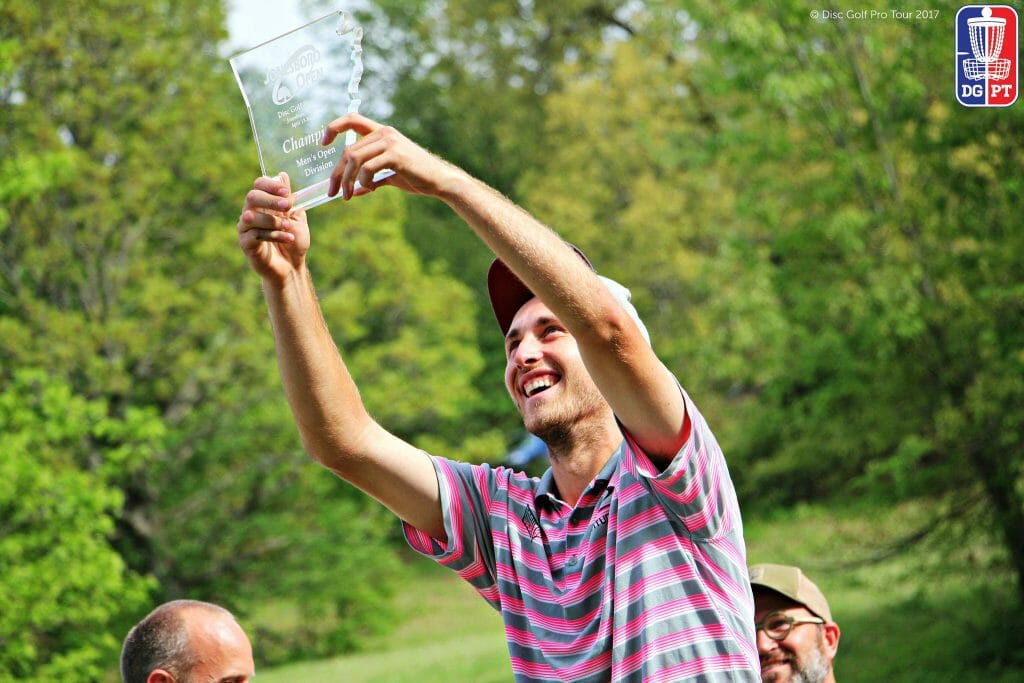 Prior to the final round of the Spartan Mowers Jonesboro Open, Ricky Wysocki said his nine shot lead afforded him the luxury of playing safe in the final round, as he was content to win by five or six strokes.
Two strokes, then, may have proven to be a bit close for comfort. But it still got the job done.
Wysocki struggled during yesterday's final, throwing his worst round of the tournament — a 2-under par 62 that featured five bogeys. Still, his cushion allowed him to hold off Simon Lizotte and JohnE McCray — who gave chase as they battled for second place — and a surging Nikko Locastro, who threw an 11-under par hot score from the third card to make a final round statement.
When all was said and done, Wysocki's 37-under par 219 total narrowly bested Lizotte, who walked away in second place after a 35-under par 221 performance. Locastro jumped into third place with his 32-under par 224, and McCray's final round effort dropped him to fourth place with a 31-under par 225 total. Chris Dickerson's 27-under par 229 rounded out the top 5.
Wysocki, who admitted after the round that he had trouble staying focused with the large lead, downplayed the closeness of the final scores.
"It was close for the situation, given I was up by nine," Wysocki said. "If I was starting the round and it was tied [after] I was up by three or four, you're thinking, 'Yeah, it's over.' But the momentum switch that caused me to only be winning by three [late in the round] instead of nine made it look a lot worse."
That momentum switch happened early, as Wysocki battled both bad luck and himself on the Disc Side of Heaven course. On hole 1, a dead center putt for par spit out after hitting the pole, causing him to card his first bogey of the day. He suffered the same fate on a 20-foot par attempt on hole 5, though his aim was a bit higher into the chainset.
And when he wasn't being rejected by the basket, it was the dense rough off the fairways that did him in. His usual pinpoint accuracy was missing, as he sprayed shots and had difficulty hitting the greens in regulation. Whereas Wysocki averaged hitting circle 1 with a look for birdie on 61.3 percent of the holes through the first three rounds, that number plummeted to 33 percent during the final.
Needless to say, his competition took notice of the flaws in his game.
"Ricky was just shanking off the teebox today, and he had two early 15-foot spit outs, like dead center putts that blew straight back at him," Lizotte said. "That was early frustration for him, and then, I don't know — I think he was just not taking it too seriously anymore with a nine-stroke lead and kinda lost focus and got in a lot of trouble."
Wysocki confirmed Lizotte's diagnosis of his uncharacteristic play.
"It was a gray area where I wanted to focus, but at the same time with the shots it's not like there's that much of a penalty because I'm only losing one stroke and I've got nine strokes," Wysocki said. "It was the wrong mindset to go into the tournament with. You don't want to go into the mindset of, 'Oh, I'm only losing one stroke, I'm only losing one stroke.' Well, if you do that for five, six holes you're only up three, and that's a big game changer."
Indeed, the script was flipped early, and Lizotte — who said he was locked into his second place battle with McCray for the first half of the round — chipped away at the lead from the jump. His solo birdie on hole 1 took the lead down to seven, and a string of birdies on holes 6 through 9 brought the gap down to five. Another late run had the margin down to three strokes as play headed to hole 16, the course's lone par 5.
Then, Lizotte's putting, which had continued to cool after a third round stretch where he putted nine times over the last three holes, failed him. Sitting with a look for eagle from 40 feet, he ended up four-putting to take a bogey 6 and, more or less, hand the win to Wysocki.
Though the victory didn't fall his way, Lizotte was pleased that he applied pressure down the stretch.
"I mean, we had three holes to go and [Wysocki] had a three-stroke lead, and I was playing good he was playing bad," Lizotte said. "But on hole 16 when I four-putted that totally gave him all the confidence he needed for the last two holes, of course. But of course he thought about [losing the large lead]. If you have a nine-stroke lead, and then suddenly it's only three strokes with three holes to play, even Ricky would think about that, I hope."
Wysocki did, but he said he never felt like the tournament got out of control.
"On 16 [Lizotte] really wasn't in position to gain a stroke, so even if he didn't make the first putt he was still gonna take a 4 and I was still gonna have a three-stroke lead going into 17," Wysocki said. "So it really wasn't as close as it seemed at the end of the round…He definitely made a run and he made it interesting, but at the end of the day I gained the right to not have to win by nine."
Though he used almost all of the lead he had garnered over the previous three days, Wysocki said he did not plan to make a habit of turning victories into nail-biters.
"I'm just gonna learn what kind of mindset you have to be in before you start the round," Wysocki said. "For me, it was all about salvaging the round…I was fighting against the momentum today, and that's what it came down to. Simon had a lot of momentum, and so did JohnE. They earned it with the way they were playing, and I lost it with the way I was playing. I was fighting against the grain all day with the bad luck and the bad throws and putting myself in bad spots."
Elsewhere on the course, Locastro made plenty of noise as he assaulted fairways with 89 percent accuracy and scrambled with 100 percent success when he was off of them. His 70-footer for birdie on hole 18 gave him a one shot edge over McCray to complete his ascent from seventh to third place. The day's other big moves belonged to Gregg Barsby, who carded a 5-under par final round to crack the top 10, and Chandler Jones, who came up six spots and into 24th place.
Though the final round wasn't pretty, Jonesboro still marked Wysocki's second straight wire-to-wire win. He's now in first place in the Disc Golf Pro Tour's standings, two points ahead of Lizotte.
With the Pro Tour taking a break until June's Utah Open, the focus now shifts back to the PDGA National Tour. Wysocki now carries plenty of his favorite word into the Dynamic Discs Glass Blown Open, which starts next Thursday in Emporia, Kansas — site of his first world championship victory last August. Given the venue, he's looking to keep the hot streak rolling and recapture some of last summer's magic.
"[I want to] pick up where I left off," Wysocki said. "I feel comfortable playing there, clearly, as I won Worlds there and…I'm gonna start where I left I off and keep the momentum going — not only from last year, but the last tournament I played, which I won here in Jonesboro. There's a lot of momentum and a lot of different ways that I'm gonna keep it going."