Reigning world champion's lead now at nine, despite Lizotte's theatrics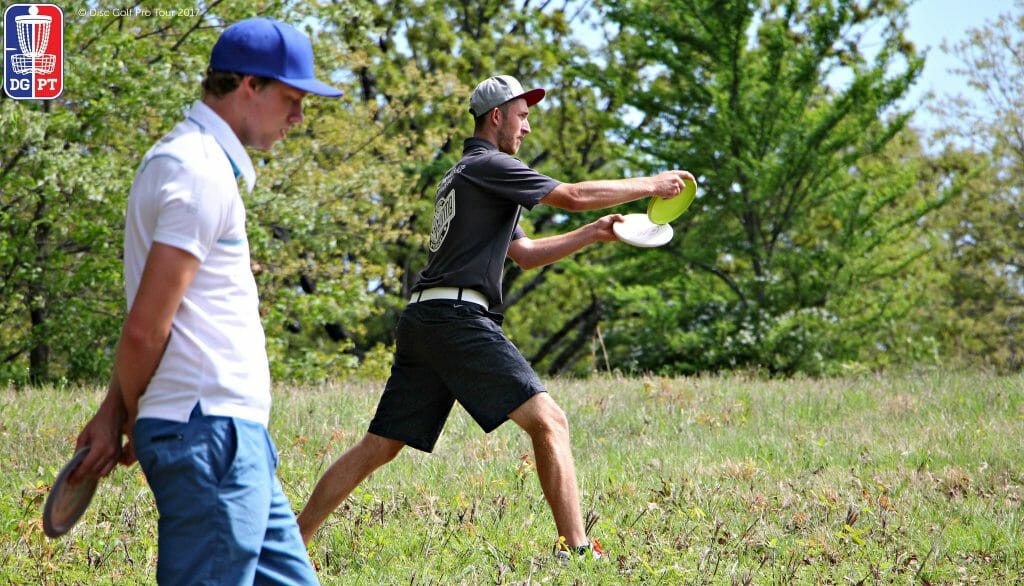 Ricky Wysocki entered yesterday's third round of the Spartan Mowers Jonesboro Open with a two shot lead over Simon Lizotte. And on the day of the event traditionally known as "moving day," it was Wysocki who did the heavy lifting.
The Ohio native's 10-under par 54 was his highest score of the tournament so far, but was still good enough to register as the hot round and move him to a 35-under par 157 heading into today's final round. That score has him a whopping nine strokes ahead of both Simon Lizotte and JohnE McCray — the latter of whom shot a 9-under par 55 Saturday — who both sit at 26-under par 166 totals. Chris Dickerson continued his consistent climb up the leaderboard with an 8-under par 56 — his third straight day logging that score — to end up in a tie for fourth place with James Conrad at a 24-under par 168 overall. Though Conrad also shot an 8-under par third round and has a lower PDGA number (the conventional tiebreaker for card composition), tournament director Brad Pietz said Dickerson, by virtue of scoring better than Conrad during round two, will round out today's lead card.
Though he padded his lead considerably, Wysocki's day began slowly. He carded only four birdies through the Disc Side of Heaven course's front nine, as opposed to six during round one and seven during round two. He kept a clean sheet, though, and even bagged two 40-foot putts, despite increased wind speeds that he blamed for not only his sluggish start, but also higher scores across the entire Open field.
"I kinda knew that going in, that the wind wasn't gonna really allow for players to be shooting 12, 13, 14-under like we were the first few days," Wysocki said. "So I knew that it was gonna be a grind out there. You weren't gonna be able to pick up as many birdies with the wind, so I knew I had to ride the storm out a little bit with some early pars.
"I knew I wasn't picking up the birdies on the first few holes," he continued. "The wind wasn't letting me run at those 40, 50 footers like I normally do because the comeback putts in the wind are not what you want."
On the back nine, though, he hit his stride, putting six of nine approach shots in within 10 meters of the basket or closer. After a connecting on a 27-footer for birdie on hole 12, his longest putt the rest of the round was a very makeable 16 feet, and he finished with birdies on four of the last five holes.
"I always like to finish rounds out strong whether I'm shooting good or bad," Wysocki said. "I just like to have a good taste in my mouth to finish the round. So I kind of beared down, and I really wanted to break the tournament open a little bit and really get over the hump of the four, five stroke cushion and bump it up to, just like I did, nine to be a little more comfortable."
While Wysocki approached the course in his steady, workmanlike fashion, Lizotte provided the day's theatrics. First, he experienced what he called an "unlucky" break on hole 5, when his approach shot landed within centimeters of the out of bounds string on the backside of the bender board that encircled the green.
"It was one of those things where the disc and the line are touching, and you can't really see if it's over or not," Lizotte said. "Group decision was they called it out. I disagreed, but I didn't' really care. Whatever, it happens."
The show continued on hole 10, when he missed his first inside the circle putt in three Pro Tour events after his P2 chained out on the elevated basket. Emulating the finest soccer players of his native Germany, he flopped to his knees in dismay.
"I kind of acted a bit after that," Lizotte admitted. "Just a little drop. I didn't really care that I got a 3 on that hole, I cared that it was a miss in the circle. I wanted to keep my 100 percent."
His final act, though, brought down the house. Faced with a sure birdie on the 270-foot 15th hole – which, per UDisc's statistics, is playing as the second easiest on the course – Lizotte threw a towering hyzer with his signature Discmania S-Line FD3 into the heart of the chains for an ace.
Still, Lizotte was less than heartened after the round. He said the ace was fun, but he was more dismayed by his putting down the stretch. On holes 16 through 18, he went par-double bogey-par, losing four strokes to Wysocki in the process.
"I putted nine times on the last three holes," Lizotte said. "I don't know what it was. I don't really know what happened."
He did say that fatigue, or bad wind reads, could have been a factor. He also woke up battling a head cold, which also affected his round.
"I woke up and [was] feeling a little sick," Lizotte said. "I was on Nyquil during the round, which is really not the best decision ever."
Now faced with the nine shot deficit heading into the final, Lizotte conceded that he was out of the running for first place.
"No — oh god, no," he said with a laugh when asked if he thought it was possible to come back for a victory. "No, I'm not playing for first tomorrow. I'm playing for second. I'm just gonna try and play a smooth round and make another ace. That's my plan."
Wysocki said he planned to take advantage of his ample margin, saying he could afford to lose a few strokes even if fellow players put a target on his back throughout the round.
"I know how to play with big leads," Wysocki said. "I've done it a lot, so I know of course they're gonna be aggressive. So yeah, they're gonna get a stroke here and there and that's great, they've earned that. But I've earned the luxury to not really have to attack holes…I don't have to win by nine. I can win by five or six."
In other notable scoring, Nikko Locastro tied Wysocki's hot round with his own 10-under par performance and climbed into seventh place overall, while Jeremy Koling carded three penalty strokes to fall from the lead card and into sixth place after a 2-under par showing. Drew Gibson's 9-under par day found him moving up eight spots and into an eighth place tie, while Austin Turner rocketed 11 spots up the leaderboard and into a 17th place tie with his 7-under par effort.
The final round of the Jonesboro Open will be broadcast live on SmashboxxTV and the Disc Golf Pro Tour's YouTube channel at 2:30 p.m. EDT, while real-time scores and statistics can be found on UDisc Live.