German star rides hot putter into second place at tournament's midway point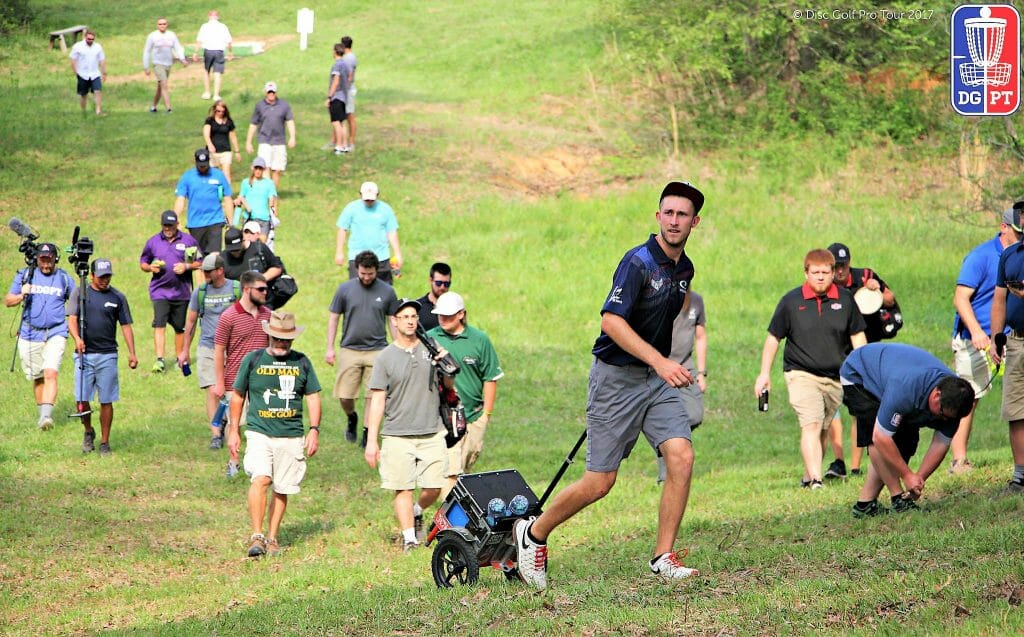 To find the last time Simon Lizotte missed a putt from inside the 10-meter circle during the Disc Golf Pro Tour, one has to go all the way back to the seventh hole of the final round of the Waco Annual Charity Open on March 18.
Since then, Lizotte has played 83 holes on the tour and made everything.
Sure, he's played two other events in that stretch that did not track statistics, so there has likely been a miss here or there. But the point remains: Lizotte's putter is so hot, it's a wonder he doesn't drop it every time he takes it out of his bag.
It registers as little surprise, then, that the German star logged another strong putting performance yesterday at the Spartan Mowers Jonesboro Open, again connecting on 100 percent of his attempts from inside the circle. The feat vaulted him to a 13-under par 51 hot round and helped him shave a stroke off Ricky Wysocki's lead, moving him into second place with a 23-under par 105 total.
Wysocki, meanwhile, held serve with a 12-under par 52, bringing his lead over Lizotte to two with a 25-under par 103 total. Jeremy Koling slipped one spot down the leaderboard after his 9-under par 55 brought him to a 20-under par 108 overall, and JohnE McCray maintained his spot on today's lead card with a 7-under par 57 that put him at a 17-under par 111 at the tournament's halfway point.
While Lizotte said he is aware of his recent statistical success, he couldn't quite pinpoint why he's been putting so well.
"I don't know why, it's just a tournament thing," Lizotte said. "It's crazy. In practice I really suck, and in tournaments I can't miss.
"I can't take it seriously in practice for some reason," he continued. "But when I actually try, I'm pretty good."
That might be an understatement. In addition to the perfect putting percentage from close range, Lizotte also made four putts from circle 2 – including a 50-footer on hole 4 after his approach caromed off a tree – to pace the field. He now leads the Pro Tour in circle 1 putting on the season. And while conventional wisdom might dictate that the success could be related to the extra practice time he put in while rehabilitating from knee surgery, Lizotte said it was more cerebral than physical.
"Putting is a mental thing and I just — I don't know, just got older and smarter, and I know myself and my game better somehow," Lizotte said.
Wysocki, on the other hand, was more than able to articulate why he's finding success on the Disc Side of Heaven course: consistency. That ideal showed on the scorecard, as nine of his birdies on the round came on the same holes as they did in round one, and he carded an eagle on the par 5 16th for the second straight day.
"At this point in my career, I feel like I pride myself on consistency, and that's exactly what my game plan is based upon," Wysocki said. "That being the case, I feel like I like my chances coming down the stretch. If I'm throwing a shot during the tournament, I feel confident with it because I've thrown it all tournament."
Even in instances where he battled some inconsistency during round two, Wysocki managed to rebound. His drive on hole 9 held straight for too long and landed under some low-hanging canopy, but he was able to escape from his bad lie with a long forehand shot that rang off the basket. On hole 14, his tee shot slipped out of his hand — he attributed it to humidity — and sailed out of bounds, leading to his only bogey of the round. He followed up that blemish, though, with a birdie-eagle-birdie sequence to remain in control.
Lizotte certainly applied pressure during the round, though, matching Wysocki at nearly every turn and besting him on hole 18 to close the day on the upswing. Wysocki said he noticed Lizotte challenging him, and actually welcomed it.
"It brings everyone's play up to a higher level when everyone's playing well, so I wouldn't say it's a bad thing that he's playing good," Wysocki said. "I like that. He's raising the bar, pushing me. I like that — it makes me have to play better."
Wysocki also said he was impressed with how strongly Lizotte has come back from his injury and heaped praise upon his rival.
"Nobody really knew if he was ever gonna be the same, but I guess he answered that question," Wysocki said. "It's cool for him to be back. It's good to see that with an injury like that it wasn't as bad as it could've been. He's a good guy and I'm glad he's recovering well. He's a great competitor and I'm looking forward to the next few rounds competing with him."
Lizotte, for his part, said he wouldn't need to play with any more aggression as he chases down Wysocki, because the course makes players go on the offensive regardless of score. He did have a specific number in mind for round three, though.
"This course is pretty much you're on attack mode the whole way," Lizotte said. "You're just crushing drives off the tee and we're birdieing almost every hole…My goal is always to shoot 52s out here — that's like a really good round — and if I can shoot 52-52 now, then I think that wherever that puts me is gonna be really good."
Though today's lead card remains unchanged, there was plenty of movement throughout the standings otherwise. Chris Dickerson climbed four spots up the leaderboard with an 8-under par round to end the day in a fifth place tie with James Conrad, and Devan Owens' 9-under par performance moved him nine spots up the ladder and into eighth place, where he is currently tied with Matt Dollar. The biggest move of the day, though, was reserved for Paul Ulibarri. He rebounded from an opening day even par to shoot an 8-under par second round, moving him 16 spots up the board and into a tie for 24th place.
The lead card tees off today at 4:00 p.m. EDT and will be simulcast on the Disc Golf Pro Tour's YouTube channel and SmashboxxTV, with live scoring and statistics being tracked on UDisc Live.