Players dealing with ticks, poison ivy, and possibility of increased wind in final two rounds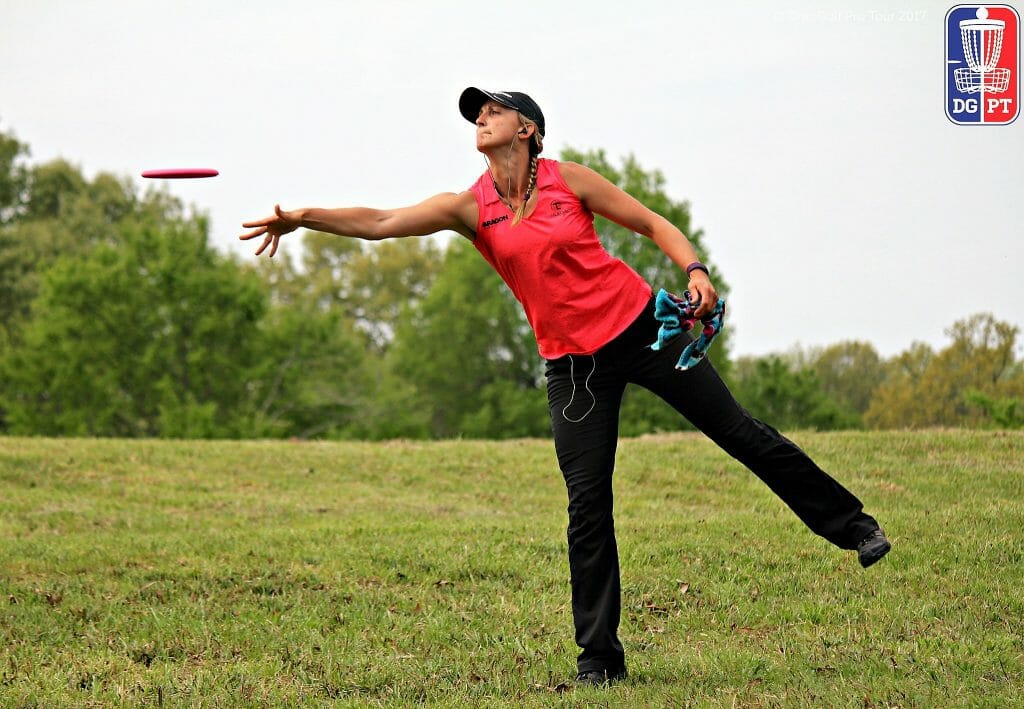 The Jonesboro Open has reached the halfway mark with a new leader in the Open Women's field.
After a late swing in scores, Sarah Hokom is at the top thanks to a 3-under par 61 outing that moved her to 5-under par 123 total. Jessica Weese trails Hokom by two strokes in second place after a 1-under par 63 effort brought her to a 3-under par 125 through two rounds. Paige Pierce's 2-over par 66 round moved her to third place with a 2-under par 126 overall.
Pierce actually held the lead heading into the final three holes before a disastrous sequence derailed her round. A double bogey 6 on hole 16 dropped her into second place after Hokom birdied the hole to move to 4-under par and Weese took a bogey 5 to move to 1-under. After all three pushed with birdies on hole 17, the wheels came off for Pierce on hole 18 as she two-putted from inside the circle to take her fourth bogey of the day. Hokom ended with a par to maintain her lead, while Weese's birdie helped her leapfrog Pierce.
Hokom credited some adjustments she made to her drives for her ability to capitalize on Pierce's mistakes.
"I just tried to stay in the fairway and not throw too far," Hokom said. "I threw a couple errant tee shots in round one that cost me some OB strokes, and today I didn't throw them. I fixed those two holes and I only missed one of the birdies I made yesterday."
Despite the rather dramatic swing at the end, Hokom said her day felt fairly normal.
"It was pretty boring again," Hokom said with a laugh. "I just played even, like I played before. Nothing too spectacular."
Despite the late-round scoring shift, the threesome remained close earlier and the lead changed hands often.
Pierce and Weese traded bogeys on the first two holes, then all three competitors on the lead card birdied hole 4. On hole 5, Pierce –in a shift from her round one strategy — went for green, but found the OB water short and left of the pin. Her approach from the drop zone went long, and her comeback putt hit low off the front cage. The double bogey 5 moved her back to second place, one stroke behind Hokom and tied with Weese, but the deficit wouldn't last.
On hole 6, all three competitors made the island green, with Weese missing an ace by mere inches as her drive clanged off the cage. She and Pierce both birdied, while Hokom's missed putt put the lead card into a three-way tie, all at 3-under par.
Despite losing the lead to Pierce again on the next hole, Hokom relied on her extended practice time at the course to stay patient and in position to take advantage of her opportunities.
"I feel like I know the course really well," Hokom said. "It doesn't matter where I end up on the fairway, especially on the par 4s and 5s. I know what I need to do on the next shot."
While noting the abundance of treacherous poison ivy and tick infestations out on the course — something she is not looking forward to as the event continues — Hokom is eagerly anticipating the possibility of winds picking up over the final two rounds.
"The course plays extremely difficult in the wind," Hokom said. "Pretty much all my practice rounds happened in the wind, and it felt like it is pretty difficult to play the course well in those conditions. I'm actually hoping the wind picks up — that could mix things up a bit."
When asked if today's round carries any greater importance with at least a small chance of thunderstorms for the final round Sunday and the specter of the Nick Hyde Memorial cancellation still fresh on the mind, Hokom replied with a laugh.
"No," Hokom said. "I feel like that's such a freak thing — and I know it's happened twice in the last six months — but I don't think that's going to happen again."
With wind speeds between 10 and 15 miles per hour set to pick up after the lead card tees of at 10:30 a.m. EDT, Hokom will have to protect her slim lead with that added challenge on the hilly slopes of the Disc Side of Heaven Gold Course. Follow along with the live scoring at UDisc Live and watch for footage from the round mixed into the Open Men's lead card broadcast at 4:00 p.m. EDT.