Weese, Hokom two shots back of the lead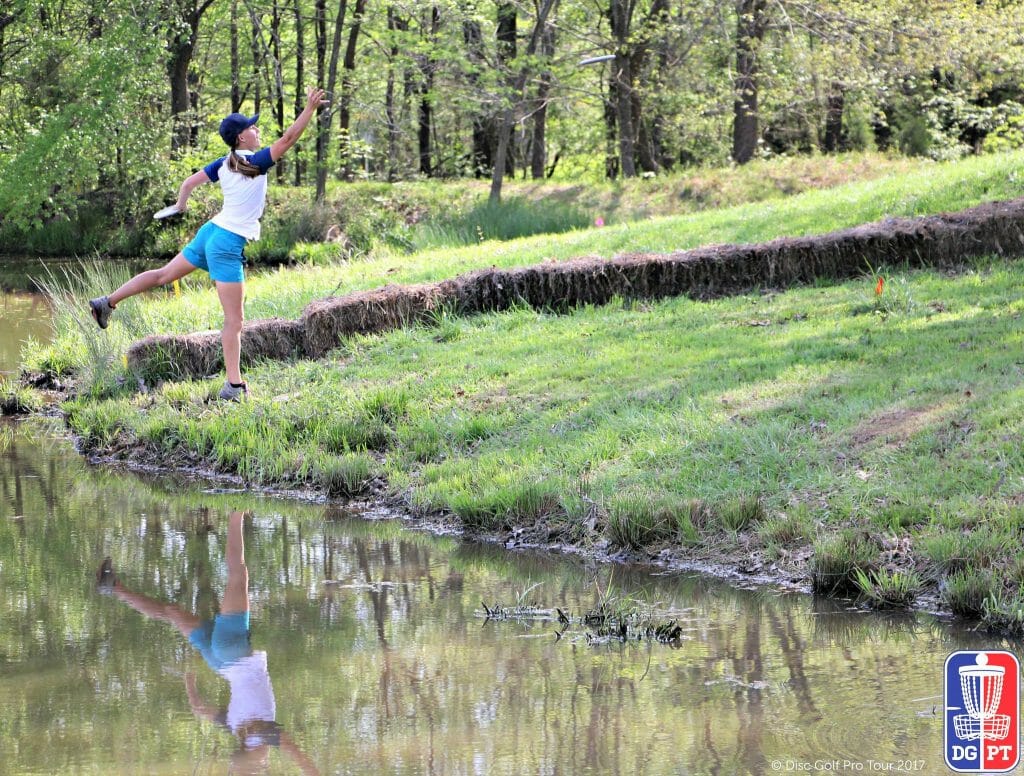 With the first round of the inaugural Jonesboro Open complete, Paige Pierce is out to an early two stroke lead at the 8,722-foot, par 64 layout of the pro course at Disc Side of Heaven. The lead means Pierce has a third chance for a wire-to-wire victory on the 2017 Disc Golf Pro Tour, having completed the feat at the Memorial Championship and the Waco Annual Charity Open.
Pierce's 4-under par 60 performance has her two strokes ahead of both Sarah Hokom and Jessica Weese after their 2-under par 62 rounds. Pierce's bogey-free day was good for a 982 rating, while Hokom and Weese clocked in at 965 each.
Pierce started her round in strong fashion, nailing a roughly 50-foot putt for birdie. Through the next five holes she missed just two putts from outside the circle, canning another long birdie putt from 40-feet out on the par4, 585-foot hole 4. The birdie moved her to 2-under par through the first third of the course to tie Weese, who collected two birdies with long putts on holes 3 and 6.
While Pierce got off to a hot start, her putter cooled off significantly through the middle third of the round. From holes 7 through 12 she missed five of 11 putts, with three of those misfires coming from inside the circle. With all five of those putts being for birdie, she instead was left settling for par. Pierce missed three more putts through the final six holes, but offset those by carding two more birdies — in both cases getting to the green in regulation inside 10 feet.
Weese shared lead with Pierce for a good portion of the day, as both players parred-out through much of the middle third of the course. Weese's putting was where she found success, as she hit on 100 percent of her attempts from inside the circle, but comparatively struggled from the tee, hitting just 53 percent of her fairways to Pierce's 74 percent rate. After both players birdied hole 17 to remain tied, Weese dropped back after an errant tee shot and ineffective scramble on hole 18 led to a double-bogey 7. It was the only blemish on her scorecard for the day, but a costly one.
The misplay dropped Weese back into a tie with Hokom, who salvaged her round with a string of late birdies on three of the final four holes. Prior to her late birdie run, she was 1-over par through the first 14 holes. Rather uncharacteristically, she struggled to reach the green in regulation during this stretch, doing so just three times. Hokom leads the Pro Tour in parking holes inside 10 feet in regulation, though, and did that on two of the final four holes, in addition to getting inside 30 feet on the other two.
Melody Waibel is the next closest threat to the top 3, her 2-over par 66 round landing her in fourth place. Waibel made up for some shaky tee shots with a solid scramble rate of 75 percent — the third highest mark in the field — and by hitting 86 percent of her putts from inside the circle. Jennifer Allen, Des Reading, and Nicole Dionisio are all tied for fifth place with 4-over par 68s.
The field will again be split into threesomes for the second round, meaning Waibel will headline the chase card before Pierce, Hokom and Weese tee off at 10:30 a.m. EDT. Footage of their card will be mixed into the Open lead card broadcast at 4:00 p.m. EDT, with live scoring available before that via UDisc Live.