A simple, single player way to test your mettle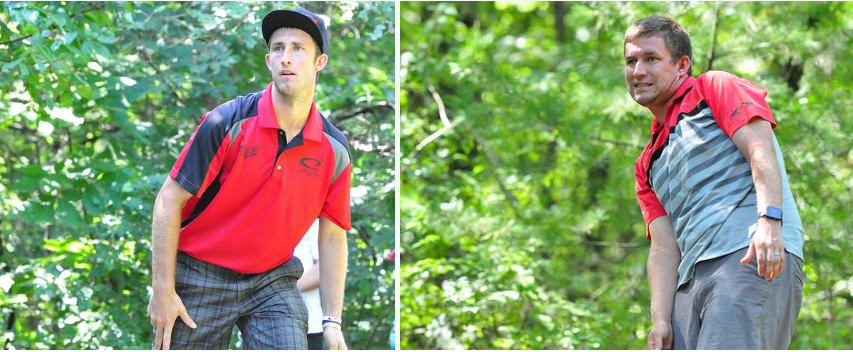 Finding time for dedicated practice can be a challenge during the offseason. With only so much daylight and accommodating weather during the winter, the desire to play a casual round often defeats time spent in the practice field. Fortunately, you can find a compromise by using casual golf as a way to sneak in some game-changing practice. Here is one type of game to add a bit of tangible pressure on the course and turn the casual round into the Casual Round Open.
Imagine two very talented golfers playing head to head on your home course. Now imagine that their styles are noticeably different. One player opts for control and strategy; let's call him Mr. White. The other is aggressive and uncompromising in his attack on the basket. Let's call him Mr. Green. Now imagine that you are playing the role of both golfers and you've got the basic rule structure of Green vs. White.
The time I first tried this approach on the course, I was using a green putter and a white putter. I chose to associate my white putter with the first player on the teepad and used my highest percentage shot, while the player using my green putter was ultra-aggressive and tried to draw metal with every throw. It doesn't matter what you call the game, or what color your putters are. If you want to pretend you are Nate Sexton playing against Ricky Wysocki, or simply "Player A" vs "Player B," that is all up to you. What does matter is that you choose a specific strategy for each golfer and keep them clear in your mind.
One contributor to nerves during tournament golf is the distraction of the competition. The desire to outplay the other golfers on the course and come out on top often gets in our heads and prevents us from relaxing and executing our shots correctly. The intent of Green vs. White, then, is to simulate real world competition and commitment to strategy. As the round between these two imaginary golfers progresses, natural tension on the scorecard will interfere with the desire to hold fast to the game plan.
For the naturally safe golfers pretending to be Mr. Green, you might find a liberating experience. Learning to commit to the aggressive throw without consequence — this is just for fun — brings you out of your comfort zone and starts expanding your abilities. When the bold choice is rewarded, you will see your confidence grow – and when you over extend your reach and find a poor result, you are really just identifying the gaps in your arsenal.
For the naturally aggressive player emulating a conservative style, you will learn patience. You will start to hone the ability to assess risk and avert danger. Picking specific routes and landing zones that lend themselves to a high margin of error will start to yield more consistent results. You might have to fight the urge to play for birdie on every single hole, but once you have learned to keep those impulses in check you will begin to value par and appreciate the coziness of a bogey-free round.
Regardless of where your natural habits fall, this game is designed to expose you to potentially new and fruitful methods. After playing this style of game enough times, you might find that not any one strategy is better than the other. Simply learning to commit to your game plan and ignoring your competition will set you up for success.