Wysocki's strong back nine has him sitting one stroke back.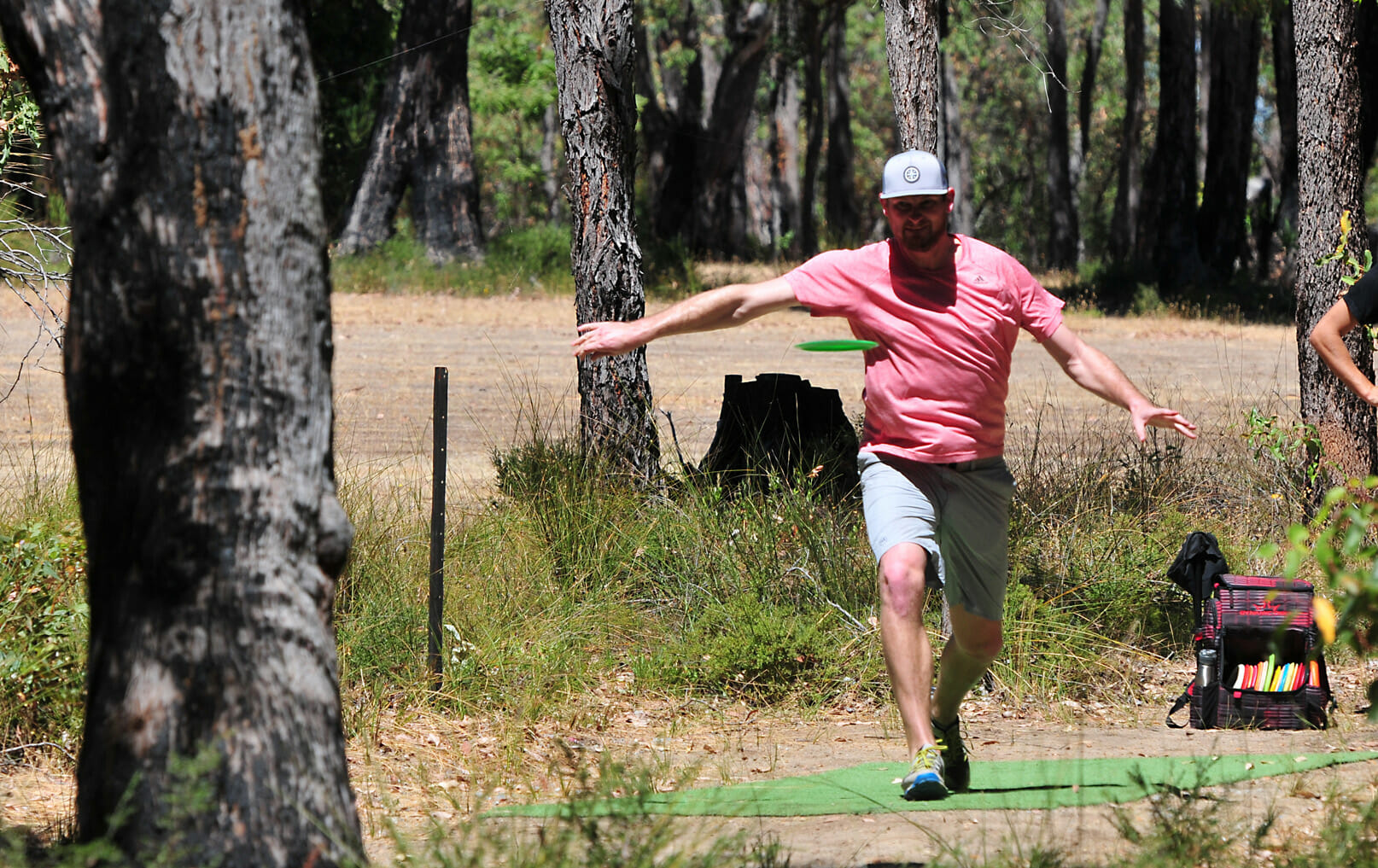 2016 USDGC champion Jeremy Koling used a scorching hot 9-under front nine to take the opening day lead at the 2017 Waco Annual Charity Open with a 13-under par 54 on Thursday.
Koling opened an early lead with six straight birdies to begin the round, which started on hole 7. After taking a par on 13, he shot under par on the next four holes, including an eagle on 15. The only blemish on his round was a bogey on the par 4, 610 foot hole 5, the most challenging hole of the day with nearly half the field recording a bogey or worse.
Koling sits one stroke ahead of Ricky Wysocki, who birdied eight of the final 10 holes to finish with a 12-under par 55.
James Conrad sits alone in third place after an 11-under par 56, and five players — Dave Feldberg, Gregg Barsby, Eagle McMahon, Mike Conlee, and Landon Knight — are in a tie for fourth at 10-under.
Koling built his lead thanks to a red hot putter: he went 17/17 from inside the circle and hit a 38 footer for his eagle on 15. Koling's unofficially rated 1058 round could have been even better, but he went out of bounds on each of the final three holes, his only OB shots of the day.
"Almost all of the putts that I made were between 22 and 33 feet, so it wasn't just a bunch of tap-ins," said Koling. "I had to make some shots."
He said that he felt good off the tee as well but that the putter was especially strong. "I made some really good putts," he said. "Some awkward straddle putts, some uncomfortable stance scenarios. It was definitely nice to see the putter go in the basket."
Wysocki started the back nine five strokes back of Koling after a solid 5-under front nine. On hole 16, the first of the back nine, a short tee shot and a short approach left him outside of circle 2 and 75 feet from the basket. With a spin putt, he buried the birdie to kick off a strong finish to his round.
WATCH: Smashboxx's Coverage Of The Feature Card At The Waco Annual Charity Open
Nikko Locastro, conversely, had a rough start when he got into a car accident on the way to the course and missed the first four holes. He is reportedly physically fine after the accident, but he was, by rule, given a score of par plus four for each of those holes, starting his round off at 16-over par before he even stepped to a tee.
Over the 12 holes he did play, he shot an impressive 8-under par, parking seven holes to nab six birdies and an eagle on 15. That left him with an 8-over par 75 on the day.


Other notable pros like Simon Lizotte (-8), Cam Todd (-8), Paul Ulibarri (-7), and Philo Brathwaite (-6) will look to climb the leaderboard in today's round.
The lead card — Koling, Wysocki, Conrad, and Feldberg — tees off at 3:30 PM this afternoon for round two.