Hokom six back heading into today's round at Fountain Hills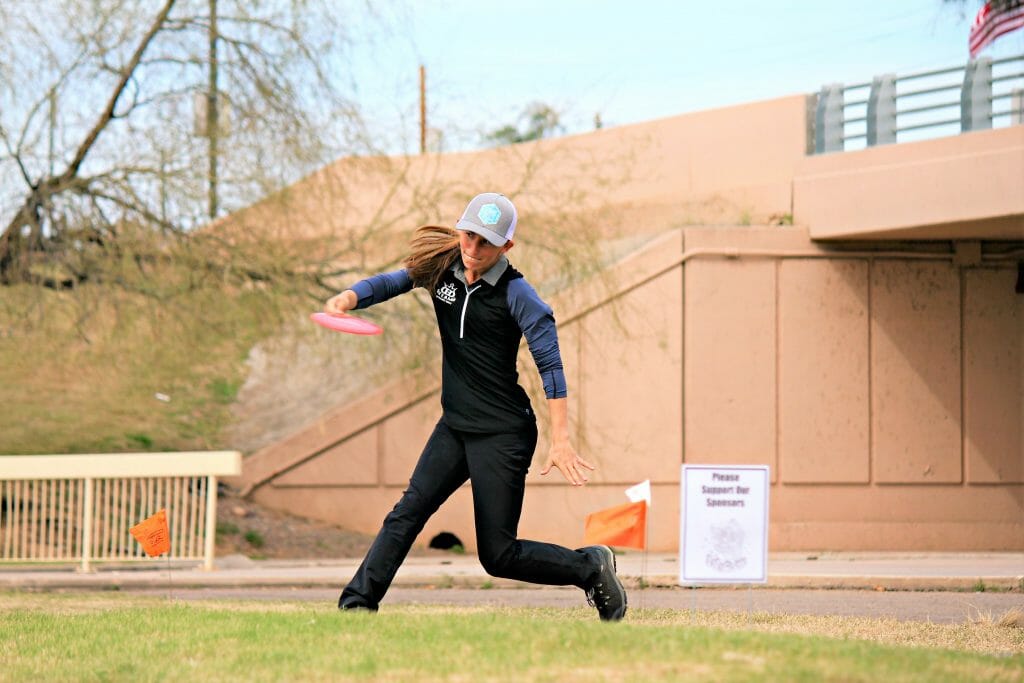 Just like in round two, one of Paige Pierce's competitors got close to taking a share of her lead yesterday during round three of the Memorial Championship. But as she has all tournament, she quickly closed the door on that idea at Vista del Camino Park, inflating her five stroke lead to six after a 1-over par 61 hot round to move her to a 3-under par 168 total.
Sarah Hokom remains Pierce's closest threat after finishing day three with a 2-over par 62, moving her to a 3-over par 174 total and six strokes back of the lead. Catrina Allen sits 12 strokes behind Pierce and six back of Hokom, joining them on today's lead card after a 3-over par 63 performance moved her to 9-over par 180 overall. Madison Walker sits in fourth place with a 10-over par 181, while Jessica Weese rounds out the top 5 with an 11-over par 182 total.
While Walker's hot round Thursday put her within two strokes of the lead that day, Hokom was the one to come within arm's reach of Pierce's lead yesterday. Hokom and Pierce carded identical scores on the first five holes, highlighted by birdies on the 360-foot hole 3. On the out of bounds-laden par 4 hole 6 — the longest hole on the course at 783 feet — it seemed as if the momentum was about to shift.
After a long tee shot to the middle of the fairway, Pierce's approach hit an early tree. Her second try at the green faded too quickly and went out of bounds short right. Pierce would ultimately card a double bogey six after a missed putt from inside circle two.
Hokom had a chance to make up some ground and did just that, throwing in her forehand approach shot from well over 60-feet to card a birdie, the only one recorded on the hole by anyone in the women's field. The birdie put Hokom within one stroke of the lead, the closest anyone had been to Pierce since midway through round one.
That didn't last long. Pierce quickly rebounded, parking her upshot on the par 4 hole 7 for an easy birdie. She followed that up with a roughly 40-foot birdie putt on hole 8, making up for the two lost strokes on hole 6. Pierce would snag another birdie on hole 10, hitting another long putt from outside the 10-meter circle.
Hokom, meanwhile, couldn't match Pierce after getting within one. She missed her birdie putt on hole 7, but put her tee shot inside five feet on hole 8 to recover. Hokom's drive on hole 9 came up short, but she was able to scramble inside of 60-feet with a chance for a long par-saving putt. The bid fell short, though, and after Hokom managed just a par on hole 10 Pierce's lead was back up to four strokes. Pierce carded one less bogey than Hokom to close out the round and increase her lead to six.
Allen, playing on the chase card, had managed to make up some ground by going 2-under par through the first 10 holes, but found major trouble on hole 7. The par 4, 759-foot hole played as the second most difficult hole to par for the field, with Allen carding a triple-bogey seven there after two penalty strokes and a missed putt from outside the 10-meter circle. Had she simply parred the hole, she could've finished out the day at even par.
Weese made the jump from the third to the second card going into the final round and lurks just one behind Walker. Both Weese and Walker had the two highest circle one putting percentages during round three, with Walker at 85 percnt and Weese at 82 percent, where she was tied with Lisa Fajkus.
The field has been cut in half for today's final, with Melody Waibel was the last to make the cut in 12th place at a 27-over par 198. She was just one stroke ahead of Canada native Sandi Hendel, who was the first competitor out at 28-over par 199. The lead card tees off for the final round at Fountain Hills at 9:56 a.m. local time. Live scores can be followed via UDisc.