Hokom remains within striking distance at the tournament's halfway point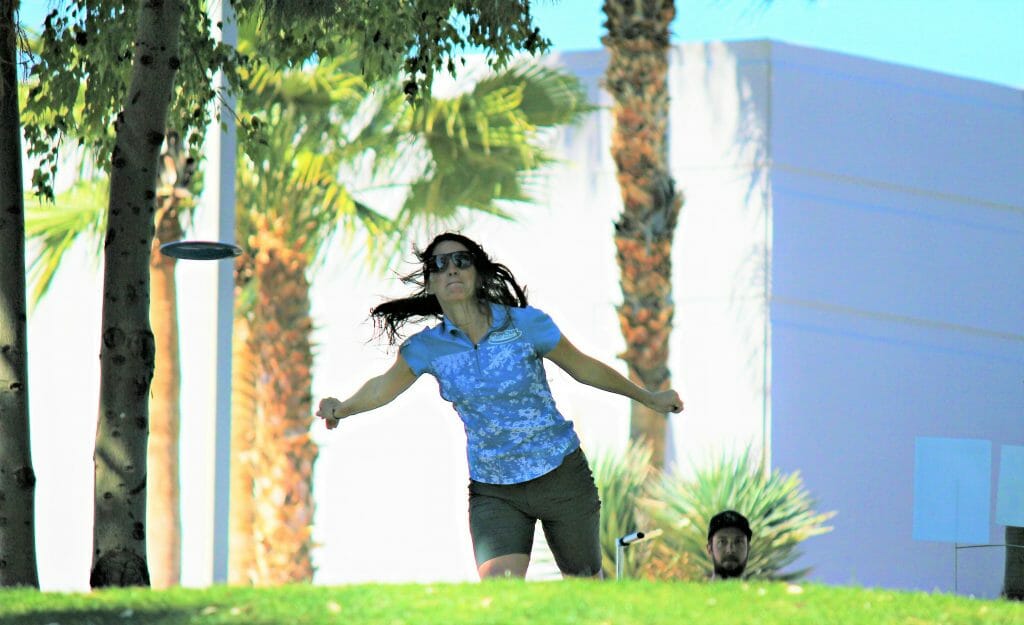 A warm and breezy afternoon round two at the Memorial Championship stood in stark contrast to the early, chilly morning round one experienced by the Open Women's field, but the final results were similar. Paige Pierce remains in the lead after maintaining the five stroke advantage she enjoyed heading into the round, her 2-under par 54 at Fiesta Lakes bringing her to a 5-under par 107 total.
Pierce's round at the shortest course in play at the event was rated at 992. Her two-under par score was matched by Sarah Hokom, who remains in second place and now sits at an even-par 112 total. Both players will be joined on today's lead card by Madison Walker, who tossed the hot round to vault up the leaderboard from sixth place. Walker's 3-under par 53 brought her to a 2-over par 114 at the halfway point of the event, seven strokes behind Pierce.
Walker started off her round on fire, hitting all but one of her putts on the first 13 holes and collecting six birdies in that span. The run was highlighted by two impressive outside the circle birdie putts, one from roughly 40 feet on hole 4 and another from 50 on hole 12. At the end of 13 holes, Walker found herself just two strokes behind Pierce, but things cooled down from there.
On hole 14 she missed just her second putt on the day and had to settle for a bogey 4. On the remaining holes Walker took two penalty strokes, one each on holes 15 and 18, for two more bogeys. Despite the difficult end to the round, Walker ended the day with a putting percentage of 84 percent and hit two of her three putts from outside the circle. Impressively, her round has a preliminary rating of 1001, marking the first time in her career she has cracked four digits.
True to her game plan, Pierce attacked the greens at the shorter Fiesta Lakes course. On 72 percent of the holes she ended up inside of 20 meters with a chance for par or better, and on the four holes where she did not make the green in regulation she was able to scramble to save par. All those circle hits were buttressed by quality putting through the first seven holes, where she hit seven of her eight putts from inside the circle, collecting two birdies in that stretch.
But on hole 8, her drive landed roughly 25 feet short, with an obstructed putt around a tree and a green sloping down to her left toward a water hazard. Pierce chose to straddle to the left of her lie around the tree and attempt an aggressive anhyzer putt. The run hit high off the tree and rolled into the out of bounds water hazard before she cleaned up the bogey four. From there on, she missed five of her next nine putts inside the circle, in addition to three-putting the short hole 11.
Things got back on track for Pierce on the 447-foot, par 3 hole 14. Pierce unleashed a huge turnover drive that landed roughly 20 feet from the basket, pin high. She sank the birdie putt and collected another on the par 4 hole 15.
Staying with her aggressive mindset, Pierce again attacked the 369-foot hole 17, landing her drive pin high and inside the circle. Her birdie attempt, though, chained out. Having maintained her lead coming into the day, Pierce laid up for par on hole 18 to out to finish the round.
Hokom, meanwhile, produced a solid round to maintain her hold on second place, hitting 78 percent of her putts inside the circle, including two impressive ones for birdie from the circle's edge on holes 5 and 9. The only serious blemishes to her round were a missed short put to save par on hole 17; a drive that missed the tight out of bounds island green on hole 10; and an errant upshot on hole 6. Hokom matched Walker's six birdies, sharing the lead in that category.
There's a three-way tie on the chase card. Lisa Fajkus, Vanessa Van Dyken, and Catrina Allen all sit 10 strokes behind Pierce at 6-over par 117 after two rounds. The lead card tees off at Vista del Camino Park at 7:56 a.m. local time.