McMahon and McBeth plan to attack during today's final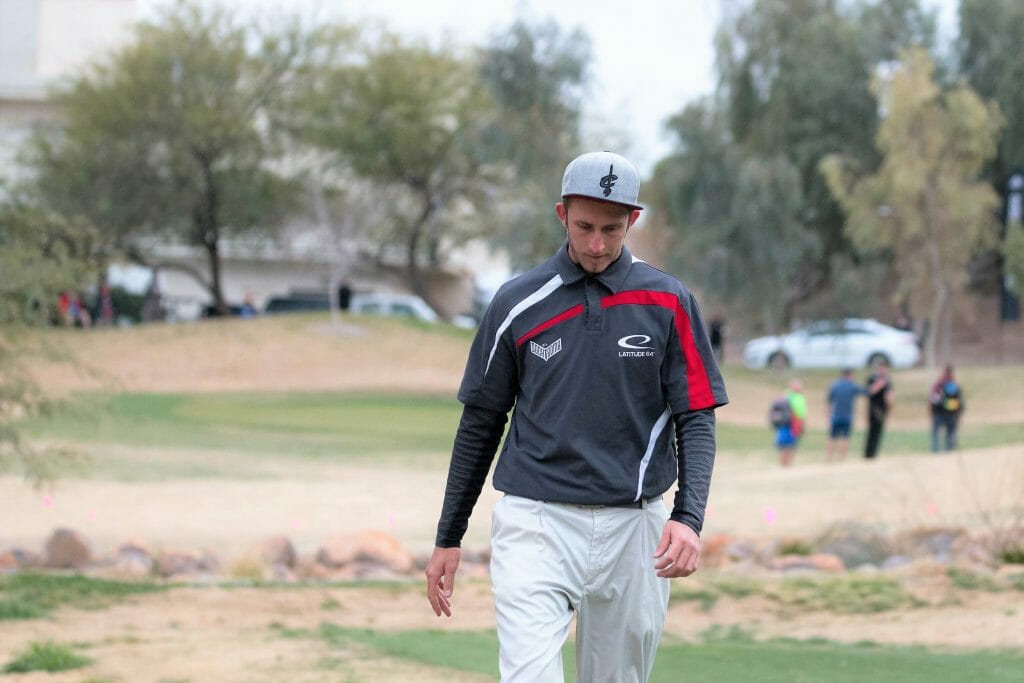 HENDERSON, Nevada – In years past, a 9-under par performance from Paul McBeth would have been cause for celebration, a feat undoubtedly worthy of the hot round. But in years past, Ricky Wysocki was not operating with his current machine-like efficiency, dissecting courses not so much with the flair of his contemporaries, but instead with cautious, controlled precision.
It's rarely flashy, but it's incredibly effective: Wysocki picked apart the Wildhorse Golf Club's Adidas Terrex Course to hold off McBeth's moving day surge during round three of the Gentlemen's Club Challenge yesterday, taking hot round honors with a 10-under par 49 to bring him to 27-under par 148 total for the event. JohnE McCray held on to second place with a 7-under par 52 to leave him at a 22-under par 153, while Eagle McMahon's 8-under par 51 helped him remain in third place with a 21-under par 154 total. McBeth's 50 brought him onto the final round lead card, his 20-under par 155 total good for fourth place.
On a day where the sun rarely shined over the southern Nevada desert, Wysocki carded his second consecutive bogey-free round and continued his consistent, placement-based game.
"I was taking what I was getting out there," Wysocki said. "I was giving myself good spots, putting myself in good position to take birdies."
While that's what showed on the scorecard, his body language told a different story. After his drive skipped mere feet past the pin on the 386-foot hole 3, for example, he used his towel to swat at the ground in frustration.
He tapped in his putt for birdie.
On hole 4, when his putter drive floated dead straight over the bunker that protected the basket to lead to a 20-foot gimme, he again groaned with displeasure.
Again, he tapped in his putt for birdie.
When he wasn't beating himself up, he was putting the screws to his competitors, who pushed the pace in an effort to close the gap.
McMahon, who was playing on the same card as Wysocki, at times looked like he might be able to shave some strokes off the lead, but it took a while for him to round into form. His performance on hole 6 – a 725-foot par 4 – was a microcosm of his day. After smashing a drive off the tee, it landed in a difficult position underneath a tree off the right side of the fairway. Crouching under the foliage, he threw his upshot into a tree only 40 feet in front of him, then had his third shot hit another tree 50 feet from the pin. He converted the par save, though, to salvage the hole and start his recovery. He put his next drive, a towering hyzer over hole 7's island design, next to the basket, then strung together two more birdies on holes 8 and 9.
For McMahon, getting over the adversity of hole 6 – he was audibly angry after hitting three trees in succession – came down to knowing what else lay on the course.
"I really didn't care," McMahon said. "I'm just kinda out there throwing because there's so many opportunities out here. I would just [think], like, this hole, I can make it up on the next hole. So that didn't really affect me."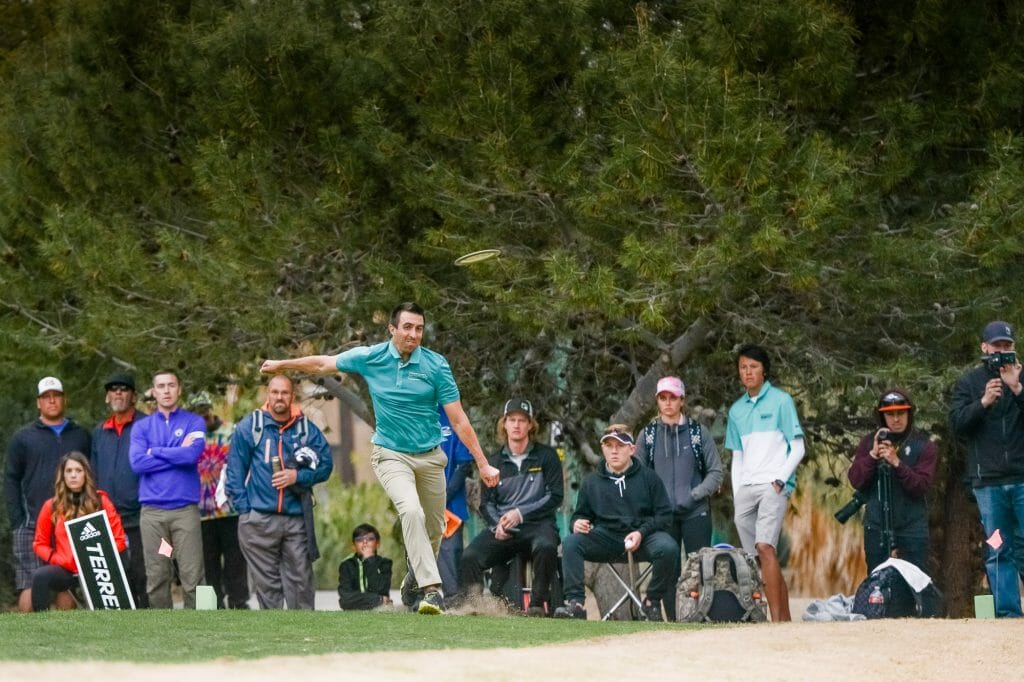 McBeth, meanwhile, started to put on such a show from the third card that the live streaming broadcast crew peeled off from the lead card to cover his round. He started off quickly, missing two birdie putts to the left side on holes 1 and 2, then converting four straight birdies before bogeying hole 7.
He heated up again on the back nine and broke out some of his characteristic panache. After his roller on hole 11 curled right and landed behind a tree, he straddled out and threw a forehand approach roughly 200 feet to land in tap-in range. On hole 12, he hit a 50-foot putt uphill to secure his third straight birdie, then added a fourth on hole 13 for good measure.
After a brief slowdown, McBeth finished the round with another roller, this time putting him pin high and wide right on the 575-foot, uphill sloping 18th. An easy upshot and another tap-in later, and he had carded his tenth birdie of the day.
Not to be outdone, McMahon also completed the round in dramatic fashion. He took the air shot route, unloading a 550-foot drive uphill to end the round with the field's only eagle.
Wysocki, though, took a couple of his own highlight shots, hitting a birdie putt from a knee on hole 13 and an 80-foot death putt on hole 15 for another. And he didn't seem to mind that his competitors were bringing the theatrics, so long as his name was still on top of the leaderboard.
"I'm playing the style of game to where it's very repeatable," Wysocki said. "That's where I'm finding consistency and I'm really starting to dial in my own game. Seeing Eagle throw the great shots is fun and everything, but I'm playing my game. It's fun to watch. It's definitely [easy to be a] spectator sometimes when he's throwing, because he's throwing the crazy shots. I've just gotta put that aside before I'm throwing, and now if I play my game plan, that's all that matters at the end of the day."
Wysocki's round was unofficially rated at 1066. In his seven rounds between the GCC and the Aussie Open, he has shot above his rating in five of them, averaging 1065 golf over that stretch.
Now with a five shot cushion over McCray and six and seven over McMahon and McBeth, respectively, Wysocki heads into the final round at an Innova Course where he already established a 9-under par standard during Friday's second round. That familiarity means more of the same today.
"My game plan's not really gonna change because I'm not taking too many risks, I'm just taking what I'm getting," Wysocki said. "That's all I really care about, and I'm gonna keep doing it."
McBeth, on the other hand, was ready to adjust. He said he would likely switch back to the straddle putting stance he employed much of last season — not because his knee was hurting, but because he had yet to get comfortable enough again with his standard stance to trust it on the longer putts he would need to chase down Wysocki.
"If I can get my…40 to 25-footers to drop, I don't see why I couldn't shoot 16 [under] out there tomorrow," McBeth said.
McMahon was relishing his position on the leaderboard heading into the final round, which finds him on the hunt, rather than protecting a lead like he did at the Aussie Open. He said he plans to take more "calculated risks" back at the Innova Course, as he felt like it comes with greater rewards. Translation: The air show takes place today in the desert.
"I'm firing on all cylinders tomorrow and just trying to birdie as much as I can," McMahon said. "Who knows? Some hole I could get an eagle, Ricky could get a 4 or 5, and there's a swing right there. So it's a really comforting feeling right now just being in the position I am compared to leading. I'm excited to chase this time."
McBeth was focused on a similar mindset.
"It's not like I'm playing for second, so what's the point of trying to get second?" McBeth said. "I'm definitely gonna unleash the drives and hopefully hit some big putts for eagle, because there's a lot of them out there."
Elsewhere on the course, Jeremy Koling continued his ascent in the standings with an 8-under par 51 day to put him into fifth place at a 19-under par 156 total. His distance game was brilliant for most of the day, with long, flexing drives demonstrating that he's already comfortable with his new Innova plastic. Paul Ulibarri filed an inconsistent performance on the lead card, struggling with placement on his drives but mixing in some long range putts en route to a 4-under par 55 that dropped him into a sixth place tie with Cale Leiviska, who tossed a 7-under par 52 to bring him to a 17-under par 158 total. Matt Orum, Nate Sexton, and Austin Turner are all tied for eighth place with 16-under par 159s.
The men's lead card tees off at 1:00 p.m. local time today and will be streamed live on The SpinTV.