Big names make big moves during tournament's second round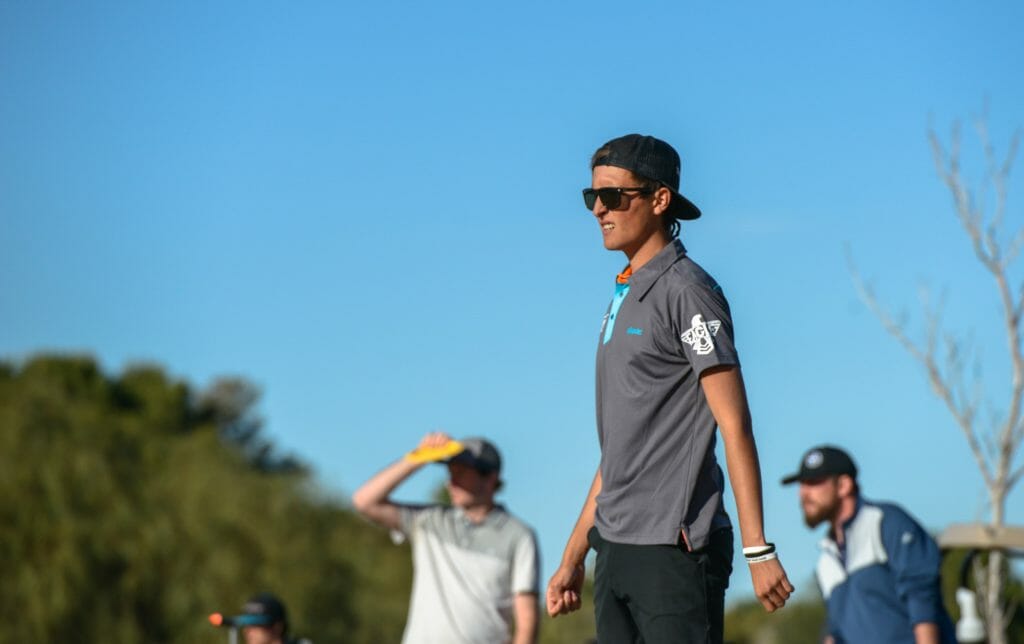 Eagle McMahon made full use of his distance prowess yesterday during the second round of the Gentlemen's Club Challenge, unleashing a flurry of controlled power shots on the way to an 11-under par 49 hot round that saw him recover from his Thursday struggles.
The improvement rocketed McMahon up the leaderboard, taking him from a 22nd place tie to a third place tie with a 13-under par 103 total. He'll be back on the lead card with Ricky Wysocki, who retained his lead with a 9-under par 51 day to bring him to a 17-under par 99 total. JohnE McCray matched Wysocki's round two score and sits in second place with a 15-under par 101 total, while Paul Ulibarri's 7-under par 53 brought him to 13-under par, as well, to round out the lead card.
RELATED: Allen Matches Pierce To Stay Within Two Of GCC Lead
The shift to the Wildhorse Golf Club's Innova Course provided McMahon with a welcome change of scenery. He labored through an inconsistent first round on the DiscGolfValues.com Course, he said, because it did not fit his preferred style of play. The Innova Course, on the other hand, was his bread and butter.
"[DiscGolfValues is] a lot of forced birdies, and I don't really play birdie-or-die golf all too well," McMahon said. "I like courses where you have to play the game of golf, where today is a more stretched out golf-style course, which suits me a lot better."
Case in point: McMahon started round two with three consecutive birdies. He added another on hole 6, then bogeyed the short (for him) 403-foot hole 8.
From there, it was lights out. McMahon played 8-under par over the course's back 10 holes, twice doubling up on birdies and adding an eagle on hole 15 for good measure. And he was well aware that he possessed — and successfully employed — a skillset that few others on the course can match.
"A lot of the holes, me and maybe — probably just me right now — [I'm] the only one who's able to get to the basket [off the tee]," McMahon said. "On all the par fours I was throwing a putter upshot, if not putting, so it really helped. The distance, I was feeling it today. I was able to hit any line. It just kind of came naturally today. I even had quite a few mistakes, but just it being the course it is, it played to my strengths really well."
He needed the performance to chase Wysocki, who tallied yet another round rated above 1060 – 1061, to be exact – to remain clear of the field. The reigning world champion captured the bogey-free round he had been pursuing on Thursday, yet continued his methodical approach to the event, as evidenced by his closing string of three straight pars where McMahon took two birdies.
While Wysocki was impressed with the number of players throwing low numbers on the day — Jeremy Koling matched McMahon's 11-under, and Cale Leiviska shot a 10-under round — he also said those numbers came with inherent risk.
"At this point, I've put myself in position to where those people who shot 11 [under par], they're the ones — they're just trying to get back in the tournament," Wysocki said. "They're going super aggressive — hyper-aggressive, as I would say. I'm not really — the type of aggression that I'm playing with right now is the type I think has the potential to win."
McCray was with him every step of the way, carding birdies on each of the holes Wysocki did. The 44-year-old Masters World Champion is a deft navigator of open layouts such as the one on the Innova Course, having won last year's world title on a similar track in Emporia, Kansas.
"Everybody has their day, and sometimes their week, their month, their year, their career — whatever it is," McCray said. "But I feel like, out there in the open, grazing on a ball golf course definitely lets you throw the shots you want to throw, you know? It's all on you to throw those shots, because a lot of times — especially on a ball golf course — there's not too many trees to hit. So you've just gotta get the disc right, keep them in bounds."
Rather than play in the Masters division, where his current total would put him 13 shots ahead of leader Dave Feldberg, McCray said he is playing the Open division as a homage to PDGA Hall of Fame member Dr. Rick Voakes, who placed fourth in Open at the 2000 Pro World Championships at age 51.
"I still feel like I've got something to prove, so that's pretty much the main reason," McCray said. "My goal has been, for 15 years now, to still play in Open when I'm 50 years old, and that came from Dr. Rick…It was very remarkable, so that was always a big goal of mine."
His cardmates, though, don't look at McCray and see his age. Instead, they see another golfer working just as hard as the rest of the field and remaining a stalwart opponent.
"He's confident," Wysocki said. "He doesn't care how old he is, that's the cool thing about JohnE. He's a fierce competitor."
Still, McCray acknowledged that he couldn't keep up, distance-wise, with at least one other player on the lead card — but that he wouldn't mind the show.
"I get to play with Eagle, and I know for a fact I can't throw the shots he's gonna be throwing," McCray said with a laugh. "But it's gonna be great watching. It'll be my second time playing with him, so I'm looking forward to that."
Ulibarri, meanwhile, joked that he'd be playing fourth wheel on the card.
"We've got McCray and really the two hottest players on the planet right now in Rick and Eagle, which is what everyone wanted to see," Ulibarri said. "And then I snuck in there somehow."
That "somehow" came in the form of a round in which he mixed flashes of brilliance — his own eagle on hole 15, for example — with momentary lapses, like when he lost focus after a backup on hole 7 and misfired two consecutive shots. He said the long waits on the day — there was another that caused players to finish in the dark — affected his round.
"It's a bunch of 537-foot holes, and you have to wait for the greens to clear because everybody throws 530 feet these days," Ulibarri said.
Still, he said he's throwing as well as he could ask for, and that his injured right knee did not affect his follow through like he expected it would. The added attention of the lead card, with players at the peak of their game, might bring its own challenges.
"Tomorrow it'll definitely be tougher to get in that zone," Ulibarri said. "But like I told you, as long as I keep throwing well it's so much pressure off me."
The second round made for plenty of other shuffling of the leaderboard, as well. Pasi Koivu dropped from second place to a fifth place tie after a 5-under par 55, while Austin Turner tossed an 8-under par 52 to leap from 10th place to share Koivu's slot. Koling moved from 38th place to seventh, where he is tied with Nate Sexton after his 9-under par 51 on the day saw him also make a big jump.
The tournament now moves to the Adidas Terrex Course, which McMahon said plays similarly to the Innova Course. Naturally, he was licking his chops.
"I think it might be a little bit shorter, but there's still a lot of crush shots that I'll be able to do my thing on and maybe separate myself from the other players," McMahon said. "So I'm definitely looking forward to going out there. It's basically the same game plan today: aggressive off the tee and see where that takes me."
The lead card tees off at 1:40 p.m. local time.