Move is a step up from last season's "grassroots" sponsorship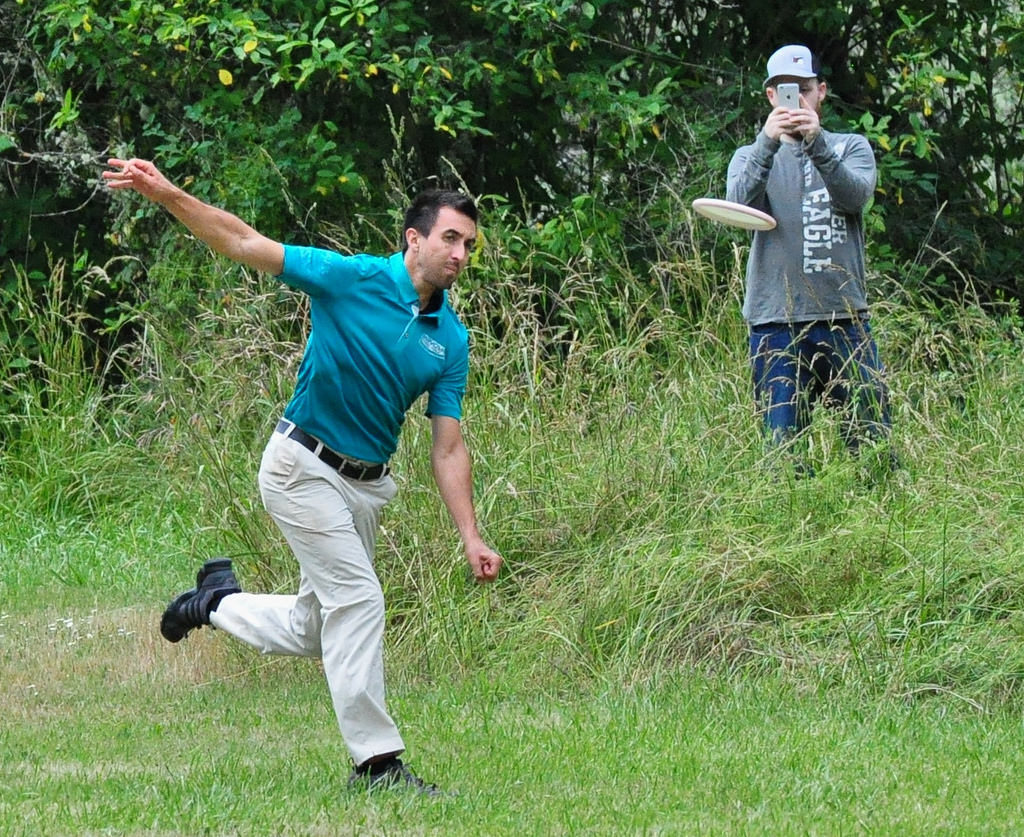 Paul McBeth has secured a paid endorsement with Adidas Terrex, Adidas' recently re-named outdoor retail brand, he confirmed to Ultiworld Disc Golf this morning.
McBeth did not disclose details of the monetary amount involved in the new agreement, but said it involved a flat salary as well as the potential for commission-based earnings down the road.
The development comes after McBeth paved the way for Adidas' involvement in disc golf with a "grassroots" sponsorship in 2016. That deal, however, only involved McBeth receiving free product from the company. With money now changing hands, McBeth said he was told by Innova Discs Events Manager Chris Brophy that he is the first disc golfer to receive a paid endorsement from a major shoe company.
"Being a part of Adidas Outdoor, then being actually financially paid through them, is a huge step," McBeth said. "And then now being able to have them be a bigger part of disc golf — with the big course sponsorship [at the upcoming Gentlemen's Club Challenge], and now having a budget for disc golf — that's huge for Adidas Outdoor. Last year their budget was zero dollars and zero cents to put in to disc golf. Now, they actually have a budget for disc golf through Adidas global, so it's a big deal."
Adidas Terrex Marketing Manager Diane Kay said she was excited for the move, and in particular mentioned the impact McBeth has had on sales of the Terrex Swift R Gore-Tex, his shoe of choice.
"His influence has taken that one shoe and make it a huge success for us," Kay said.
In addition to the new agreement with McBeth, Kay confirmed that other members of the Innova Discs Star Team — including Nate Sexton, Jeremy Koling, and Jennifer Allen — had been brought under the Adidas Terrex umbrella on grassroots deals.
McBeth indicated last month on social media that he would not carry any outside sponsors for the 2017 season. That statement kick-started negotiations with the company for a financially-based deal.
"I told them, 'Right now, I'm not going to be part of Adidas because I can't get what I feel like I deserve,'" McBeth said. "I wasn't asking for much, I wasn't asking for a lot. I know they're a smaller branch. The ultimate goal is to be part of Adidas, the brand itself."
The tactic was successful, with McBeth and the company reaching an agreement yesterday. Additionally, McBeth said he and Adidas Terrex are aiming to work on bringing the company's larger imprints – including Adidas Golf and Adidas North America – into disc golf.
"We've got one of the branches secured and locked, and now we're working on the other two with the help of Adidas Outdoor," McBeth said.
Beyond how the deal impacts him personally, McBeth said he was hopeful it would open the door for more transactions between disc golf brands and larger outside sponsors.
"I think other companies will see that, and I think other companies are going to start reaching out for a Nike or Puma, or just anyone, or Adidas," McBeth said. "Like, 'Hey, we have great team members too, look at us.' I think there will be a lot more connections made and a lot more people reaching out to these companies realizing that they do see disc golf."
This article was updated on Wednesday, January 8, 2017 at 12:07 p.m. PST with additional information from Kay.