McBeth moves units as part of 'grassroots' sponsorship.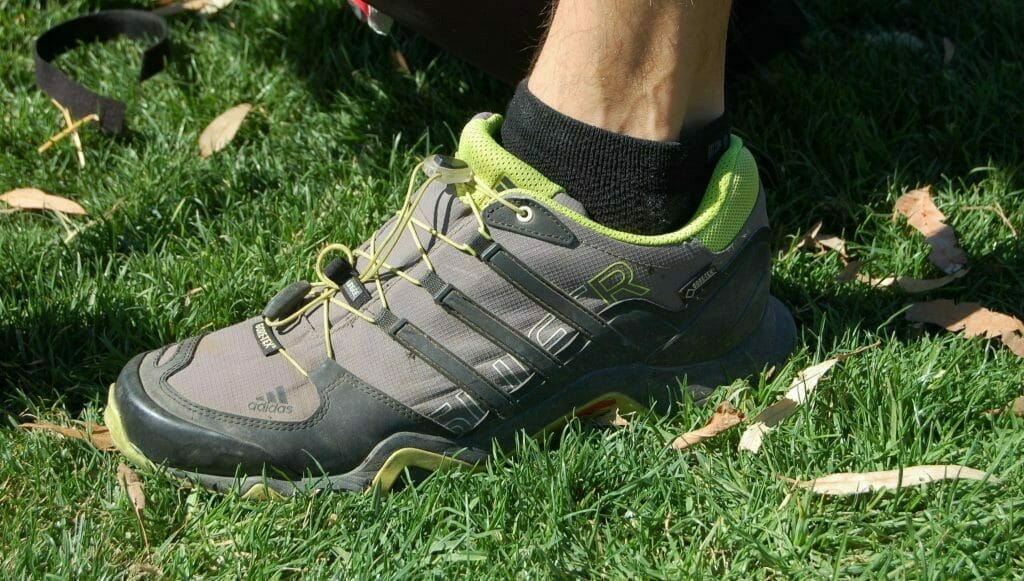 When Paul McBeth, the world's top-ranked disc golfer, announced in January that he would be sponsored by Adidas Outdoor for the 2016 season, the news generated more than just excitement amongst disc golf fans and supporters of the four-time PDGA World Champion: it generated sales.
In fact, Adidas reported selling 850 pairs of McBeth's chosen footwear, the Terrex Swift R Gore-Tex, overnight.
850 pairs. Overnight.
And while that number in its own right is impressive, there is another figure that stands out even more: 23.
That's the number of years that an Adidas deal with disc golf had been in the works. And the story begins the same way many disc golf success stories do: with a passion for the game and someone willing to take a chance on an unproven commodity.
A Disc Golf 'Junkie'
In 1993, one year prior to the FIFA World Cup landing in the United States, Chris Brophy was doing work modeling some forthcoming Adidas soccer shoes at an event in Pasadena, California. But as Brophy – now an event specialist at Innova Discs – tells it, he had another sport on the brain.
"I'm just a disc golf dork, junkie," Brophy said. "Completely hooked on disc golf, right? I'm just going to talk anyone's ear off that will listen to me about it."
And with an event as significant as the World Cup coming to town and a company as large as Adidas on his feet, Brophy took advantage of those auricles in attendance.
"Because of the gig I'm doing, I have the president of Adidas America," Brophy said. "I have his ear."
That ear belonged to Rob Strasser, a former Nike executive who had been hired to head Adidas' stateside operations earlier that year. A trip out to the back lawn to watch Brophy throw some discs and a friendly conversation later, and Strasser was ready to sponsor a local disc golf event.
"He's like, 'Hey, I've never heard of [disc golf], this seems totally cool. I'm in, let's do it,'" Brophy said. "And he says…'I have some traveling to do, send me a fax when I get back to [Adidas America headquarters in] Portland.'"
Brophy never had the chance to send that fax, though, as Strasser suffered a heart attack at an Adidas sales meeting in Germany and died before making it back to the States.
But that glimmer of hope that Strasser gave Brophy – that a large corporation would take notice of the sport he loved – stayed with him for the last two decades, until a kid from Huntington Beach started winning PDGA World Championships while wearing three-striped shoes.
A Bit Of Serendipity
Fast forward to the end of 2015, when one of Brophy's colleagues from Innova's east coast office posted on an internal page about some excellent disc golf shoes he had found: the Adidas Terrex Swift R Gore-Tex. And while many at the company were already familiar with Adidas' product – it was winter and, as Brophy said, everyone needs waterproof shoes – the discussion picked up steam once McBeth got wind of the post.
"The champ chimes in like, 'Hey, I won my last three Worlds in these, these are awesome shoes,'" Brophy said.
Once fellow Innova employees hopped on board and started purchasing the shoes before the holidays, Brophy said the lightbulb went on. He reached out to customer service at Adidas Outdoor to see if there was any mutual interest, and, by happenstance, the person to answer the phone was a fellow disc golfer.
"Not the first time that's happened, so that was very serendipitous," Brophy said. "He was able to then kick me up the ladder, so to speak, and I got an email and fired off a request."
The proposal included some YouTube clips, Professional Disc Golf Association statistics on disc golf's steady growth, and the notion that disc golfers – not just hikers or other outdoor enthusiasts – were a large portion of Adidas' consumer base. And, of course, there was a nod to McBeth.
"Here's our world champ, who already wears your stuff," Brophy said. "What do you say?"
Adidas' response was predictable.
"I got kind of a rejection letter back," Brophy said. "You know, 'Hey that's not really part of our programming at this time, but –'"
Wait, there's a but to this story? That was unexpected.
"'But we love your passion, and this Paul McBeth seems kind of cool, too,'" Brophy said. "'So if you guys would like to be sponsored, we'd love to offer you free product.'
"My eyes bugged out when I got to that second line," Brophy continued. "I'd seen those letters before, you know, 'We regret to inform you,' dot dot dot. But then the second paragraph was kind of cool."
Rattling Cages
The resulting partnership is what Adidas deems a "grassroots athlete" sponsorship, according to Adidas Outdoor Marketing Manager Diane Kay. There is not a financial component to the deal, but McBeth and Brophy receive product to test, while McBeth also receives a small stipend to use on Adidas Golf-branded clothing.
And while Kay mentioned that she is a fan of disc golf, she said that Adidas Outdoor can't spend money on the sport because it is not part of the company's current directives. Activities such as mountain biking, climbing, and slacklining are the brand's focus for the time being.
"Our only hold back with someone like Paul is that we have specific outlets and marketing campaigns that global wants us to do," Kay said.
Where the brand has altered its approach, though, is in how it allows McBeth and other athletes – 2015 United States Women's Disc Golf Champion Hannah Leatherman and five-time world champion and PDGA hall of famer Juliana Korver were brought into the fold after McBeth's initial sales impact – to classify the partnership.
"We're letting our grassroots athletes say they are sponsored athletes, which isn't something we have done in the past," Kay said.
But it's made a difference. McBeth – who had heard a general number of sales, but did not know it was so high until he was contacted for an interview – has not been shy to share his love for Adidas on social media and in tournament victory speeches. And while he was clear that he didn't intend to push the limits of a new deal – "I'm not going overstep boundaries because this is all new for me, and it's a new sport for them," he said – the confidence of being a world champion, combined with the backing of a disc golf community hungry for outside support, had him seeing the partnership as an opportunity upon which to build.
"I like to say it's a growing sponsorship, because I'm always going keep pushing for not necessarily 'I deserve more,' but 'I think there's a lot more you guys can do, and if you do it you'll see it paid right back from the community itself of disc golfers,'" McBeth said. "So I like to say it's a growing sponsorship because it's nowhere near where it's going to be by the end of the year, down the road a little bit."
Still, McBeth said that his endorsement only goes so far in helping to sell the product. He called the Terrex Swift R Gore-Tex's combination of comfort and durability over the long haul the real draw.
"I think I've influenced people to try them, but you can only hype things up so much and then it's up to the product to deliver," he said. "And these have delivered for basically everyone who's worn them."
A common thread for both Brophy and McBeth, though, was how badly disc golfers have wanted something like this. While there have been other companies to contribute to the sport – Keen, for example, paved the way for shoe sponsorships, Brophy said – a name as prominent as Adidas has been the ideal for quite some time.
Leatherman, who has been a lifelong fan of the brand since playing soccer as a kid, agreed that the name Adidas brings to the game can have a significant impact.
"I think it's definitely a step in the direction that we all want to see disc golf go," Leatherman said. "We've been talking about having a top company like that on board for so long, and the fact that they're getting involved in this way is huge."
And, Brophy was told on a status update call with Adidas Outdoor, disc golf is now placed squarely on the company's radar.
"We got Portland's attention, meaning Adidas America," he said. "And they also heard from Germany, which is Adidas global. So we rattled their cage."
That rattle has reverberated, with Kay saying that the company has been "bombarded" with requests for event sponsorships. She also said Adidas Outdoor plans to take its sales representatives disc golfing at an upcoming meeting, and the company is a sponsor of this week's National Collegiate Disc Golf Championships.
Brophy hopes this is just the first of many dominoes to fall.
"My thought with this is that down the road Nike's going to want a piece of that," Brophy said. "And Salomon, and Under Armour. And I hope Paul is like Kobe [Bryant], and I hope he's Innova and Adidas for life. But that doesn't mean that Nike's not going to go for Ricky [Wysocki], or whatever the case may be. I would love to see that trickle down."
And while Brophy acknowledged that this was all wishful thinking on his part, it was that same wishful thinking two decades ago that paved the way for this year's developments.
"I know this is just the beginning," Brophy said. "Because Rob Strasser 20 years ago said yes – even though we didn't get to make it happen – he was giving us the chance."
Sometimes, that's all you need.
Additional reporting from Charlie Eisenhood.