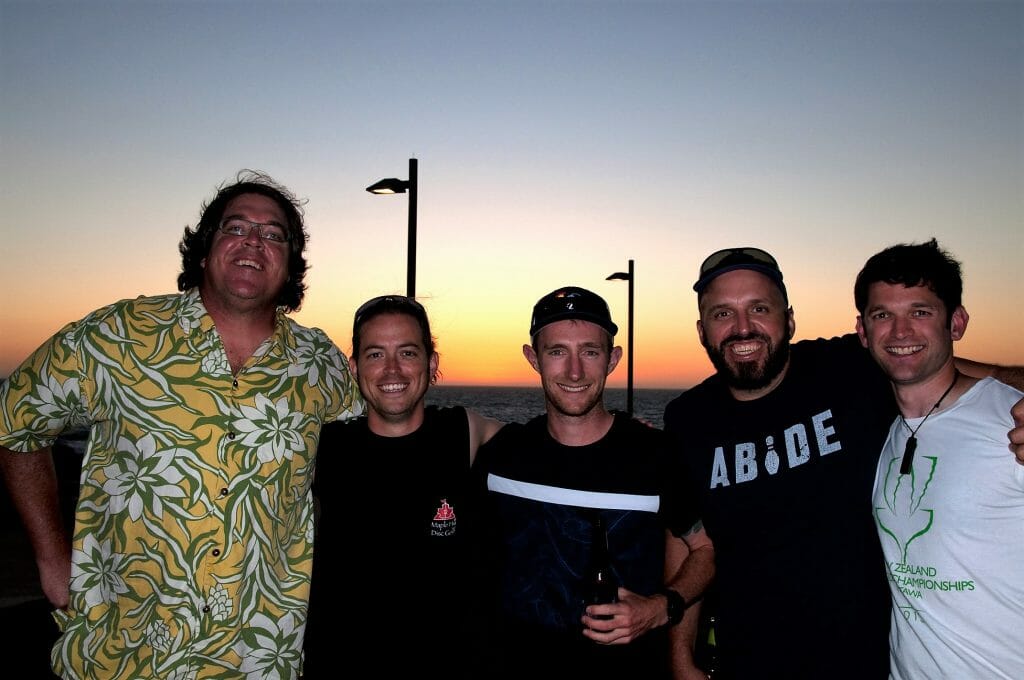 PERTH, Australia — The sun that had caused so much suffering showed its other side last night, painting the sky orange as it dipped below the waves of the Indian Ocean. We gathered on the grass overlooking the beach for that most Aussie of gatherings: the barbie (barbeque). In a few days we've become a small family, and watching the players, and those close to them, relaxing on the grass, hucking ultimate discs around and having impromptu putting competitions, I had an epiphany about how big this all might be some day. I thought of another pastime that's both a serious professional sport and a game, and how it dominates the world. Like soccer, we can be playing a major tournament, for money, on a world tour. Then, we can also be having a throw with our mates down by the beach. It's a seamless path from play to profession, and it felt like a premonition.
Jussi Meressmaa will probably be glad to hear that, although I doubt he needs the any of my hunches to reassure him. I've been sitting a few feet away from the man for three days, separated only by an office partition, and I've gained a brand new understanding of what chasing that dream requires. Meresmaa is all about the mission, and that shows out strongly when almost everything that swirls around him at a tournament is about the story.
Even if you can't hear what they are saying, from a distance you can tell what disc golfers, post-round, are talking about. You can tell by the shapes they make in the air with their hands: the backhand knife strike to indicate "This is how I threw it;" the concave arm sweep to indicate "That's when it started to flip out of bounds;" and the palms upward beseeching pose to indicate "I can't believe my bad luck." But we didn't need to read hand signals: The Aussie Open media center is right next to the bar of the Mundaring Sporting Club, so we've got a front row seat to the post-round agonizing and mutual psychotherapy that starts as a mild hubbub at midday, when the first amatuers come in, and rises to a steady roar by mid-afternoon as the pros are finishing on hole 18.
What could have happened. What should have happened. If only I'd done this or that. None of these things concern Meresmaa. His dark eyes patiently observe all of the disc golfers obsessively spilling out their stories to each other, watching them re-live the past and thinking only of things to come.
With the chaotic comings and goings of camera crews, journalists, and people needing an answer for one of the hundreds of questions that need answering to keep the wheels of a major tournament turning, he's like a steady rock in a swirling ocean. The calm, focused, center of the storm.
But the quiet, intense Finn is no emotionless robot. Hang around him for a few days, and you learn he's got a sense of humor that's drier than a dead dingo, as we say here.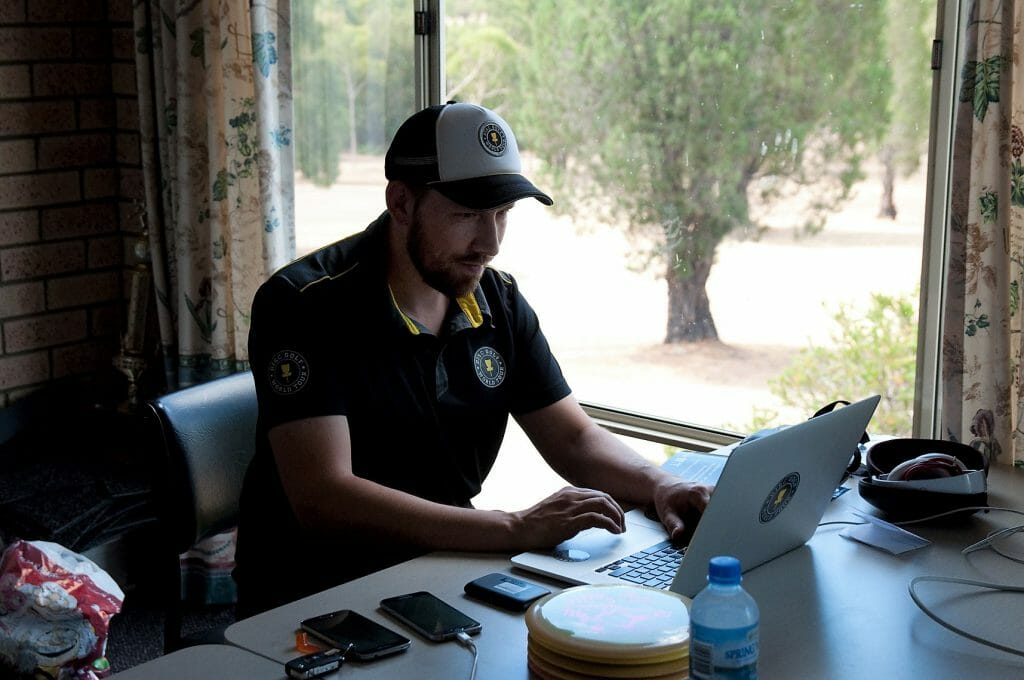 Some of the best humor is based around that dead pan Terminator accent. At the front of the food line the other day he said, "Hi. I am Jussi, the hungry." When I asked him if I could snap the above picture, he said "No Wukkers." That's another Aussie saying, but I'm not writing the meaning here. You'll have to look it up on Urban Dictionary.
*****
I hope I didn't offend Obie too much yesterday. The breeze this morning is wet and humid. There's steamy clouds forming on the horizon. The temperature is increasing in intensity by the minute. We call this "the build up" to a storm. Something big this way cometh.