Finnish disc manufacturer came from humble beginnings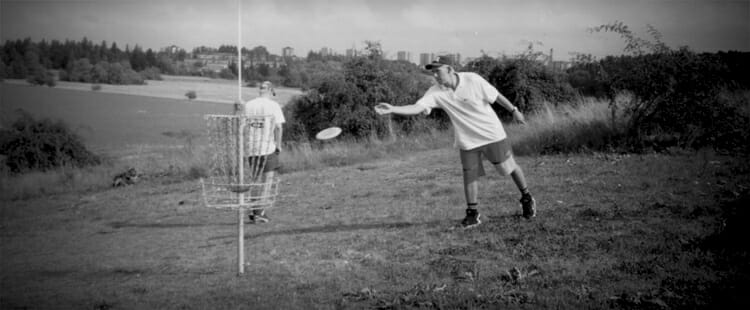 Disclosure: Ultiworld Disc Golf was compensated for publishing this article.
In order to understand what Discmania is about, one needs to take a look at the big picture. Discmania is not only a disc golf equipment brand, but a lot more.
The beginning of its journey is the journey of one man, Discmania CEO Jussi Meresmaa.
From the trunk to the garage
It was 1994. Finland had just won its first world title in ice hockey, and there were a few permanent disc golf courses in the country. That was when Jussi got his hands on his very first golf disc, the Innova Gazelle. Like with many new players, the whole concept of the game seemed a bit funny at the time. After the first couple throws, though, Jussi was hooked.
"It was mesmerizing," Jussi said. "I wanted more of that. I was pretty good at sports as a youngster and I remember that my first drives were 60 meters or so. So, I wanted more of that."
The only problem was that there was not much happening in disc golf in his hometown of Tampere, Finland. To change that, Jussi started organizing weeklies and all kinds of tournaments with his friends on a course right next to his house, the legendary Vihioja Park. Still, challenges remained, and the biggest of those was a lack of equipment, with discs being hard to come by.
A few years of hustling plastic from anywhere possible — some from an importer up the coast, some directly from the U.S. in group orders – was not convenient enough. By the turn of the millennium, Jussi made an agreement with the local importer to buy discs off him in bulk and to get a little compensation for every disc sold. This was not enough to put food on the table for Jussi, who had just had his first son. But selling those discs from the trunk of his car was about something else entirely.
Having discs available at the Monday weeklies at Vihioja Park opened the opportunity for more players to find the sport. Around this time, Jussi landed his first sponsorship deal with Millennium Golf Discs, becoming the first Finn to be picked up by a disc golf manufacturer as a player. Jussi was also dominating the emerging European tournament scene, knocking down top placements on EuroTour events and on the Finnish National Tour.
Still, disc golf in Finland was not ready to support anyone full time in the early 2000s. As a result, Jussi decided to get a degree in marketing and entrepreneurship and to start his own company, an advertising agency. Looking back today, Jussi's time in the advertising world still shows in just about everything he and his companies do.
"The biggest lesson I have learned from school is 'learning by doing,'" Jussi said. "Nothing prepares you better for business than actually starting your company right now."
Working as a partner in not one, but two, different ad agencies, Jussi slowly started to put together a vision on where the sport of disc golf should be heading. Information technology had always been close to Jussi's heart, and he set up a disc golf web shop in 2003. The name of the shop was Frisbeezer, after Jussi's nickname on the lively disc golf messaging boards. Entering the world of e-commerce opened up a new chapter not only for Jussi, but the Finnish disc golf scene as a whole: Finally, there was a way to acquire new discs all across the country with no extra hassle.
By the mid-2000s, the Frisbeezer web shop had found its warehouse and headquarters in Jussi's parents' garage, making the shop a family affair. Jussi's dad, Timo — an avid disc golfer and Masters division EuroTour winner himself — was particularly instrumental in the site's growth.
A company is born, a 'huge' contract is landed
By this time, Jussi had also made his first trips to the United States to attend the USDGC and other competitions. It was during these travels that Jussi formed a relationship with Dave Dunipace, Harold Duvall, and Tim Selinske, the owners of Innova Champion Discs. These meetings would be essential for the next phase Jussi had in mind: his own line of golf discs.
"I remember we had a good connection with each other from the start," Jussi said. "We — me and Dave — both have a little different taste of humor, and I think that was one thing that clicked. I met Harold during the 2004 USDGC, too. He has always been a true gentleman and thinker to me. I respect Harold a lot. There is so much kind thought behind his actions. He can also be business oriented if needed.
"I had only few encounters with Tim," Jussi continued. "He was a great person. I remember us talking baseball in his room one winter, since it was baseball season right around the corner. Tim was a big baseball fan and he used to buy those Dodger Dogs for staff around the season. I remember us sitting in his office eating those dogs. He was one of the most gentle people I've met in disc golf. He will be missed."
At the time, existing disc companies had already pushed out a varied selection of models. For someone new to the sport, this array of choices could be overwhelming, so Jussi's vision was to have a simple lineup of discs that would have names that explained how one should expect the disc to behave.
With this idea, and his newfound relationship with Innova, Discmania was born. The first disc was named MD1 (Midrange Driver 1) and it was well-received in both Europe and the U.S.
Next came Discmania's first putter, the P1, and first driver, the CD (Control Driver). At the same time, the first true Discmania classic was released: the P2 putter. To this date, the P2 is the most popular putter among advanced and pro players in Europe.
With professional discs came professional players, and Team Discmania soon materialized. The squad has featured top players since its inception, most notably 2009 World Champion Avery Jenkins, 2012 European Champion Simon Lizotte, and young and upcoming phenom Eagle McMahon. The titles and accolades for Team Discmania don't stop there: 2016 European Champion Leo Piironen and 2014 Women's European Champion Jenni Eskelinen make up the roster, as do the 2016 National Collegiate Disc Golf and United States Amateur Champions.
"I've known Jussi for about eight years now, and he has always had me convinced that he is the man to follow," Simon said. "Still to this day, every time I talk to him my brain hurts afterward from all the ideas and plans he has. I love the Discmania line up and style. It's also been important for me to represent a European brand, and I just feel like I belong to Discmania's family now. Their support is simply amazing and I think very unique in disc golf."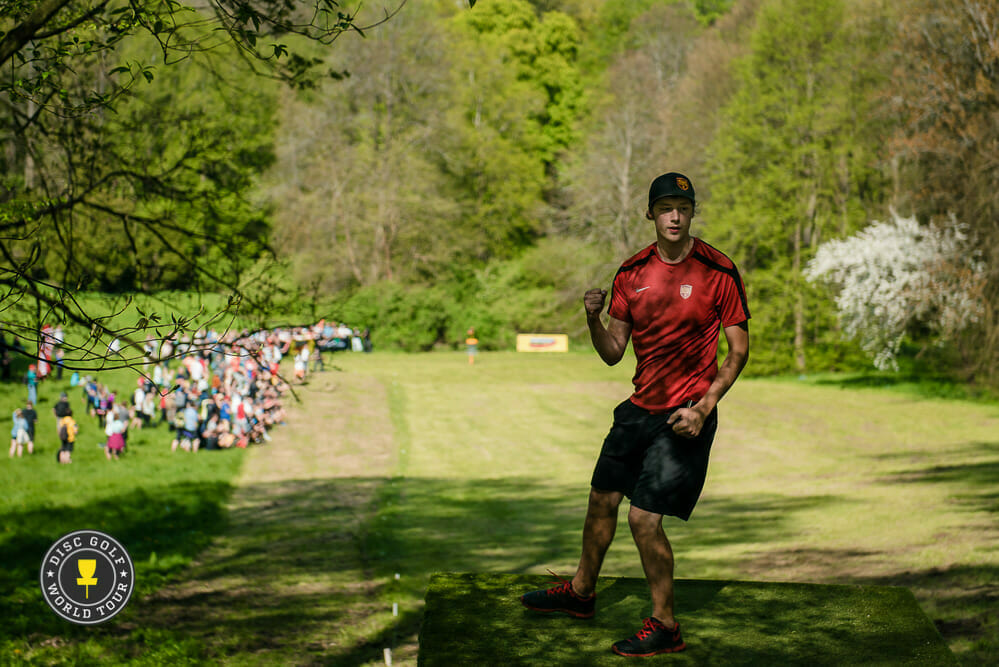 As the Discmania line was starting to take shape and the company started sponsoring players, demand for product started to emerge from Finnish sporting goods stores. Seeing what was on the horizon, Jussi left his day job at the advertising agency and started a new company, Innova Champion Europe Ltd. Jussi also took this time to hire his first employee from outside his family, Juho "Always a Happy Guy" Rantalaiho, and they started to execute a plan Jussi had been working on for years. They soon landed an equipment distribution with the biggest chain of sporting goods stores in Finland, Intersport. All of a sudden, disc golf products were available all across Finland, generating probably the biggest surge of exposure for the sport outside the scene itself so far, and many people found a new lifetime hobby from the aisles of the sporting goods stores.
"That was huge," Jussi said. "The biggest sports store chain in Finland — and in the World, I think. They have over 5,000 stores globally. I remember leaving the meeting with an agreement in my hands and thinking, 'Here we go!' Off course, dealing with the big dogs has taught me greatly about business in the real world."
Big events, big picture
Organizing tournaments has always been in the core of promoting the sport. From the biggest ones regionally, to the biggest in Finland, then the biggest in Europe and eventually more or less the biggest tournaments in the whole world, Jussi has been there.
While the Tampere-based Midsummer Disc Golf Festival and the Finnish Open — classic must-attend events of the late 90's and early 2000's — deserve a couple of chapters here themselves, let's jump to the one event that kicked off the growth of disc golf in Finland, the 2005 European Championships.
EC2005 was run by Jussi, with an active role as the Tournament Director and Event Promoter. Located in Tampere and the next town down the road, Nokia, this was the perfect time for Jussi and his group of trusted allies to show the disc golf world their vision of how events should be run. Despite minor hiccups thanks to the traditionally erratic Finnish weather, the event was a success. It featured an array of new features as far as disc golf tournaments go: The results were posted online in just about real time (remember, this was 2005, two full years before the first iPhone was released); the event had it's own press manager and a dedicated reporter; and there were film crews on site to capture a 30-minute recap show that was shown on Finnish National TV.
"As long as since 1998, when I was playing the Stockholm Disc Golf Open in Järva with players like Tomas Ekström, Svante Ericsson, and Ron Russell, I had a dream to make the biggest disc golf event in Europe," Jussi said. "In 2005, it happened. It was another big milestone for us. I remember we got that event to Finnish National TV. They paid us like one or two thousand Euros, and I hired a few guys to film and edit that piece. Since there was no money, I made the commentary. That was so bad. I really don't have that skill, even in my own language."
Before the turn of the year, Jussi already had a new tournament concept in mind: the European Open. Sure enough, in July 2006 the best U.S. players at the time — Ken Climo, Dave Feldberg, Jenkins, and Nate Doss — found their way to Finland to challenge Europe's finest in the very first PDGA Major event in Europe. At that first European Open and the editions that would follow it, Jussi and his crew would continue to pursue two important goals: creating the best and most professional disc golf event out there for the players, and using the event as a canvas to showcase the sport to disc golf fans and new audiences. Those who have been in one or more of these events can probably tell you that these goals were oftentimes met at a level never before seen in the sport.
The next steps
Let's fast-forward to the USDGC in 2015. At the players meeting, Discmania CEO Jussi Meresmaa unveiled his plan for the future: the Disc Golf World Tour, a premier tour showcasing the best this sport has to offer. Looking back now, a lot has happened since then. First of all, while nothing like this had been done before, Jussi's announcement was soon to be followed by another similar one, as long-time disc golf promoter Steve Dodge introduced the Disc Golf Pro Tour, a U.S.-based pro tour that would more or less challenge the PDGA's National Tour.
While the announcement of the World Tour was greeted with enthusiasm, over the following 12 months some voices would turn sour. It seemed evident that not everyone fully understood the concept of the tour.
"It's not supposed to be a competitor to any other tour or event, and most definitely is not supposed to be a U.S. [only] thing," Jussi said. "There is life outside the U.S. The U.S. is the biggest market for disc golf and we want to have an event there, too, but the main goal for DGWT is to spread the sport globally. Therefore, we are going to Australia, for example. So, we have not changed much our way of working, since that is not the point. Every DGWT event is different and will be customized to that specific country."
So what's next? Over the past three years, a group of influential Finnish disc golf promoters have developed a Finnish Disc Golf Trainers' association. This has been done in collaboration with the governing body, the Finnish Disc Golf Association. The purpose of this project is to create a multi-level educational system for disc golf in Finland. This way the sport will be there to stay; it will not fade away when the biggest boom is over.
They have already trained over 100 instructors, who now teach disc golf exactly the same way and with same materials. For 2017, the main priority is to educate schools on how to take disc golf in their physical exercise program. In the near future, there will be dedicated coaches and organized youth camps.
"This kind of development leads to great things in the future," Jussi said. "I truly believe disc golf can be a big sport, globally, in the future."
****
Discmania is not just a disc golf equipment brand. It's one valuable piece of the whole puzzle behind it: the events, the courses, the discs, the people. Its purpose is to make the sport of disc golf the best it can be. While the company sometimes faces growing pains, in others there are great victories. The bottom line is, wherever it is heading, it's not there yet.
"Ten years is a long time," Jussi said. "I think we have gotten far in a decade. But, to be honest, my goals were bigger for Discmania. We are not there yet, and that keeps us working hard. My goal for Discmania is to make it much bigger in the next 10 years. I feel that we have nearly started."