Out of a desire to help people find discs they loved grew a thriving business.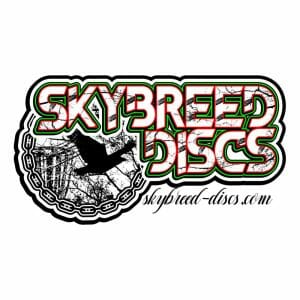 This article is sponsored by Skybreed Discs, a premier online disc golf retailer and preferred vendor of the Ledgestone Insurance Open.
Justin "JT" Taylor had heard of disc golf but never played.
In 2008, he went out with his cousins to Deming Park in Terre Haute, Indiana, for a casual round, splitting eight discs between five people. One of his relatives, visiting from San Diego, easily bested the field. JT had played other sports – traditional golf, baseball, football, especially skateboarding – and hated losing. After playing with his cousins, he did what most of us do – he went to Dick's to get the fastest disc he could find. Standing in front of the Innova display, he found himself overwhelmed with all of the options and flight charts. He bought a Wraith and started working on his game. He journeyed all over Indiana, and then all over the Midwest, to go to pro shops and disc stores searching for a greater variety of plastic. He was, like many of us, quickly obsessed and wanted to learn everything he could about discs and how they flew.
At the time, JT was in college at Purdue University. Soon, he would move on to graduate school in DeKalb at Northern Illinois University where he studied Social-Industrial/Organizational Psychology, a statistics and data analysis-heavy branch of psychology. In DeKalb, his obsession led him into the local disc golf scene. It was with the Fox Valley Metro Disc Golf Club that disc golf became the passion that would help define his life. Here, far from his Indiana home, he found club members who shared his love of disc golf. Playing solo, he met Ray Esquivel on the course and was soon playing with the whole Esquivel family. They became his family. "Any good things I do in disc golf," JT says, "is credit to them."
After earning his Masters degree, he began working for a company that specialized in psychological testing for business. This meant a job in Chicago and a move to the Chicagoland suburbs. It also ushered in other changes, like reconnecting with Lora, who he had known growing up in Indiana and would later marry. Since he could work remotely, he soon relocated to Goshen, Indiana, where Lora was working as a clinical pharmacist at a local hospital.
A Plastic Passion
During graduate school, Taylor had created a corporate entity to help fuel his pursuit of discs. He was buying plastic he wanted to try, ordering for friends, and selling discs out of the back of his car. Having a company allowed him access to disc manufacturers and helped him, as he says, "to make my hobby pay for itself." He became the guy who knew all the plastic, the one who had tried every manufacturer in a relentless pursuit to discover how every disc flew. Playing with Fox Valley Metro, he became a resource for people who wanted to know what disc they might be looking for. When people asked, the answer was usually, "Go talk to JT."
Taylor found one of his greatest joys while discussing discs after league nights. He was always happy to "talk flight" with anyone who was willing to listen.
"What I discovered," Taylor says, "is that I really love matching people with plastic." By 2015, Taylor was looking to expand his in-person business to an online storefront and Lora dedicated herself to learning code and building a website. The challenges, however, were bigger than mastering HTML. Given Justin's experience in forecasting and analytics, he knew moving from a passion project to a full-fledged business would require planning, dedication, and space to store merchandise.
In the 1990s, Taylor's mother and stepfather had moved to 40 rural acres in Bowling Green, Indiana, to be homesteaders and live the country life. They had moved on from warehousing and logistics jobs to run their own fireworks business, performing shows throughout the area. The property was large and had a lakefront lot perfect for Justin and Lora to build a home. In 2016, they relocated to Bowling Green while still working, but, through long talks along the lake, the Taylors decided this place was also where Justin could also realize his dream to turn his passion for disc golf into a full-time business. The property offered room for a storefront and warehouse space, and the woods, fields, and lake seemed like the perfect place for a disc golf course.
Initially, growth was steady. Justin continued to vend at tournaments and on the internet, and they worked to build the course and the pro shop. Justin analyzed the data of the disc marketplace and laid the foundation for a solid and sustainable business. Lora tightened and enhanced the technical architecture to make the website reliable. In 2019, the Taylors launched Skybreed Discs. Soon, the first baskets were put onto the initial layout of the Ravenshire Disc Golf Course. By the end of the year, the once largely virtual business was now firmly grounded in beautiful rolling acres of Indiana countryside. Justin assumed online sales would remain important but also thought that the heart of the business would be the course driving traffic to the brick-and-mortar pro shop.
But then COVID changed everything.
Booming Demand — And Challenges
The disc golf explosion during the pandemic exceeded Justin's carefully calculated expectations and led to unexpected challenges – like the need to get plastic in the midst of a collapsing supply chain. Taylor has always been led by the data, but the demand spike in 2020 quickly made the projections of 2019 obsolete.
"It is hard to do forecasting in this environment," Taylor says. "The growth is explosive, but that makes planning for the future difficult. We want to be able to grow over the long term, not just be drawn into a boom."
The unprecedented demand has made even the most basic business decisions – like deciding how many discs to order and getting those orders filled – into tough judgement calls with unreliable signals. The goal is to take advantage of the opportunities of growing demand while not depending on growth that is unsustainable. Taylor says that one of the toughest things about the recent growth of the sport is being flexible enough to handle the "challenges of success" – making sure that Skybreed can fill the increased orders effectively, update the images and stock on the website quickly, and insure the same high level of customer service. The Taylors love the challenge, but Lora says that expanding, refining, and innovating in the current environment can sometimes feel like "building the plane while you are flying it." One of the biggest challenges, Justin says, "is our own imagination" – the tension between wanting to expand the business in new ways while still managing all of the limitations imposed by supply, personnel, and space.
To help meet these challenges, Skybreed is expanding staff and building an additional warehouse while also working to establish long-term relationships across the sport. Skybreed was a major sponsor and Preferred Vendor for the 2021 Ledgestone Insurance Open, sole vendor for DGLO, and a sponsor of Ultiworld Disc Golf's coverage of the 2021 World Championships. Skybreed has also enhanced its team sponsorships, bringing on Westside Discs pro Erika Stinchcomb as well as expanding their team of competing and touring pros.
Skybreed is also changing the way vending is done at tournaments. While they are happy to show up and vend at an event in the traditional way, in 2020, they had to adapt to COVID-era events without players meetings or traditional vending. Like other vendors, they offered "virtual vending" where tournament winnings and prizes could be exchanged on the website rather than on-site at a tournament. While the Taylors worried that this might be frustrating for players who were accustomed to getting plastic at the end of the competition, it has proved very popular even as COVID restrictions have evolved. Skybreed has eliminated the time limits on these payouts and has made them combinable with other prizes or gift cards.
"People are selective with their plastic and now can get what they want, not just what is left in the stack at an event," Justin said. "We stock discs from over seventeen manufacturers, so they can get just what they need. Or, if they prefer, they can save their winnings in a Skybreed account and add to it over the season." Some players are building up their Skybreed account over the course of the season to save up for larger ticket items or keeping their winnings until the release of a new disc.
Skybreed emerged before the pandemic, but COVID led to unexpected growth and threw the business side of disc golf into chaos. The Taylors have had to abandon their expectations and respond to new challenges and opportunities. But some things haven't changed. JT still loves matching people with plastic; he takes calls and responds to messages every day from players trying to find the right disc for their game. JT is not sure how the effects of the past few years will transform the sport, but constant change has become the new normal.
"We don't know what is next," JT says, "and that's how we like it."