The veteran's fourth title was a mix of steady and stunning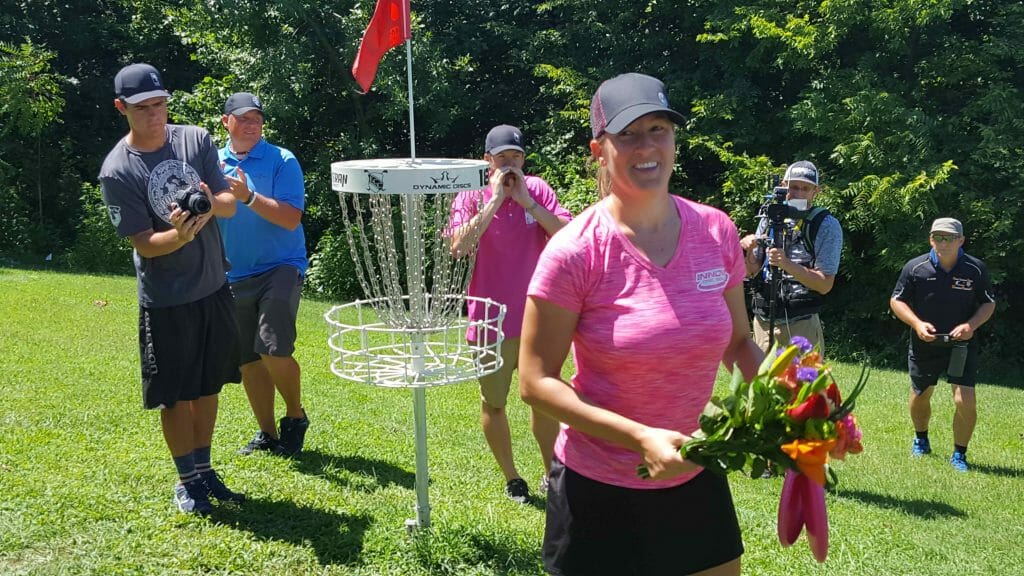 It's awards season here at Ultiworld Disc Golf! Follow along the next few days as we hand out the virtual hardware for the top moments, performances, and players of the 2016 professional disc golf season. Today and tomorrow we'll recognize the Performances of the Year, given to memorable rounds or tournaments that stood out to our staff.
Heading into this summer's PDGA Pro World Championships in Emporia, Kansas, it wasn't that Valarie Jenkins was an underdog, or some sort of dark horse contender. As a multiple-time world champion and perennial Top 4 player in the Open Women's division, she was always a threat to win the title.
But given the courses – long, open – and her competition – Catrina Allen had dominated the season to that point, and Paige Pierce had plenty of experience winning on the wind-blown Kansas prairie – Jenkins wasn't exactly a favorite, either. The odds were on either Allen or Pierce to come home with the title, but when that duo headed into the Final 9 at the Emporia Country Club tied for the lead, Jenkins lurked one shot behind.
And then, everything turned upside down.
Allen went bogey-bogey-par to start, while Jenkins went par-par-birdie to jump into the lead over Allen and tie Pierce, who started with three straight pars. Then, on the fifth hole of the Final 9, on the Country Club's O.B.-lined 13th hole, chaos ensued.
Pierce went out-of-bounds twice on the peninsula-shaped hole, resulting in a momentum-shifting, quadruple bogey 7. Allen also struggled, firing off her own O.B. shot and taking a double-bogey 5.
Jenkins? Relying on the steady hand she had employed through the whole tournament – she never experienced the heavy scoring swings that both Allen and Pierce did throughout the week – she carded a par 3, taking a decisive lead over Pierce and Allen into the final four holes.
But she wasn't finished.
As she stepped up to the course's penultimate hole with that same lead in hand, it would have been easy – and safe – for Jenkins to lay up to the drop zone, take a par 3, and collect her championship.
Instead, she went for the kill.
In a chill-inducing moment, Jenkins took the tee and ran the hole's island green as the crowd held its collective breath. When she landed safely, the silence turned into a raucous cacophony, with a mix of disbelief and excitement washing over those in attendance at Jenkins' authoritative stamp on the victory.
Valarie Jenkins Worlds Island Shot GIF
Looking back at the title – her fourth in a long and distinguished career – Jenkins said the overriding sentiment she was left with was determination.
"It's been so long and we've been counting the years — it was seven years since my last world championship win," Jenkins said. "And while I've won a few Majors here and there in between that time, winning a Worlds is a tournament like no other. It really took pushing away all those heartbreaks that I've had."
As for the decisive shot to the island – a moment that Pierce, after Worlds, asserted "was not a Val move" – Jenkins said the reaction from her family left an indelible mark.
"My favorite memory from that hole isn't actually the shot," Jenkins said. "It's when I made it onto the island and, you know, the crowd's screaming and everything, and I turn around and I see my dad on the bag, [brother] Avery [Jenkins] and [husband] Nate [Doss] behind me, and they had their hands up, curled under their chins. And they were just jumping up and down – I keep comparing them to school girls. They were just so overwhelmed, just exhilarated by that shot. The excitement of everything, the tension — they're feeling everything with me, they were so, so excited. It was awesome."
This Worlds performance was just one huge moment in a career filled with many. But if this was the last one – Jenkins and Doss will be competing less in the future as they focus on building a brewery – it was certainly a treat.