20th anniversary of the event takes place today through Sunday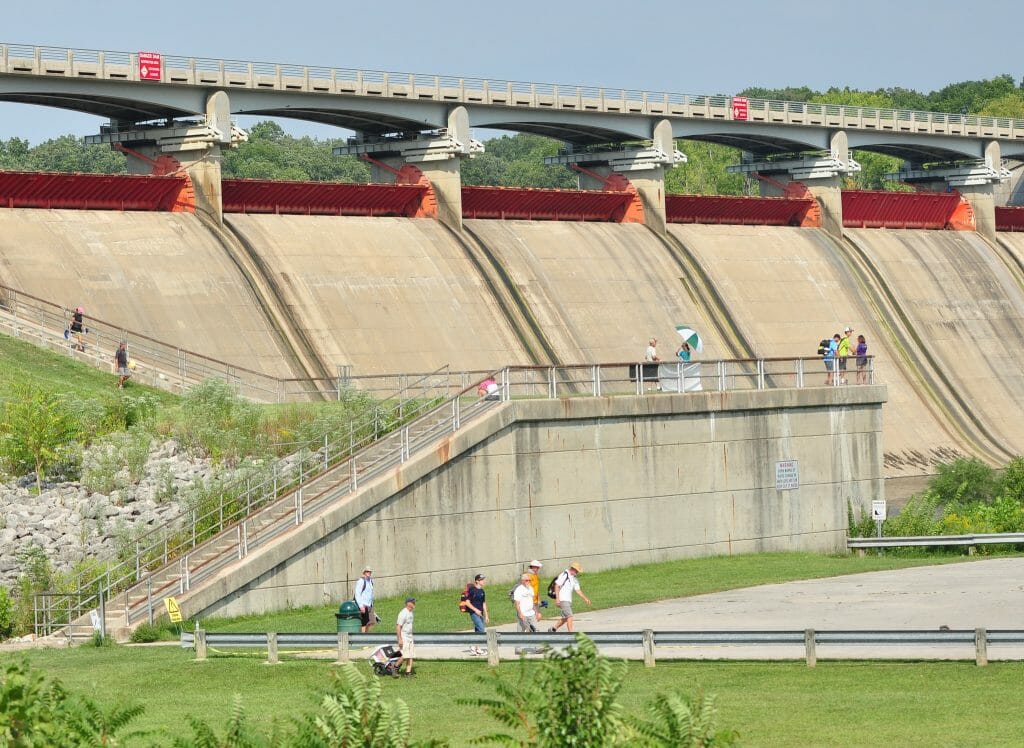 The Brent Hambrick Memorial Open begins play at 9:30am today with a shotgun start. It's the last PDGA National Tour stop of 2016 and showcases the pro fields competing in a large event for the third week in a row. The men's field is a pretty standard issue NT group, while the woman's field boasts fifteen competitors, with eight rated over 900.
Players will take on the 27-hole Brent Hambrick Memorial Disc Golf Course located in Hoover Dam Park in Westerville, Ohio, just outside of Columbus. The pro divisions will play three 27-hole rounds, and the top four men and top three women at the end will play a Final 9 complete with a handful of safari holes and the rather famous Dam Hole.
The BHMO is one of the longer-running big tournaments out there. Let's find out a little more about the tournament, its history, and the course its been played on for twenty years.
The Tournament and Course
The BHMO began in 1997, and 2016 marks its 20th anniversary. In 1997 it was renamed in honor of Brent Hambrick, who "ran one of the best tournaments in the country – The Columbus Open" in the early 1990s. Since then the tournament has been a fundraiser for The Leukemia and Lymphoma Society, a worthy cause indeed.
Speaking of the Columbus Open, check out this old footage from the 1992 tournament, which includes some of the holes from the safari Final 9. If nothing else, skip ahead to the 2:50 mark and watch them play the Dam Hole. How about that clanger from 'Crazy' John Brooks? I can't be the only one hoping for a Final 9 ace on that hole this weekend, right? How quickly do you think that would break the disc golf internet?
The course itself almost has a 'Jekyll and Hyde' feel to it. Originally designed in 1990, holes 1 through 9 play in a relatively open field just next to and below the dam. These holes do have some elevation change, and if it does get windy it will factor in here. Next, competitors move on to holes 10 through 14, which play through pretty dense woods before moving on to the much newer letter holes.
Holes A and B play towards the edge of the trees but remain relatively open, while C through E play through a dense stand of coniferous trees. F through I are back out in the open and relatively short, but players will have to contend with numerous OB hazards and a mando on hole H.
This takes us back to the original 18, starting on hole 15. From there, 15, 16, and 17 play on the edge of the woods and are not unlike holes 10 through 14, but are perhaps a bit more open. Hole 18 is back out in the open again with a long, uphill tee shot and an OB road running the entire right side of the fairway and behind the basket.
The safari Final 9 takes place out in the open, stringing together some of the front nine, adding the Dam Hole, and finishing on hole 18. If the course skews one way or another it would probably be characterized as having more left-to-right tee shots than anything else. Viewers should expect to see a wide range of shots from the pros as they navigate in and out of the woods.
Analysis
With plenty of big name players stopping by for this NT, we should be in store for some high-quality play. Let's bring in Ultiworld Disc Golf Editor Steve Hill to talk about some of those pros, who we expect to do well, and who to watch for this weekend.
Steve: In MPO, I like Ricky Wysocki in a bounce back performance after his Ledgestone dud. It's not like he forgot how to play disc golf after Worlds, but I think the emotions of the week probably weighed on him more than he would like to admit. What better way for him to get back on track than by visiting his home state and channeling his inner-LeBron? He won the BHMO in 2012 and has finished in second each time he's played since.
Alex: Funny you should bring up LeBron, because the player many consider to be the LeBron of disc golf (read: best player in the world) is going for his third straight BHMO win. Yep, that's Paul McBeth, and the past two years he's won this by a combined 16 strokes. Sure, that's a nice record Ricky has, but given McBeth's dominant performance last weekend I'm thinking this is still his to lose.
Steve: Wysocki's too big to be Kyrie, so is he Kevin Love? And who's Delly? Anyway, I'll throw one more player in the mix as a local who might surprise: Brad Schick. He doesn't hit the road much, but he's a perennial Top 10 finisher at the BHMO.
Alex: Agreed on Brad Schick, highest rated player in Ohio and on top of that the lowest PDGA number in the MPO field. He's from the Columbus area and certainly knows the course as well as anyone could. Other Ohio pros to keep an eye on are Tyler Horne and Cyrus Fuhrman. And don't sleep on Jeremy Koling, Nate Sexton and Bradley Williams. Koling has a number of high finishes at the BHMO, including a win in 2013, and he and Sexton have the game to do well on the tight back nine and letter holes. Williams also has a number of quality finishes at this tournament. I wouldn't be surprised to see all three get some time on the live broadcast this weekend.
So, Steve, what are you thinking after looking at the FPO field?
Steve: FPO is anyone's game, as it has been the last few weeks. We know Sarah Hokom can handle some of the more wooded shots, but when the course opens up she might struggle. Valarie Jenkins has been at the top of her game and she took home the BHMO title in 2014.
Alex: Catrina Allen has certainly been the hot hand all year, and took down another big win in a blowout last weekend at the Ledgestone. But, she's only competed in the BHMO twice – in 2011 and 2012 – with a high finish of a tie for 4th. Paige Pierce taking the weekend off certainly doesn't hurt Allen's chances, though. We'll see if she can continue her impressive season, but I think you're right, this one could really be up for grabs and play out like many of the close finishes we're accustomed to seeing from the FPO field.
Others to watch for:
James Conrad has been on a tear since July with high finishes in big tournaments in every one he's been too, except Worlds.
Chris Dickerson has been playing well, too, and got some air time last weekend at the Ledgestone. Last season's rookie of the year is capable of making some noise this weekend.
Nate Doss and Will Schusterick are hanging around; we know what they're capable of. Maybe Paul Ulibarri will be able to bounce back if his finger is continuing to heal.
Shawna Buzzingham is back and looking to defend her BHMO win from last year, but will be facing some stiff competition.
Past BHMO Winners
MPO: 2015, 2014 Paul McBeth; 2013 Jeremy Koling; 2012 Ricky Wysocki; 2011 Paul Ulibarri; 2010 Nate Doss; 2009, 2007, 2006, 2005 Dave Feldberg; 2008 Brad Schick; 2004, 1999 Barry Schultz; 2003 Steve Rico; 2002 Ron Russell; 2001 Alan 'Sugar' Schack; 2000 Darren Harper; 1998 Ken Climo; 1997 Bob Vanderboss.
FPO: 2015 Shawna Buzzingham; 2014, 2011, 2010 Valarie Jenkins; 2013 Melynda Apton; 2012 Sarah Cunningham; 2009, 2008, 2007, 2006, 2005, 2004 Des Reading; 2003, 2001, 1999 Juliana Korver; 2002, 2000, 1998, 1997 Elaine King.
As the Columbus Open
MPO: 1994 Frank Arroyo; 1993 Ken Climo; 1992, 1991 Steve Valencia.
FPO: 1994, 1992 Teresa Mistler; 1993, 1991 Elaine King.
Weather
Hot, but not as hot as it was two weeks ago in Emporia for the World Championships; more-so around 90 degrees, or maybe a little higher, and I'm sure it will be humid, too. Sunday will see a chance for some thunderstorms in the late afternoon, not atypical for the standard, hot summer day in this climate. Winds likely won't be much of a factor (variable 5-ish mph winds isn't much). If they are anywhere, it will be on the more open front 9 and hole 18.
How You Can Watch It
SmashboxxTV is coming through at the last minute to do a live broadcast. They will start each day about 9 holes into the round, though, due to the 27-hole format. This makes sense on a number of levels: Covering fewer total holes means a decreased chance of something breaking or going wrong with the tech stuff, and the chance to cover the tournament seems to have only arisen in the past week, leaving little time to prepare and have a thorough understanding of cell signal at the course. I was surprised to hear from Terry Miller on the latest SmashboxxTV podcast (episode 107) that he's never been to the BHMO (really wasn't expecting there to be a regular major disc golf tournament he hasn't been to). So there's another reason for them to err on the side of quality instead of quantity.
Get your fingers ready to click the minimize button on your browser before Bill Lumbergh catches you slacking off at your desk this Friday as you ride out the last few hours of the work week enjoying the opening round. Or, follow the action via @PDGALive on Twitter.