Wysocki holds one shot lead over young Coloradan after record-setting moving day, while Nybo and McBeth climb to the lead card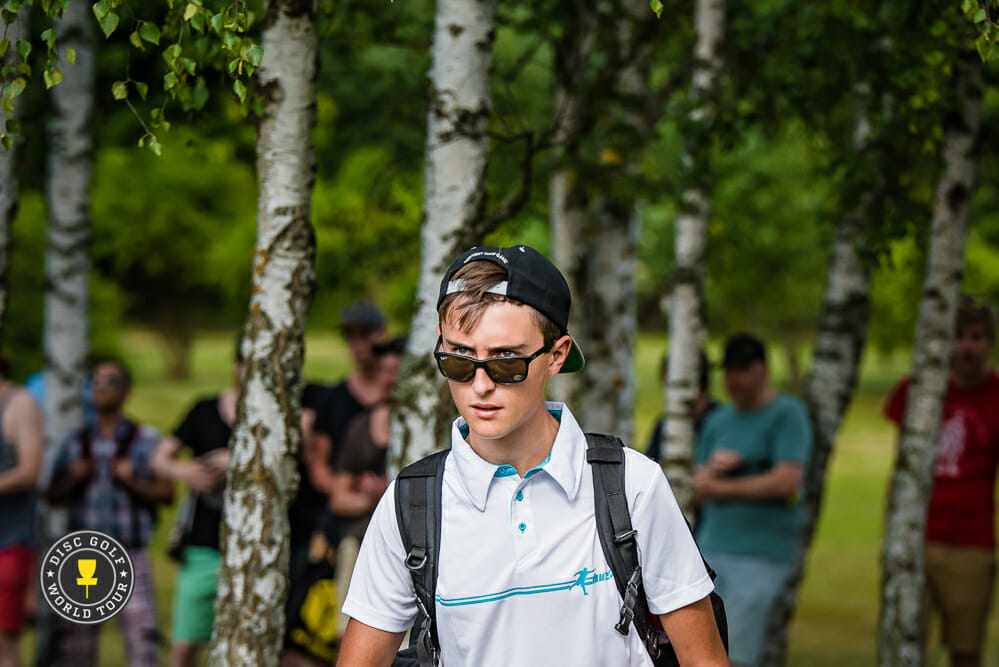 Eagle McMahon is enjoying Europe.
The 18-year-old Colorado native is on his first trip overseas and – in addition to playing the European Masters – has been traveling to signings and demonstrations with Paul McBeth and Nate Sexton, soaking in life as a professional disc golfer and applying it to his own evolution as a player.
"When [Disc Golf World Tour organizer] Jussi [Meresmaa] asked me, like, 'When you are coming over here, what's the ratio [for] playing competitive, or experience?' I told him it was probably 25/75 – 75 being experience," McMahon said. "I'm just over here having a great time. It's awesome."
And he's taken those good vibes with him to the Järva DiscGolfPark course, where he tossed an 11-under par 52 today to bring his weekend total to a 16-under par 110 and vault him into second place, one shot off of Ricky Wysocki's 17-under lead. K.J. Nybo's 10-under day lifted him up to a 14-under par 112 and into third place, while McBeth got hot late en route to a 9-under par showing that elevated him into a fourth place tie with Paul Ulibarri, who sits at a 13-under par 113 for the weekend.
On a moving day that saw more action than most, the biggest moves belonged to McMahon, who birdied Järva's first five holes during a bogey-free, course record-setting performance. In addition to the clean sheet, McMahon hit all of his putts from inside the 10-meter circle and added three from outside the circle to push Wysocki, whose two bogeys helped to close the margin between the competitors heading into tomorrow's final round.
For McMahon, Round Two started in stark contrast to yesterday, when he came out of the gates with a double-bogey 6 on the tournament's first – and most difficult – hole. He corrected his course today, overcoming the jitters that plagued him on Day One to card a birdie.
"I'm always pretty nervous on the first hole, regardless of the event, because I think it kind of represents what you're going to do the rest of the tournament," McMahon said. "Yesterday I was super scared after getting a 6, but today I managed to shave three strokes off, get a three, and I was like, 'Wow, that's a better start than yesterday.'"
Even as he admitted to being a little on edge after yesterday's ominous beginning, McMahon said he employed a veteran mindset to move past the struggles.
"No one should consider themselves a professional disc golfer if they're rattled by taking a high score on the first hole of the tournament, because there's so much golf left to play," McMahon said. "I practiced the course a ton, so I knew there were a lot of opportunities coming. So I tried to forget the last hole, look forward."
Wysocki, meanwhile, said he would look forward to cleaning up his own Round Two missteps, which included finding an early tree off the tee on Hole 12 on the way to one of two 5s during the round.
Wysocki Hole 12 Instagram Video
"Hopefully I can go bogey-free tomorrow, that's my main goal," Wysocki said. "I feel like if I can do that, I feel like I'll have a good chance to win."
He'll look to do that against surging, experienced cardmates in Nybo and McBeth, the latter of whom has a flair for late-round dramatics in Europe.
"I don't get worried when I'm not winning," McBeth said. "There's still a lot of golf left. I'd like to be in the lead, but this is more exciting for everyone else – to see people chasing, no matter who it is. As long as I come out on top, I don't care where I'm at [right now]."
While he said enjoys the comfort of sitting atop the leaderboard, Wysocki was able to offer some advice for the younger McMahon when it came to handling the excitement of the final.
"In the beginning it's going to be really big, dealing with the pressure," Wysocki said. "Sometimes when you're in that position, you feel like you really have to attack. It's a long round, it's 18 holes. This course can have some fatigue if you're not careful. Playing in his position, you've really got to be patient, really patient, and know that … you're going to take your birdies when you can. But when you're not in position, you've got to take your medicine, and that's the hardest part sometimes to do when you're behind."
To his credit, McMahon already had a strategy in mind for the big day.
"I can almost guarantee you that I'm going to be nervous on the first hole," McMahon said. "The thing I've noticed this year – and it worked today – is just embrace the nerves. Enjoy what you're going through, because you're not in this position all the time. If you're making a bad shot, look at the positives: You're on the lead card in the first major of the year. I'm just looking forward to playing with the top players tomorrow."
The final round lead card tees off tomorrow at 2 p.m. local time (8 a.m. EDT) and can be followed on the Disc Golf World Tour's social media channels.