Ulibarri sits in second, while McBeth is five throws off the top pace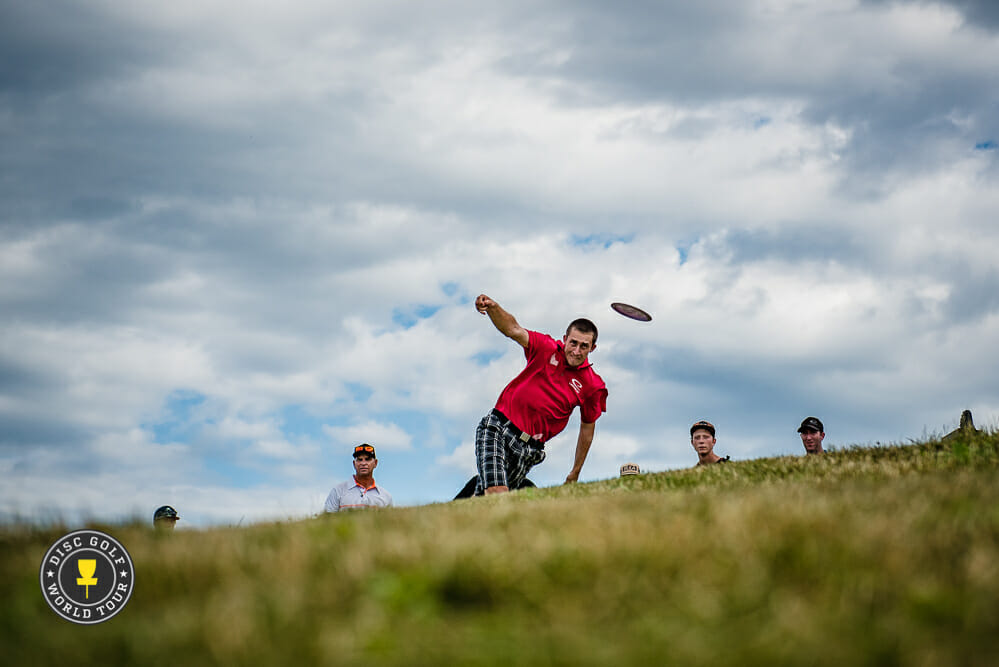 Ricky Wysocki started hot at the European Masters, firing off ten birdies – including five in the last six holes of play – during today's first round to finish with a 9-under par 54 and a two shot lead.
Paul Ulibarri sits two throws off Wysocki's pace after his 7-under 56, while Nate Doss' 6-under 57 leaves him in third. Eagle McMahon and Zach Melton are tied for fourth place after their 5-under 58s, with McMahon getting the nod for tomorrow's lead card due to his lower PDGA number.
The turning point for Wysocki, who was five under par after tackling Järva DiscGolfPark's first nine holes, came in the form of a bogey on Hole 10 that he said was a result of being too aggressive. After being out of position off the tee and getting a bad tree kick, he buckled down to par the next two holes before starting his hot streak on Hole 13.
"I knew if I wanted to have a good round I had to finish real strong," Wysocki said. "I think that [bogey on Hole 10] put the spark, lit the fire in my drive and my confidence to really want to play the last few holes out strong to put myself in position here after the first day."
Wysocki then went on to can putts from outside the 10-meter circle on Holes 14 and 16, which brought his total from long-range to three for the round. Aside from that increased accuracy, the South Carolina native attributed the performance to improvements in his mental game as the day wears on.
Wysocki Hole 16 Birdie Instagram
"I've been getting a lot better with coming down the stretch and finishing rounds," Wysocki said. "I think mentally that's where I've grown a lot. I know that a lot of rounds I've been playing in the last few years I've kind of let up the last few holes, and now I'm really starting to put my foot down and really finish strong."
It was the opposite story, though, for Paul McBeth. After also starting five down over the first half of play, the defending Masters champion carded three bogeys on the back nine to finish with a 4-under par 59, digging himself a five stroke hole heading into Round Two.
McBeth, who took a nearly month-long break from tournament play after his 12th place finish at the Vibram Open, said he needed to knock off some of the rust that had accumulated during the downtime.
"I think I missed three or four putts in the circle today, which shouldn't happen," McBeth said. "They weren't really close misses, either. There was one that could have stuck, [and] the other three were complete misses. Just trying to get back into the groove of it, and putting in tournaments, and knowing that there's only one putt."
And while Wysocki's strong play came after he buckled down on the course's back half, McBeth said his own lackluster finish was due to a lapse in concentration.
"I think that's something that did change," McBeth said. "I was focused on me in the front half, and then it started slowing down and I was like, 'Oh, let's check the scores, let's see what's going on.' We started talking about it, then I just got wrapped up in that instead of focusing on myself. Mentally just took a break on that back nine, and it definitely hurt me for the round."
Still, McBeth said being five off the leading pace was not an insurmountable deficit, even as he admitted that he is working to get back to where he can build a lead instead of chase it down.
"It's kind of hard trying to figure that out again," McBeth said. "But it's always exciting being behind and coming, because you're always fighting for every shot. So that's kind of exciting. Now it's trying to figure out how to get there from the beginning and stay there. Shoot well in the first round, and then stay there."