With more American players in the mix, the biennial event might be more than just McBeth versus Wysocki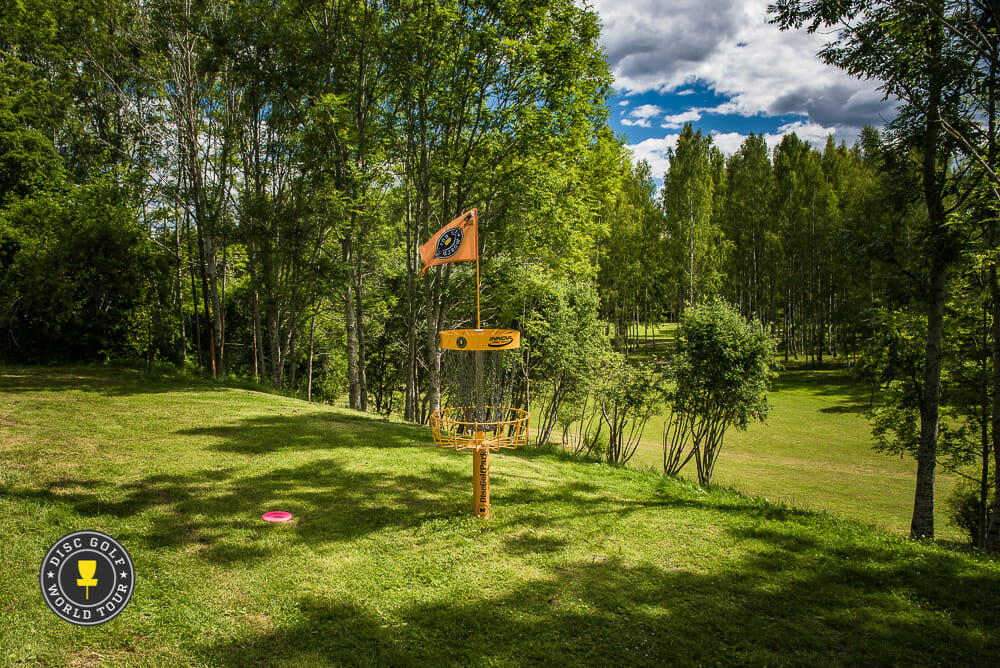 As one of only three PDGA Majors in reach for the Open division this season, this weekend's European Masters presents a unique opportunity for players to add a notch to their proverbial belts and claim a prestigious title in the disc golf world. Toss in the fact that the tournament occurs once every two years, and the feat feels even more rarefied.
Taking place tomorrow through Saturday at the famed Järva DiscGolfPark in Stockholm, Sweden, the European Masters also doubles as the fourth stop on the Disc Golf World Tour. While the tour's previous European outings – the Konopiště Open in the Czech Republic and the European Open in Finland – featured only a handful of American players, the allure of a major has found many players – including Nikko Locastro, Eagle McMahon, Jeremy Koling, and Catrina Allen – hopping across the pond for the big event.
Another of those players is Paul Ulibarri, who is not only on his first Euro trip of the year, but is also looking for another first: A major victory. Knowing what is at stake in the tournament, Ulibarri said he puts more pressure on himself to perform, but that it actually helps him.
"I think that's why I typically play my best at the majors and NTs," Ulibarri said. "I've always felt like I played my best rounds on the big stage, it's just a matter of getting to the lead card. I typically stay there once I'm there."
That's been the issue for Ulibarri this season, though. He's tended toward throwing hot rounds late in tournaments, but his starts have been slow, leaving him too far out of contention by the time he heats up. Still, Ulibarri planned to stay the course this week, leaning on strong practice rounds to build his confidence.
"I just have to do me, play my game," Ulibarri said. "I have been finishing tournaments well. I think that's a product of high pressure, so I think I will feel that high pressure this week since it's a major."
K.J. Nybo is also seeking his first major after coming in second at the 2014 European Masters, and he entered this year with a similar approach to Ulibarri of staying in his own mode.
"I've got to win, or Paul or Ricky [will]," Nybo said. "I don't know how I'm going to do that, but I know I can do it. I think what I have to do is just not look back. What I do sometimes is I kind of look too much on their game instead of doing my own game. What I do [now] is I play against the course, and that's helping me a lot."
Though he isn't in search of his first major – his Open wins at the 2014 Japan Open and 2011 PDGA Championship and a Junior title at the 2010 Am Worlds gives him three on the books – Ricky Wysocki had another "m" word on his mind has he headed overseas.
"I've got some momentum rolling into Europe, so I like that," Wysocki said after his Silver Cup victory. "I always talk about momentum, but it really works for me."
Riding back-to-back victories in Wisconsin and Estonia, Wysocki said he would rely on his experience in Sweden. He placed third at the 2014 installment of the European Masters, and won the A-Tier Stockholm Disc Golf Open in 2013.
"I'm usually in the hunt there, and I'm looking to do the same this year," Wysocki said. "My game's feeling really well, and [at] that course all of your shots have to be dialed in because there's so many different types of shots. My game is really well-rounded right now, so I feel like I have a good shot."
Wysocki is an obvious favorite given his strong season, but defending European Masters champion Paul McBeth – who recently ditched the straddle putt he had been employing as he battled knee pain – is always in the mix, as is Nate Doss, who surged to second place at his last tournament and also touts extensive European experience.
"Really the only reason I'm going over there – of course it's a PDGA Major, which is a great opportunity there to win a major and put a little star on your career – [is] I really like Järva as a course," Doss said after the Silver Cup. "I always have, from the very beginning. I've played well there, so I look forward to going over there and giving it a run to win it."
Unlike Ulibarri – whose wife, Allen, has played all of the Disc Golf World Tour events – Doss will be flying solo, as his wife, Valarie Jenkins, has opted out of the DGWT events due to its lack of a dedicated Women's Open division.
Still, Doss said that there was no tension between the couple, and that Jenkins wanted him to come home with the victory as much as he did.
"I think for me, this is just a part of what's going on in our sport," Doss said. "Me and Val, we talked a lot, we talked a lot about it. It's definitely frustrating, especially for Val, who would love to go over and play in Europe for the same reasons I just explained. But ultimately, it's our job, it's how we pay our bills, and Val has been very supportive of me going over there."
Aside from Jenkins and other top female pros like Sarah Hokom and Paige Pierce, one more notable name will be missing from the event: Simon Lizotte, who is still recovering from a knee injury suffered at a recent instructional clinic.
"It's a pity that he's not here," Nybo said. "I think that's going to change it a little bit, because of the World Tour points."
Regardless of who is in attendance, though, Ulibarri said the tournament will light a fire under the elite.
"It's always great competition at the majors, the cream always rises," Ulibarri said. "I think we will see that this week…that extra pressure is where the best thrive."
Forecast and Coverage
Highs will be in the mid-70s all weekend in Stockholm, with winds barely reaching 10 miles per hour. All in all, it should be beautiful weather for a major event.
The Disc Golf World Tour's social media channels are the go-to spot for play-by-play snippets of the event in real time, with tomorrow's featured card – featuring McBeth, William Gummesson, Tomas Rosenqvist, and Silver Lätt – teeing off at 2:00 p.m. local time (8:00 a.m. EDT). Additionally, the tour will release daily recap videos, and the PDGA's media team will also be on hand manning the @PDGALive Twitter feed.
This article was updated July 20, 2016 at 7:15 p.m. PDT to add thoughts from Nybo.