Four round tournament lacking in star power, as big names take the weekend off or travel overseas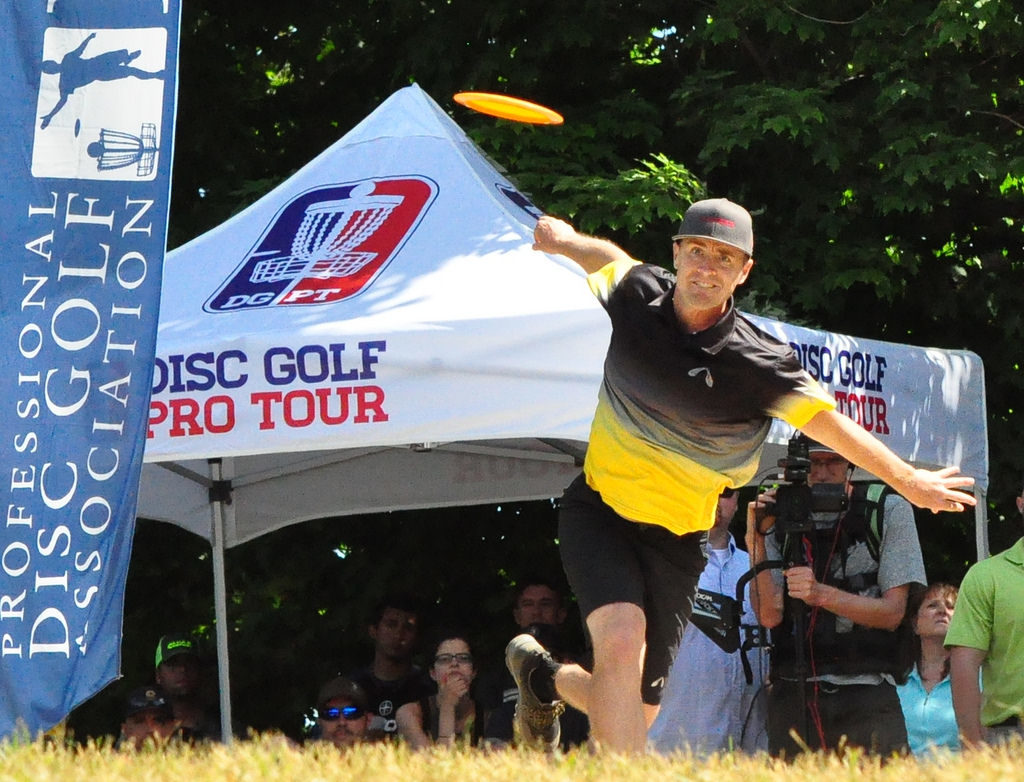 Heading into the home stretch of the Vibram Open, Cale Leiviska looked poised and ready to cruise to his second National Tour victory at Maple Hill. Then, the wheels seemingly came off, as he failed to birdie any of the final six holes, capped by uncharacteristic inaccuracy off the tee on Holes 17 and 18. In the blink of a proverbial eye, he was taking home third place instead of first, along with a heaping pile of disappointment.
But it wasn't nerves, or the treachery of Maple Hill, or even his competitors that led to Leiviska's ultimate demise that day. Instead, it was Lyme disease.
"Those filthy little ticks, man," Leiviska said. "I hate them."
While he doesn't know the exact time during the Vibram Open that he was assailed by a parasite, Leiviska said he noticed a bite on the back of his left leg sometime on the Saturday of the event. Not seeing the telltale bullseye that often accompanies the work of a tick, though, he chalked it up to a spider and went on his way.
"The next day, Sunday, I woke up and right away I knew something was wrong," Leiviska said.
He struggled through light-headedness and dizziness during Sunday's final, noticing that his power off the tee had been sapped. As the day wore on, he said, the bullseye started to show, and his peers urged him to seek treatment. He left for an urgent care center after the last putt at the Vibram dropped and, after being tested and registering a temperature of 102 degrees, was diagnosed with the condition that, according to the Centers for Disease Control and Prevention, affects more than 30,000 people every year in the United States.
"It was tough," Leiviska said. "I felt completely devastated. Not just because of the loss at the Vibram, but then with the sickness and not knowing how I was going to be feeling the next couple weeks, it kind of just compounded everything and made it worse. I was pretty dejected after those couple days."
Now on his second week of a month-long course of antibiotics, Leiviska is taking a fighter's spirit into this weekend's Silver Cup, the second stop of the inaugural Disc Golf Pro Tour, in Manitowoc, Wisconsin. Instead of skipping the event to rest, he'll be packing long sleeves, a hat, and an umbrella – the medication for Lyme comes with a possible side effect of increased sun sensitivity – and the resolve to achieve more than just overcoming his disheartening Vibram finish.
"I had my heart set on winning the Pro Tour, and if I miss this weekend there's no chance of doing that," Leiviska said. "I figure if I can just play strong enough – I'm not really having super high expectations this week – I just want to finish and get some points and be completely healthy for the [Minnesota] Majestic is what I'm thinking."
Leiviska and the field will tackle the Silver Cup in two phases: Today will see two unique rounds of 18 holes at Silver Creek, a 36-hole track on the shores of Lake Michigan known for technicality but not length, while play on Saturday and Sunday moves to Rollin' Ridge, a Par 69, 8,928-foot goliath in nearby Reedsville for which Leiviska owns the course record. It's a setup that he said will require carding as many birdies as possible today to stay in contention heading to the weekend.
"Rollin' Ridge is going to be the separator, I think," Leiviska, who won last year's Silver Cup, said. "If you're off of your lines out there like you are at Vibram you can get punished heavily, so that's what it's going to come down to."
While one of this weekend's courses may sport shades of Maple Hill, the roster of players at the event will be vastly different, as the Silver Cup is missing some star power. In the Open Men's field, Paul McBeth, Nate Sexton, and Philo Brathwaite are all otherwise indisposed in the United States, while Jeremy Koling and Will Schusterick are overseas in anticipation of the Estonian Open and European Masters. They're joined there by Open Women's powerhouse Catrina Allen, while the SmashboxxTV podcast reported earlier this week that Paige Pierce is also sitting this one out.
Still, the composition of the field – which does boast Ricky Wysocki and Bradley Williams, who battled to a playoff at last weekend's Delaware Disc Golf Challenge, as well as master woodworker Michael Johansen – did not find Leiviska altering his approach to the event.
"My mentality is not going to change at all," Leiviska said. "I'm feeling confident, but like I said, with my condition I'm more worried about [how] I just want to finish and play strong and stay focused through the whole thing. Because I know if I'm there at the end, I can play Rollin' Ridge as good as anybody.
"Yeah, I'm feeling good."
Forecast and Coverage
Weather should not be a factor in play this weekend, as the outlook calls for highs in the upper 70s to low 80s for each day of the Silver Cup. Winds around 16 mph could throw a wrench into the works near the coastal holes of Silver Creek, but breezes will be down to 9 mph for Sunday's final at Rollin' Ridge.
With cell signal being an issue in Manitowoc, the Disc Golf Pro Tour announced yesterday that it will be streaming the second round of today's play on tape delay. Coverage will begin at 8 p.m. Central time on the DGPT's YouTube channel and will be helmed again by the SmashboxxTV crew. Live scoring and statistics will still be available from UDisc.