An extra spin on this weekend's Disc Golf Pro Tour stop from new Ultiworld Disc Golf staffer Alex Colucci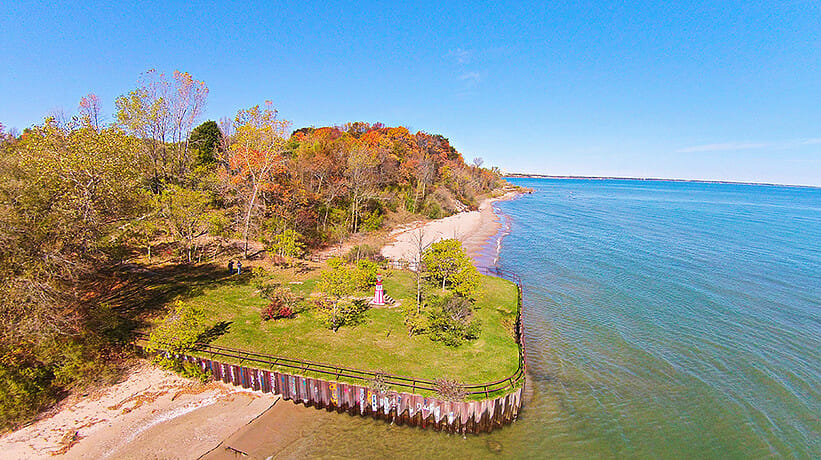 The second stop of the Disc Golf Pro Tour is upon us. The Silver Cup in Manitowoc, Wisconsin, begins today. Two tight, wooded courses are on tap: Rollin' Ridge and Silver Creek. There's live coverage, plenty of top pros, and, if you'll be there in person, the festival experience ('carnival' disc games, PLAY THEM ALL NOW) promised by the Pro Tour. Plus, there are lighthouse baskets. Score.
How Can You Watch It?
Just like the at the Vibram Open, and each Pro Tour event this year, SmashboxxTV will be there covering it live. They had some rough spots during the Vibram Open, but as they've said, cell coverage can be spotty out there in Leicester. It seems to be the same in Manitowoc, as today's coverage will be put on a tape delay and aired after play finishes due to poor signal. Friday night disc golf lights? Sure, we're in.
Credit to Smashboxx, who have proven to be quite reflexive ever since they've started; with at most four of them working a given tournament, it shouldn't come as a surprise that there are the occasional problems. They always come back strong and continue to improve – that's certainly more than any of us can ask for (imagine if we still had to rely on DGPlanet for this stuff).
I wouldn't be surprised to see some post-production, edited content appear on YouTube at some point, so that's always cool and good.
Who's Playing In This Thing?
It almost makes more sense to start this section off with who isn't playing in this thing. A bunch of the Prodigy Disc team (Will Schusterick, Jeremy "Big Jerm" Koling, Catrina Allen, Zach Melton) are already over in Europe ahead of the European Masters in two weeks, doing clinics and eating yogurt. Can't blame them: it's a PDGA Major, and disc golf in Europe is growing quickly, making it important for Prodigy to have some of its bigger names in disc golf maintain a presence there.
Perhaps most notably, Paul McBeth won't be there either. I bet he'll probably be at the gym though. Oh yep, that's where he is. He's probably taking the week off to focus on the upcoming Major as well, and the assorted recent injuries likely factor in. His absence might lead to a decline in live viewership. It really shouldn't though; there will be plenty of good golf to see – and hey, the Vibram Open, Delaware Disc Golf Challenge and the Red, White And Booom all went to dramatic playoff finishes without him!
Ever a fan favorite, Nate Sexton will also be absent from the event. He's probably relaxing, hucking R-Pro Darts somewhere. That's good.
Steve Rico is on the pre-registration list but won't be there either, as per Terry Miller on this week's SmashboxxTV podcast.
No Paige Pierce either. That lightens the Women's field considerably, especially considering Allen is in Europe.
So Who's Actually Playing In This Thing?
First, some favorites, in no particular order:
Bradley Williams: so hot right now. Two playoff wins two weekends in a row, one over the current second highest rated player and the other over Michael Johansen, who has always been able to throw around all the trees and hasn't finished lower than fifth in any A or B Tier event this year. Williams tied the course record at Iron Hill in Delaware last week. And he just got sponsored by Innova. He's got to be a favorite to win this.
Ricky Wysocki has already won a bunch of big tournaments this year. Finished sixth in one, fourth in another, and in everything else first or second. It would be surprising not to see him on the lead card for the final round.
Michael Johansen knows all about wooded courses and that's what up this weekend. Nice to see him having success outside of the Carolinas, since we all knew he could do it.
Valarie Jenkins and Sarah Hokom will likely duel it out for the win in FPO, though Wisconsin pro and self-proclaimed duchess Holly Finley should shoot well too.
Nikko Locastro is coming off a win last weekend. Maybe he'll be putting well?
Cale Leiviska was playing great at the Vibram Open until he got bit by a tick. Hopefully he'll be healthy enough to play this weekend. Who doesn't want to watch him throw M4s through the trees? He won the Silver Cup last year.
Paul Ulibarri had a great showing last week in Delaware, taking fourth place and setting (at the time, now it's tied) a course record at Iron Hill with a 59, good for a 1061 rating (par 72 out there). That's good! Maybe he can do it again this weekend on similar-ish courses?
Alex Geisinger played some good golf two weeks ago at the Vibram Open.
Nate Doss always has a chance.
Steve Brinster doesn't leave the Northeast all that often, but he's proficient at wooded courses. Remember, he finished a strong fourth at Worlds last year.
Gregg Barsby. Yeah, he's got a shot.
A bunch of players who could do stuff, in no particular order:
Drew Gibson. Fifth place at the Vibram Open.
Eagle Wynne McMahon
Cam Todd. Early season NT winner.
Matt Dollar. THUMBERS!
Dustin Keegan
Scott Stokley
Matt Bell. Finished fourth in Delaware last weekend.
"Local" dudes: Chris Heeren, Justin Lammers, Keith Warren.
Final Round Cheap Snack Of The Week
I got some pears earlier this week at the grocery store. I don't really like fruit, which makes pears a good choice because they're kind of like the potato of fruits: There's just not much to them. Not terribly sweet, the skin isn't particularly tough or mushy, just texturally neutral, really. And they've got a fun stem you can carry them with. SO USEFUL. Anyway, they should be getting to the ideal stage of ripeness by Sunday. Perfect: time to watch disc golf. I like pears.
Final Round Cheap Beverage Of The Week
I recently found some leftover New Glarus Moon Man in my closet. It's from my trip to Wisconsin last summer. Mmm, pale ale. Cool. It's not exactly cheap, and you can only buy it in Wisconsin, but when you find it all of a sudden behind some old soccer cleats it feels free, at least. I think I'll save it for watching the final round Sunday.
Watchability Rating
I rate this tournament four cracked CE Teebirds on a scale of one to five cracked CE Teebirds in terms of watchability. All ratings are based on science.