McBeth slips to fourth place heading into tomorrow's final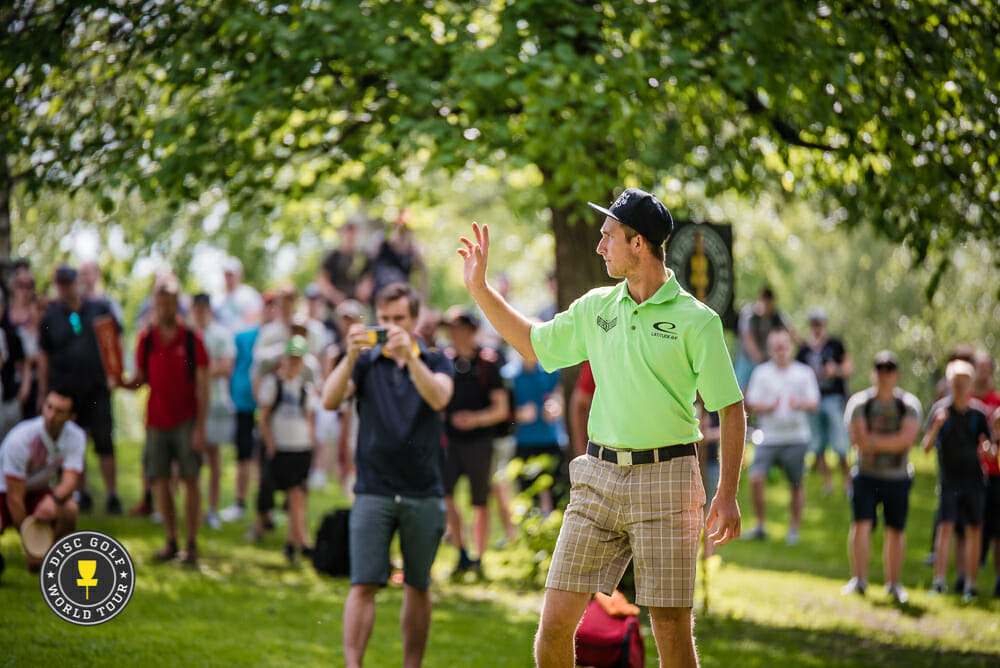 After the first day of play at the European Open, Simon Lizotte said today's second round would find he and K.J. Nybo trying to stay close on the scorecard while Paul McBeth and Ricky Wysocki slugged it out at the top.
That prediction came true for him and Nybo, but not so much for McBeth.
Wysocki strung together another consistent round, firing off an 8-under par 56 to take a one shot lead (16-under par 112 overall) heading into tomorrow's final, while Nybo's own 8-under (-15 total) and Lizotte's 7-under par 57 (-14 total) have the pair one and two shots, respectively, off the lead.
McBeth, though, started slowly and never quite caught up, with his 3-under par 61 on the day dropping him to fourth place (-11 total) on the leaderboard and five shots behind Wysocki.
The key to Wysocki's performance came in his green hit percentage. At 67 percent on the day, he widely outpaced Nybo's 50 percent rate, while Lizotte and McBeth found theirs in the 30s.
"I was in better position off the tee to set up for good upshots to the green," Wysocki said. "So I had more clear paths to the greens."
He also navigated the 20 mph winds that tormented the course's final three holes today, carding a total score of 1-under on the stretch while Nybo went even par and Lizotte 2-over to swing the scoring in Wysocki's favor.
"Those last three holes are probably the toughest holes, especially with how windy it is today," Wysocki said. "It's almost harder to lay up than it is to go for it. If you're not hitting the green on 16, or even 17, then you're getting a bogey at best."
For McBeth, the day was dotted with struggles, as he didn't hit any greens in regulation until Hole 5 and failed to covert on any birdie looks until Hole 7.
"I just wasn't getting my drives in the circle," McBeth said. "They weren't bad drives, but they were like 40 feet or 36 feet [out]."
And while Lizotte only performed slightly better than McBeth in terms of green hits, he continued his hot streak with the putter, outpacing the lead card with three bangers outside the circle, including a 60-footer on Hole 5. He was also buoyed by a bit of good fortune on Hole 16, where the wind brought an approach shot back in bounds, off a banner, and to within six feet of the basket for a tap-in bogey save after he missed the island green on his first two attempts.
"That was the most ridiculous luck I've ever seen," Lizotte said.
McBeth, meanwhile, might need some luck of his own heading into the final, where he comes up against some conflicting history. He has not won an A-Tier or higher when facing a five stroke deficit since 2014, but he also has a penchant for turning it on late; since 2015, he's played 1070-rated golf when trailing heading into the last day.
"I've got to play aggressive tomorrow," McBeth said. "It's not like I'm playing for second place or third place or fourth. I want to win, so I'll definitely be pushing all day, no matter what."
He'll do that against a foe who has a 60 percent closing rate since 2014, as Wysocki has won three of five tournaments over that span when entering the final with a one shot lead.
"I'm just going to stick to my game plan and hopefully manage the course as well as I have been the last few rounds," Wysocki said.
And while Lizotte said he liked the position he was in heading to tomorrow, he also said he felt like he left a few shots on the course today. And he knows what danger looms just below him on the lead card.
"We'll see if Paul can turn on beast mode tomorrow and see what we all do," Lizotte said. "It's going to be interesting."
Tomorrow's lead card kicks off at 2 p.m. local time (7 a.m. EDT) and can be followed on the Disc Golf World Tour's various social media channels, with streaming of the final few holes going live on Facebook.
Additional reporting by John Klimp