Jaguars hold the virtual team lead; Perry, Murphy atop individual leaderboard.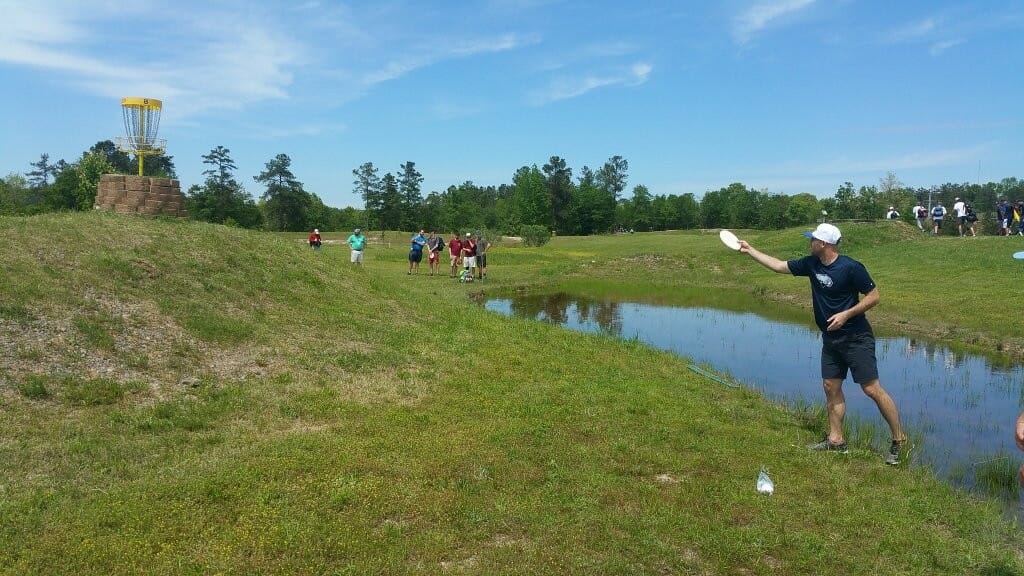 Augusta University's one shot lead is no longer, as North Carolina State caught the hometown team with a 12-under 43 hot round to tie for the lead after day two of the National Collegiate Disc Golf Championships.
The performance vaulted the Wolfpack (36-under 144 overall) up the National Championship Flight leaderboard from a third place tie, while California State University-Monterey Bay waits in third place with a 35-under 145.
Ferris State University, the defending champions, limped to a three-under 52 on the day, dropping them into eighth place overall.
And while the current leaderboard says Augusta and NC State are equals, a quirk in the NCDGC scoring format does not add singles scores to the mix until more rounds are played. Taking those scores into account at press time, Augusta's top three players shot a collective 14-under par to NC State's combined six-over, giving the Jaguars the virtual lead heading into day three of competition.
University of North Texas extended its lead over CSUMB in the Women's Flight to seven, bringing the team to a one-under 217 for the event after four rounds of doubles play. Colorado State leads the First Flight with a six-under 436 after eight rounds, while Mississippi State clings to a two-shot lead over Ferris State in the Second Flight.
In individual men's results, Augusta's Dustin Perry and Ferris State's Bryan Murphy are tied for the lead after shooting nine-under 52s on the same card at the Hippodrome Disc Golf Complex's Old Glory Blue course.
Perry attributed his hot start to keeping his drives in bounds and placing his approach shots on the right side of the basket in proximity to the wind.
"I stepped up to most of my putts that were of considerable length with a tailwind, and I could be aggressive with those," Perry said.
Though he has vast professional disc golfing experience, Perry is a novice to the NCDGC and said he was impressed with the level of the competition so far. He reserved the bulk of his praise, though, for Murphy.
"It's cool to see him in singles and just kind of be the commander of his team," Perry said. "And that dude, he looks like he's got bravado written all over him, which is awesome."
Heading into Friday's action with a share of both the team and individual lead, Perry has the potential to play three rounds through the course of the day. The marathon action has led him to approach his recovery a bit differently than normal, adding a post-round icing routine to keep an ailing shoulder healthy.
"It seems to be working, I still have zest in my arm and it still has the pop I need," Perry said. "I might have to continue this for the rest of my playing days."
Today's play will end with individual men's and women's champions being crowned before a team cut that will see the top 32 squads advancing to Saturday's doubles finals on the Old Glory Black course.