He played for two hours with some Augusta disc golfers.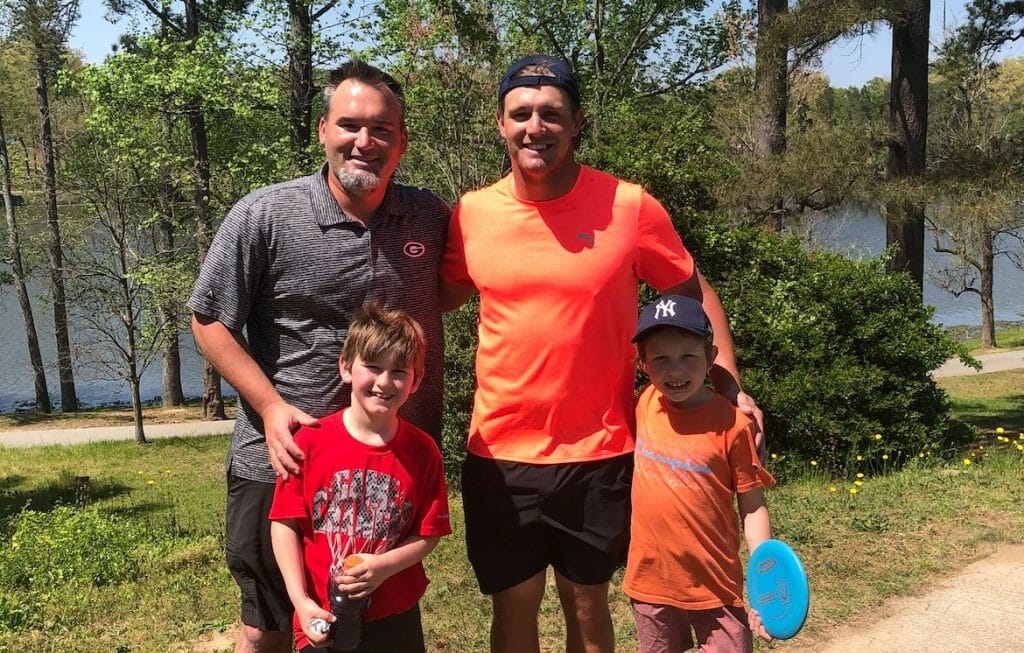 PGA Tour star Bryson DeChambeau got out to the disc golf course this week in Augusta to help him relax in advance of The Masters, the first golf major of 2021:
But he didn't just play a round by himself; he joined up with some Augusta disc golfers and played for more than two hours with them.
Yesterday, Seth Straughn was out with his seven-year-old son Parker and his son's friend for a casual round at Lake Olmstead Park, which is just minutes from Augusta National Golf Club. It was a beautiful, sunny day in Augusta, and the kids were on spring break, which always aligns with Masters week. While they were waiting for a large group in front of them to tee off midway through the front nine, they saw that a group of three behind them looked like they were struggling to find the next tee pad. Straughn helped them find the next tee.
"I noticed one of the guys looked familiar," he said. "And I also noticed that he was wearing nothing but Puma." Straughn asked for his name. "Bryson." He couldn't believe it.
Expecting that DeChambeau and his two companions would just skip ahead, they took some photos together. When the group in front of them cleared the hole, they played hole 6 together. DeChambeau and his friends were playing with a single Innova starter pack — they split up the lightweight Aviar, Shark, and Leopard between the three of them.
When it became clear that the large group ahead of them wasn't going to let them play through, they skipped ahead a hole, but DeChambeau stayed with Straughn and the kids for the rest of the round.
"They were really chill, laid back, cutting up with my son," said Straughn. "Super nice. I was pretty taken aback by how laid back they were and nice they were. Because two hours is a lot of time to spend during a tournament weekend."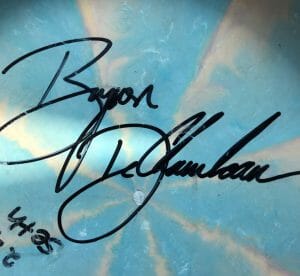 Straughn said that DeChambeau was clearly still a beginner — it was his second time playing ever — and struggled a bit to get the nose down and pull through straight. Known for his powerful drives on the golf course, he unsurprisingly managed to still overpower his starter disc.
"I told him, 'I can almost guarantee you you're going to flip that Leopard over,'" said Straughn, who's only been playing disc golf since this winter after discovering Jomez Pro videos during the pandemic.
DeChambeau talked about wanting to play more disc golf, but that he doesn't always have access to a nearby course when he's out on Tour. He's not the first pro golfer to take an interest in disc golf — Bubba Watson is a known fan and Rory McIlroy tuned in to the Disc Golf Pro Tour Championship on ESPN2 last November. "He could probably be phenomenal at it, just based on his athleticism," said Straughn. He let DeChambeau and his friends try out some of his discs, even though a few ended up on the bottom of Lake Olmstead.
The six of them enjoyed some friendly conversation and banter throughout the round. Parker asked his Dad who DeChambeau was, and Straughn told him that he was a professional golfer, joking, "He doesn't hit it very far, but he hits it pretty straight."1 DeChambeau had a good laugh and was reportedly great with the kids.
"To me, this speaks a lot about his character in a good way," said Straughn. "He's got a lifetime fan in me, for sure."
DeChambeau signed some discs for Straughn at the end of the round.
Tomorrow, DeChambeau, who went viral earlier this week for his swing speed drills, will start his quest to win his second major after claiming the 2020 US Open crown last September. His best finish at The Masters is T-21st, which came in 2016 while he was still an amateur player.
---
DeChambeau was the longest driver on the PGA Tour in 2020 after gaining 40 pounds of muscle. ↩