Media coverage, new format deciding factors in the venues, PDGA Executive Director Brian Graham said.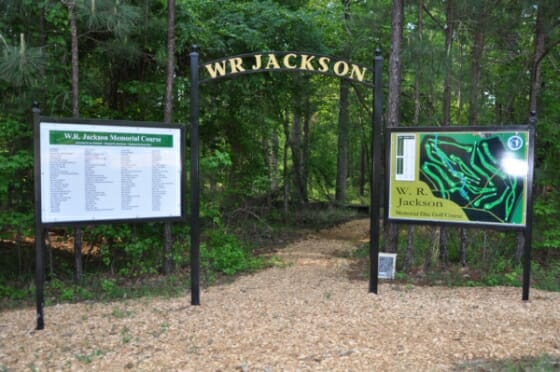 The 2017 PDGA Professional Disc Golf World Championships will be held on two courses in Augusta, Georgia, and North Augusta, South Carolina, from June 14-17, the sport's governing body announced yesterday.
With 2017 being the debut of a dedicated Open division-only world championship, PDGA Executive Director Brian Graham said the organization felt it was important to keep the event close to its home base in Appling, Georgia.
"We felt like, for the first year, let's run it here in Augusta where we can control the venues, control the quality of the event before we put it out for bids," Graham said.
The Open-only format is not the sole change, though. The event is being held two months earlier than the traditional Worlds placement on the calendar, and, at four days, is shorter than in recent years.
The PDGA's International Disc Golf Center gets the nod for one of the venues, with the John Houck-designed, 9,325-foot W.R. Jackson Memorial Disc Golf Course taking center stage. Its Par 69 layout received at least one seal of approval from a touring professional.
"Sounds good to me," Paul Ulibarri said. "I can not stand three holes at Jackson, but the rest of the course is epic."
The to-be-installed second course will be housed at the Hippodrome Disc Golf Complex, home of the National Collegiate Disc Golf Championships.
"There are five courses over there, what we're going to do is take two or three of the existing courses and retrofit a championship gold level course over the top of those," Graham said. "Paul McBeth did do some consulting for us during the collegiate championships last year, as well as a couple other top pros are looking at it. We haven't made a final decision on design, but we are going to get input from some of the top players and bring in some very qualified designers to ultimately come up with the design we're going to use."
McBeth said that his input at the Hippodrome went as far as describing his optimal course from a par and distance standpoint, and that the land there presented plenty of potential to be a top level venue.
"My ideal course is Par 68, as close to that as possible," McBeth said. "And then a mix of woods, open [shots]. They have the hills, they have all the stuff there, they have the woods. I don't know how they would make it, but that's my ideal thing."
With the Hippodrome being known for some added course furniture – including horse corrals and lattices near baskets – that some have found gimmicky, McBeth said a Pro Worlds course would have to eschew the extra equipment.
"They would definitely have to [remove those features]," McBeth said. "They have [five] courses in the one little area, and to make a pro level course they would need to turn those courses into one."
Beyond design, Graham said media considerations were a deciding factor in keeping Worlds close to PDGA central. He pointed to positive relationships with the local newspaper, as well as cell strength at the Hippodrome as advantages for the region.
"The thing we have in Augusta is fantastic media coverage," Graham said. "The Augusta Chronicle is the newspaper down here…They cover all of our disc golf events [and are] very supportive of disc golf. They also own newspapers all over the country, so whenever something is printed in terms of the World Championships here in the Augusta paper, it gets picked up in their other papers around the country."
While the PDGA did not mention any other bids received, Disc Golf Pro Tour Director Steve Dodge confirmed that he and his team submitted a bid for to host Worlds in 2017 at Maple Hill Disc Golf Course and the nearby Pyramids Disc Golf Course. He said, though, that the PDGA made the correct call in going with Augusta.
"I think it was actually the right decision, frankly," Dodge said. "My plate is full, and I would not have been able to give it the attention that Worlds deserves."
That focus, Graham said, was at the heart of the decision to not only make Pro Worlds an MPO and FPO-only event, but also the one to have the PDGA take the reins.
"The sport's grown up," Graham said. "We deserve an elite level world championship for our sport, just like every other sport has. Up to this point, it's been kind of a family reunion type [of event to] see how many people we can get to go. Now we're to the point where we're a professional sport, our highlights are being shown on ESPN. It's time for us to have the best players competing for the world championships."
Augusta was home to the 2006 Pro Worlds, where Ken Climo and Des Reading took home the titles. It also played host to the 1996 Amateur World Championships.
Updated July 4, 2016: An earlier version of this article stated that Steve Dodge submitted a bid for the Vibram Open to host Worlds in 2017. That event is separate from any Worlds bid.