Ferris State University and CSU-Monterey Bay look to repeat as champions.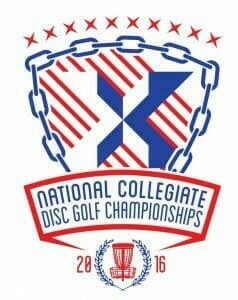 It may be a month late and a more than a dozen teams short, but it's the closest event disc golf has to March Madness.
Now in its tenth year, the National Collegiate Disc Golf Championships finds 50 teams from around the nation battling for their one shining moment. Action takes place today through Saturday at the six-course Hippodrome Disc Golf Complex in North Augusta, South Carolina.
Four-player teams from each university compete in up to four different flights based on skill level and gender, College Disc Golf General Manager Alan Kane said. Most schools field a team in the top-level National Championship Flight, while deeper squads will also participate in the First and Second Flights. Three schools – California State University-Monterey Bay, University of North Texas and Liberty University – send a women's team.
The team setting brings a different scoring format than conventional disc golf tournaments. The event's first three days feature singles play, during which the three lowest-scoring players count toward the overall team total, along side alternate shot team doubles. Scores are combined to create a team score, and after individual champions are crowned on Friday, the field is cut down for Saturday's final doubles-only round.
According to Kane, putting the spotlight on the doubles matches on Saturday is the essence of the event.
"It's a team tournament, so we like to focus more on doubles. That way the whole team is together," Kane said. "When the national championship is won, they're all together as a team."
Coming back to defend its 2015 title is Ferris State University. The Big Rapids, Michigan, school needed a playoff to defeat University of Nevada-Reno at last year's NCDGC, but has dominated competition so far this season, winning every event in which it has participated.
"I feel like every year we come it's really competitive," Ferris State team captain Bryan Murphy said. "So I feel like we're the team to beat every time we set foot at the 'Drome."
Looking to play spoiler to Ferris' repeat run is North Carolina State University. The Wolfpack came in fourth in last year's NCDGC but lost a couple graduating seniors. After reloading with freshman Collin Carter, the team enters this year's tournament ranked second in the nation, with club president Alec Falzone lending the unit a veteran presence.
"The top three teams from last year…their rosters are pretty similar," Falzone said. "Ours is a little different. We have the experience and we've told the younger guys what to expect, how to prepare."
And while Falzone acknowledged Ferris State's excellence in last year's event, he pointed to another team as a measuring stick: Augusta University.
"We kind of have a target on them because we've always strived to beat them," Falzone said. "They're the favorites, they're the hometown team, they play those courses all the time. They're the team to beat."
Murphy agreed that Augusta presents the biggest challenge to their title hopes, even as he expressed confidence in his team's recent battles against them.
"They're usually the team to beat, but the past years we've been whooping on them pretty good," Murphy said. "But we've had a good battle going back and forth."
With its campus located less than six miles from the Hippodrome, Augusta enters the tournament ranked third in the nation and boasts the addition this season of Dustin Perry, a veteran touring disc golfer who is currently working on his master's degree at the university.
Perry said the confidence he has in his team's skills makes him less inclined to focus on how other teams are performing.
"I don't really care about anyone else, I just want to beat my teammate," Perry said. "If I beat him, that takes care of the rest because I feel like he's at that level. It's a friendly rivalry with your team."
In the women's flight, California State University-Monterey Bay returns to defend its 2015 championship. After battling to the final hole last year with the University of Oregon, team captain Jenn Schopfer said her team got to South Carolina a few days early this year to get extra practice on the Hippodrome courses.
"All you can do is improve from last year, and I think already in our practice rounds we've shown improvement from last year," Schopfer said. "All of us are feeling confident."
While the tournament invites individual women to play without team affiliation, Schopfer attributed the low number of female squads to difficulties in recruiting new players.
"It sucks having a small field, I wish there were more women's teams," Schopfer said. "It makes it more fun if there's at least five. It'll still be fun and competitive regardless of it's only three of us."
The team attrition was something Kane mentioned as a part of the NCDGC that distinguishes it from other major PDGA events. And while it may pose difficulties in fielding full teams – last year's runner-up in the National Championship Flight will not attend this week's tournament – it also creates a different, more competitive energy at the course.
"You're not seeing old friends and things like at a lot of our big disc golf tournaments because it's the same people that play," Kane said. "In college you know people for a few years but there's a whole lot of turnover. They're all disc golfers and they're all having fun, but at the top – where you're playing for a championship – they get as serious as they need to."
For Falzone, though, the tournament is about more than intense competition.
"It's unlike any experience you can have in disc golf," Falzone said. "The collegiate team format and NCDGC in general is exponentially more fun than any other disc golf tournament I've ever played in."