McBeth collects his third straight win to start the 2016 season.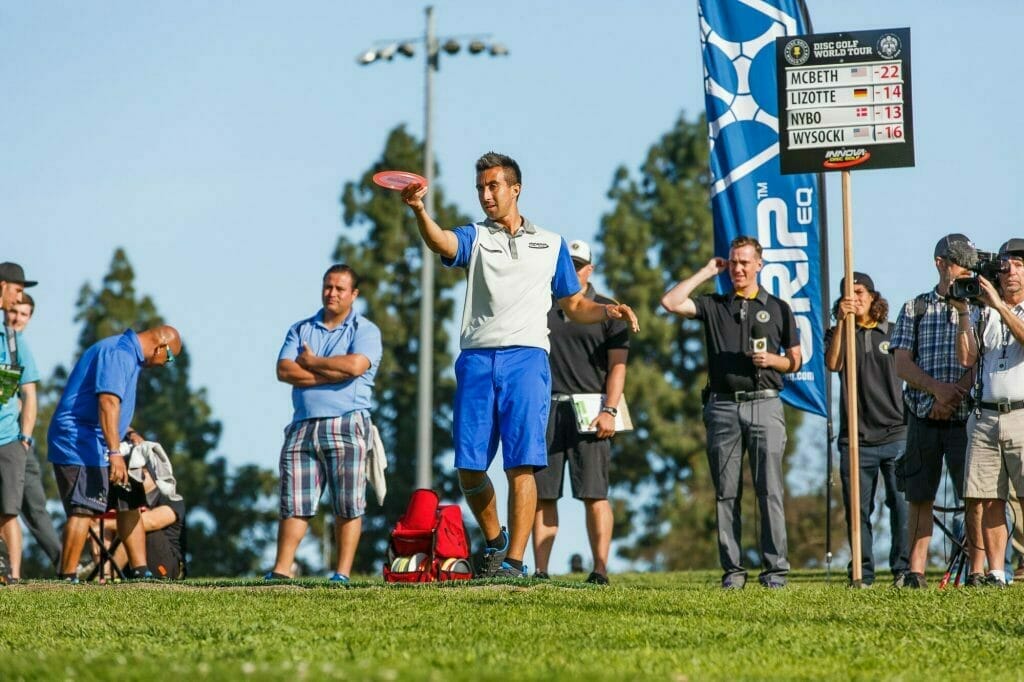 Ultiworld's disc golf coverage is just getting started. For the latest, follow Ultiworld Disc Golf on Twitter and Facebook. See all of our current disc golf coverage here and stay tuned for our dedicated website.
As the inaugural Disc Golf World Tour event, the La Mirada Open was highlighted by organizers as ushering in a new age of the sport while paying homage to its roots.
It was only fitting, then, that the best player of the modern era and a local legend finished in the top spots of the tournament over the weekend.
Paul McBeth continued his torrid start to the 2016 season, winning the DGWT's debut with a 23-under par 166 over three days, while La Mirada's own Bobby Musick bested Ricky Wysocki in a sudden death playoff to claim second place.
Musick's eight-under 55 in the tournament's third and final round brought him to a 17-under 172 for the weekend.
For the man announced on the teepad as "the La Mirada legend," the recipe to success was being hot where it matters, mixed with a dash of local knowledge.
"It was my putt," Musick said. "I felt comfortable from 40 [feet] and in. So I didn't necessarily need to hit the green to feel good about it; I just had to put it in safe spots. And that was real good, with the familiarity of the terrain and the topography, that I could play safe shots but still get aggressive with my putts."
Still, Musick acknowledged that strong putting and a home field advantage was only so useful against stiff competition.
"I mean putting on a basket is putting on a basket," Musick said. "The basket hasn't changed, and some of these guys can do some magical stuff with Frisbees. So yeah, I did have a little advantage because I got to play the course every day, but these guys are good."
And even with the best of those good guys assembling an inconsistent front nine holes on Saturday, the rest of the field failed to take advantage of any chances to dethrone the defending world champion.
Case in point: After McBeth uncharacteristically missed an inside-the-circle putt for birdie on hole 5, Wysocki slapped his bag in frustration, knowing his matching par was a missed opportunity.
"I had a lot of putts to gain strokes on the leader on the front nine and I didn't capitalize on all of them," Wysocki said. "I did a few times — I think I was only four back going into the back nine — and I had opportunities to have it tied, at least, after the front nine. But I think missed four or five putts that are within my range."
The par 4, 643-foot hole 13 proved to be the turning point in the round.
McBeth went out of bounds off the tee, then ran the basket from the drop zone. His shot kicked off the pin and rolled off the island green for a second penalty stroke.
Visibly frustrated, McBeth put a towel over his head before collecting a bogey that would narrow his lead over Wysocki and Musick to a mere three strokes.
The Huntington Beach product then rattled off four consecutive birdies to ice another major victory. He even had the cushion to run for an ace on 18. The shot sailed out of bounds, but he just smiled and shrugged.
McBeth struck a reflective tone after the victory, noting the tournament's significance for not only its proximity to his roots, but also for its potential impact on the sport.
"This one's kind of special. It's really close to home, so that's the biggest thing I get out of it, having family here coming out and supporting," he said. "So that's a really big deal. Being the first ever Disc Golf World Tour [event], with how big this event will be in the future, it'll be a cool trivia question someday."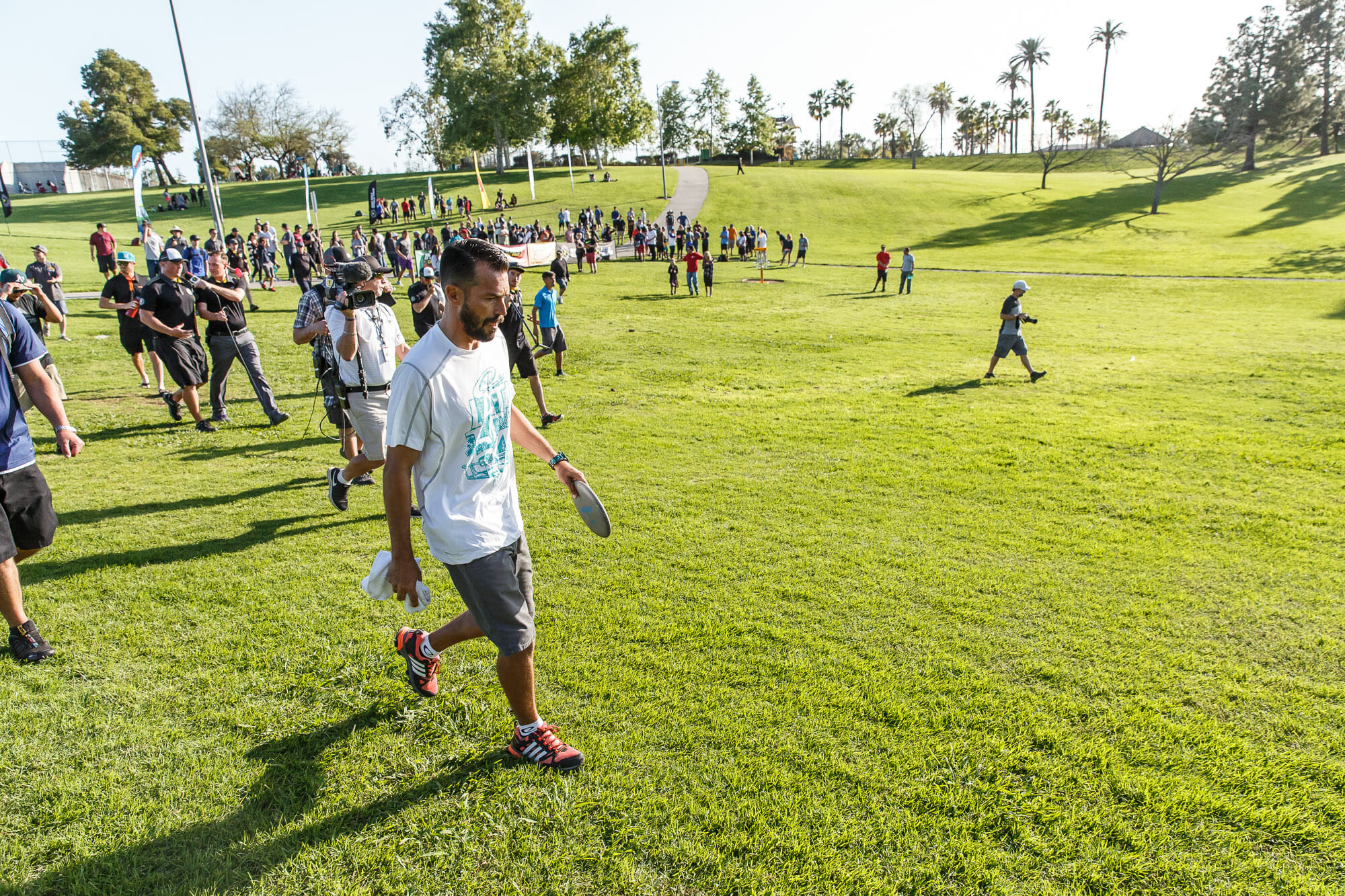 For Musick, who won the 2004 Golden State Classic National Tour event at La Mirada, seeing McBeth's talents on full display brought his weekend full circle.
"Following Paul, your jaw – you've got to lift it up after a while because he just leaves you in awe," Musick said. "It's beautiful to watch… I've known him since he was 12, about 12 or 13. I beat him a couple times and that was just at a young age, he was 14 but still learning the game. By the time he was 16 he was just tearing it up, automatically at my level. Now, he's beyond cool."
Even as a veteran player with years of experience, the 32-year-old Musick was inspired by his younger counterpart.
"What he does for the game, it's crazy," Musick said. "It makes you want to work. It makes you want to get out and putt right now. It's an eye opener. He's a great kid, and I'll give him first place anytime over here at my home course. But, you know, second's a good one for me."
Dave Feldberg shot a 16-under 173 to take home fourth place on the weekend, while Nate Doss' hot round Saturday of nine under par brought him to a 15-under 174, tying him for fifth place with Will Schusterick.
Catrina Allen, the event's sole female participant, placed 45th with a four-over 189. Complete scores for the event can be found here.
Outside the Circle
Notes from the La Mirada Open weekend
– Known for putting on a show by taking lines other players won't attempt, Simon Lizotte lived up to his reputation on Saturday with his tee shot on Hole 14.
After lining up for what appeared to be a roller, Lizotte pivoted and blasted a massive anhyzer over some houses that line the course. The drive cleared four or five rooftops before coming to rest back in the fairway, eliciting gasps and huge applause from the gallery.
Following the shot, tour promoter Jussi Meresmaa – who is famous for his straight-faced, almost scowling demeanor – cracked a smile and playfully tapped Lizotte on the rear end with the "Quiet" sign he had used to control noise from the gallery.
Asked if the shot made him nervous from a liability standpoint, Meresmaa took it all in stride.
"[The homeowners] signed a waiver, so we're clear," he said.
– During his speech at the event's awards ceremony, Meresmaa revealed that his family's home in Finland had been burglarized the night before. He expressed gratitude for the safety of his wife and children, and noted that he would be back home to them soon.
– The DGWT has placed a significant emphasis on its own Disc Golf Metrix, a set of player statistics that were tracked and updated after each hole. McBeth led the field in green hit rate at 52 percent, while 67th-placed Michael Williams ranked first in inside the circle putting with a 98% conversion rate. Zackeriath Johnson rode his top-ranked outside the circle putting – canning nine from beyond 10 meters on the weekend – to a 23rd place finish.