The installation's Double Eagle Disc Golf Course will be the event's second venue
The PDGA announced today that Fort Gordon – a military facility in Augusta, Georgia – will be the second venue for its 2017 Professional Disc Golf World Championships.
The installation's Double Eagle Disc Golf Course joins the International Disc Golf Center's W.R. Jackson Memorial Disc Golf Course as the two courses being played at the event, which is scheduled for June 20-24. This is a change from the previously-announced plan for Worlds, in which the PDGA said Worlds' second venue would be the Hippodrome Disc Golf Complex in North Augusta, South Carolina.  The venues in the current iteration are roughly a 30 minute drive from one another, whereas the previous plan called for 45 minutes of travel between courses.
"The PDGA is thrilled to showcase the community at Fort Gordon and the Marine/Navy portion of the Double Eagle Disc Golf Course during this event," PDGA Events Manager Mike Downes said in a statement. "To say we are lucky to be working with some outstanding volunteers is a huge understatement. The Fort Gordon Disc Golf Club, as well as the Augusta Disc Golf Association, have consistently embodied the principles employed by the PDGA and we are excited and confident in their ability to host an outstanding Major event."
The Marine/Navy portion of Fort Gordon is still under construction. A draft of the map featured on the Fort Gordon Disc Golf Course Facebook page shows an 18-hole, par 66 layout coming in at just under 9,500 feet, but according to DGCourseReview.com it will boast a 20-hole, par 71 layout that features DGA Mach X baskets and measures 9,600 feet. At press time there is no word on which layout will be used for Worlds, but Ultiworld Disc Golf has reached out to Downes for more information.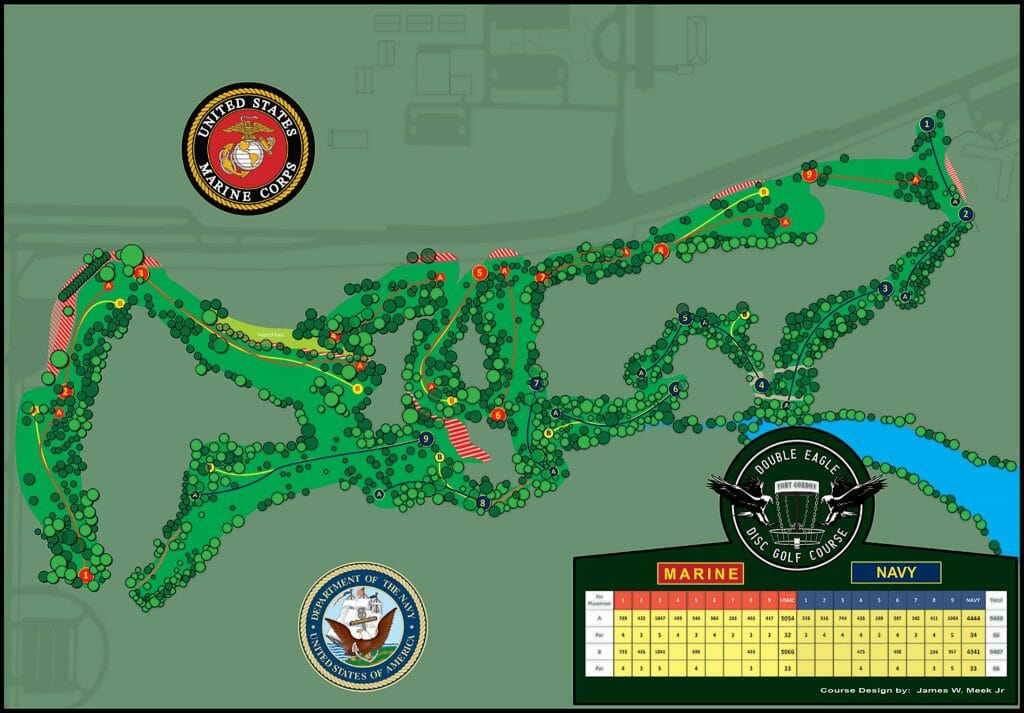 Per its website, Fort Gordon "supports Army and Department of Defense organizations and activities performing regional and world-wide missions including communications training and operations, military intelligence, cyber operations, medical and dental care, force integration and mobilization." According to the Department of Defense, more than 90,000 people reside on base.
This article was updated on December 22, 2016 at 12:09 p.m. PDT with more information on the Marine/Navy course features.