Sexton, Roan tied for second after tournament's first round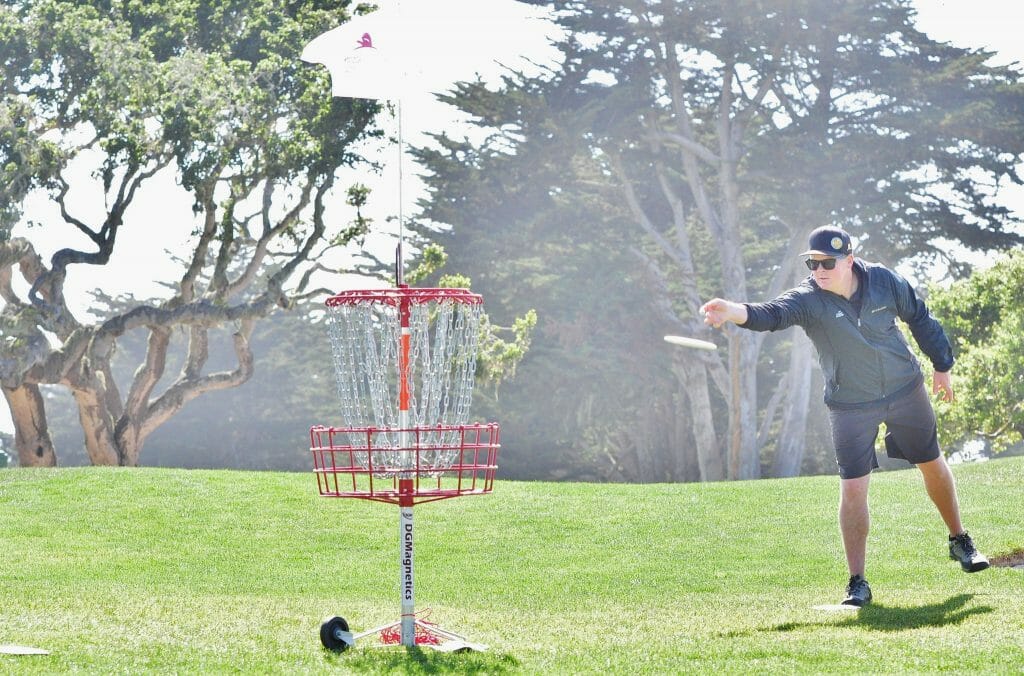 Nate Doss' nine birdies anchored an 8-under par 56 performance that saw him take a commanding three stroke lead after day one of the St. Jude Disc Golf Charity Invitational in Seaside, California. Nate Sexton and Jared Roan (-5) sit in second place, while Nikko Locastro (-4) holds down fourth place and three players are tied for fifth.
Undaunted by the 10,138-foot "Steady" Ed Headrick course that sits on the doorstep of the Pacific Ocean, Doss said the key to his day was staying out of the trouble posed by the venue's O.B. and bunkers.
"Every once in awhile everything just goes kind of perfect, and I kind of felt that way about today," Doss said. "The universe was on my side today."
He also chalked up his success to navigating the onshore breezes for which the course is known.
"Playing on a golf course is just a different brand of disc golf. It does take a little bit of getting used to and getting into the flow," Doss said. "One thing about the practice round yesterday that Avery [Jenkins], Val [Jenkins], and I played, I was really focusing on trying to be ultra smooth into those headwinds. Sometimes if you overpower a disc into a headwind you're doing more damage than good. That just seemed to pay off today."
In addition to the hot round, the day also found Doss playing on the same card as his wife, Valarie Jenkins, for the first time since the second round of the 2012 United States Disc Golf Championships. It made for a welcome change from their usual tournament routine.
"It was a special day for both Val and I," Doss said. "A lot of the times being married and traveling and doing this, every weekend that comes about she's playing early and I'm playing late, or I'm playing early and she's playing late. We end up waiting two or three hours a day for each other, either in the van or hanging out at the course or wherever it might be. For us to have the exact same tee time today, and to be able to play together, was great."
Doss also said that the event's charity cause lent the tournament an extra level of perspective that had him confident in who will be the victor at the end of play.
"I don't think there's any more motivation to win because, in my mind, when it comes to this event the only winners are the kids [of St. Jude]," Doss said. "Us as disc golfers are helping the kids and they're the real winners. Whatever happens this weekend, as a golfer I'll accept one way or another. But at the end of the day, I think disc golf in general, the community should really feel like the kids are the winners here and we really helped them do that."
Live updates on the tournament can be found on Twitter via @PDGALive, and first round coverage featuring Ricky Wysocki, Will Schusterick, Drew Gibson, and Andy Parkison is now available from Prodigy Disc's video team.