That's four straight victories for the PDGA's second-ranked player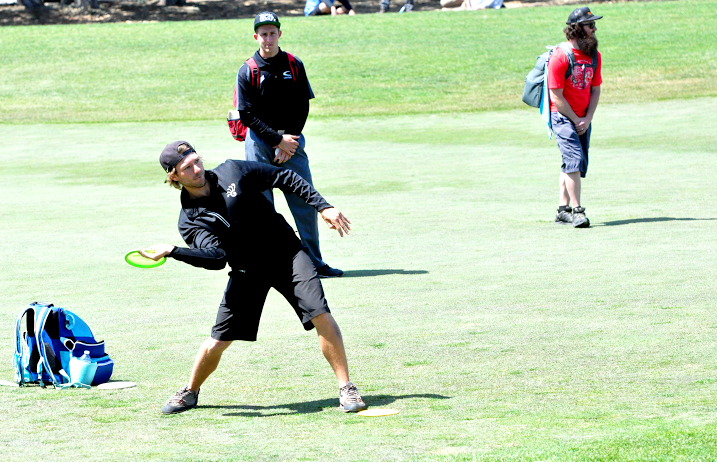 Ricky Wysocki took the lone par on the St. Jude Disc Golf Charity Invitational's final hole yesterday to break a four-way tie and secure his fourth victory in as many weeks.
The Fort Mill, South Carolina, native's 15-under par 177 for the tournament was good enough for first place and the event's $1,800 purse, as Jared Roan and Nate Doss' Hole 18 bogeys brought them to 14-under on the weekend and into a tie for second. Nikko Locastro jumped into fourth place from the chase card with a 13-under 179, while Jeremy Koling's 12-under 180 rounded out the Top-5.
While Wysocki has been a model of consistency for the last month, Roan's game has also started to click, with his St. Jude finish marking his sixth consecutive Top-20 finish at National Tour and A-Tier events. He also finished in sixth place at last year's St. Jude tournament and relied on a balance of forehand and backhand drives to battle the headwinds and bunkers at the weekend's oceanfront venue.
"I've always played really well on a golf course-style layout like that," Roan said. "I don't feel like I have to do anything crazy to shoot good golf, I feel like I can just play my spots and I'm typically a very good putter in the wind. I think that's the same reason that Ricky's so good out there, Jerm [Koling]'s so good. If you have a backhand-forehand combo you have such an advantage in wind."
With 15-20 mph gusts in his face for a 27-foot par attempt on Hole 18 to send play to a tie, Roan turned his hat backward before missing to the right. Even in defeat, though, he said was still pleased with his overall performance.
"I went 59, 59, 60, so I played very consistently the whole weekend and it just came down to that last putt," Roan said. "I think, to be able to have a chance against arguably the best player in the world right now and to tie a three-time world champion and to beat those incredible disc golfers I did, I was really proud of myself. But at the same time, I can't wait until next year to try and dethrone Ricky and try to get that spot."
Wysocki will play this coming weekend at the Disc Golf World Tour's European Open, while Roan and most of the other National Tour players head to the A-Tier Fort Steilacoom Open in Lakewood, Washington, before NT play resumes at the Beaver State Fling on June 10.