McLuen out to early lead in 40+ division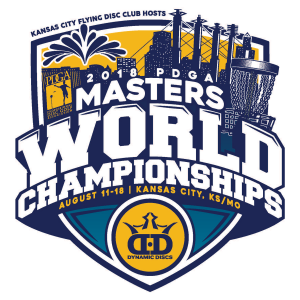 Seven Masters divisions spread out across the Kansas City metro area Tuesday to start a week of competition to decide the 2018 PDGA Pro Masters World Championship.
The Pro Masters 40+ division, which will alternate between the Bad Rock Creek and Waterworks courses, kicked off at Bad Rock with Justin McLuen shooting the hot round of 13-under par 49, holding a 1 stroke lead over Mike Moser and Brian Schweberger. Barry Schultz, Dave Feldberg, and JohnE McCray are all within three strokes of McLuen. First time Masters Worlds participant, and basically local, Eric McCabe is tied in 14th place at 6-under par 56. The 54 person field is the largest division in the event.
Kimberly Giannola leads the four-person Masters Women 40+ division at 10-over par 66.
Ron Convers will try to defend his Masters 50+ title over recently eligible Patrick Brown. Brown is currently ahead after one round by one stroke.
In Masters Women 50+, Tavish Carduff has a seven-stroke lead over two other players in the division, while David Greenwell and Kazuo Shirai are tied for first at even par in Masters 60+.
Jon Graff and Pete May lead Masters 70+ and Masters 75+ respectively.
Feldberg and Brown won the Masters 40+ World Doubles Championship earlier this week. Greenwell and Rick Voakes were Masters 60+ doubles champs.