From the desk of Owl P. Jackson, Esq.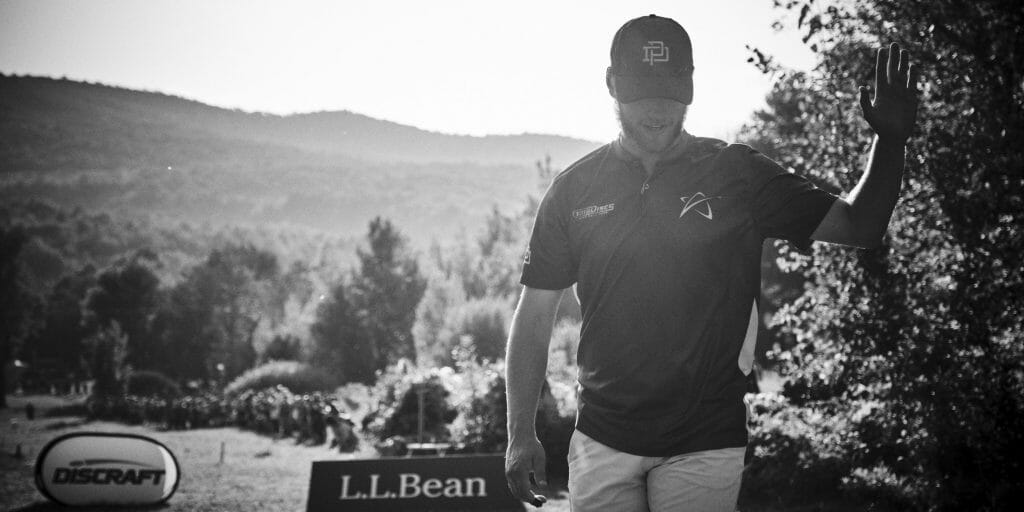 The biggest tournament of the year has come and gone. Five days at Smuggler's Notch delivered dominant champions, tireless chasers, and a look at professional disc golf's future. In my opinion, these are the top 10 storylines of the 2023 PDGA Professional World Championships.
1. Isaac Robinson wins his second major of the year.
"If you got the goods, they'll come and buy it."
Dropping in the final putt of the tournament, Isaac was at a loss for words. "It doesn't even feel real," he said. "I never thought that this would happen. I'm soaking this all in and it's not gonna feel real for a while." That's understandable. After all, Isaac is doing things that no one has ever done before. No player has ever had fewer days (133) between their first and second major victories.
Throughout the course of the tournament, Isaac was the only leader who didn't quickly fade out of contention. He just did it the way the Isaac Robinson does it best: consistently, smoothly, and seemingly effortlessly. Even without the drama of recent Worlds, the scene on hole 18 is hard to forget. You can only imagine what Isaac must have felt. Dad on the bag, Ezra running in for the hug, and the rest of the Alden vlog gang waiting—"I want to sear that in my mind and have it forever."
2. Kristin Tattar wins again
"Paint the town, take a bow, thank everybody. You're gonna do it again."
"I just kept telling myself I might be struggling, but I'm not failing. So, that kept me going." That's not exactly the type of reaction you would expect from someone who just won Worlds by six strokes. But when you are as good as Kristin Tattar is, you expect excellence. You expect perfection.
Going into the tournament Kristin was the heavy favorite and she led wire-to-wire en route to her second world championship. There isn't much more that can be said about her dominance this year. She has won 10 of her 15 Pro Tour Events so far. So, what's next for Kristin? She is one win at U.S. Women's from completing the season grand slam. She is also planning to pick up wins at MVP Open, Throw Pink, and the Tour Finale. Maybe she will add a 1000 player rating just for good measure. Would you bet against her? I wouldn't.
Asked if the grand slam is important to her, she quickly responded, "Yes, yes, for sure. It would be a dream come true." I have a sneaking suspicion that her dream will soon become reality.
3. Missy Gannon steps up
"You'll never shine if you don't glow."
Going into the tournament, many wondered who could challenge Kristin Tattar. 5x champion Paige Pierce was sidelined with an injury. 2x champion Catrina Allen's game is in absolute shambles. Ohn Scoggins was forced to DNF, after clearly playing through intense pain in the early rounds of the tournament. That left one clear contender—Missy Gannon. And Missy showed up in a big way this weekend.
Missy is playing the best golf of her season—and her career—right now. She was able to pull within one stroke of Tattar during round four, but ultimately fell back again on hole 18. In the end, she put together the best second place performance in FPO Worlds history and saved us from five days of Kristin running out the clock. Paige ended up being woefully wrong when she prematurely declared Missy a World Champion on Instagram, but it wasn't out of the realm of possibility. In fact, Missy might be the only player who has a chance to steal a victory during the final stretch of the season.
4. Who wants the win?
"Disappointment haunted all my dreams."
MPO was a bit of a jumbled mess this weekend. It was almost hard to follow who was doing well and who was on which card, especially after a delayed finish on round 1. But that's the way MPO has been this season: everyone in the mix. Chris Clemons, Niklas Antilla, Grady Shue, Cole Redalen, and Isaac Robinson all led the tournament at the end of a round. Players like Chris Dickerson, James Proctor, Evan Scott, Calvin Heimburg, and Kyle Klein also found themselves on lead cards. Heavy hitters like Anthony Barela, Eagle McMahon, and Matt Orum pushed through the mix. But only Isaac Robinson was able to hang on. Unlike FPO, the rest of the MPO season is wide open.
5. The next generation
"Well, the years start comin' and they don't stop comin'."
The future is here. That's not saying the era of Paul and Ricky is over. I still expect the great players of eight years ago to be in contention and to grab wins, but the young players have arrived. Simply take a look at the top 10. While players like Simon Lizotte (age 31), Ricky Wysocki (30), and Paul McBeth (33) finished 11th, 12th, and 13th respectively, the average age of the top 10 was only 25 years old—and that includes a 36-year-old Matty O. We've had teenagers winning Elite Series events this year, and that is only going to become more common. You all know that 13-year-old who mopped the floor with you at your last C-tier. MA40 is looking better and better.
6. European Women
"Somebody once told me the world is gonna roll me."
What's a World Championship without a little representation from the world? While no European men were able to crack the top 10, the European women dominated FPO, claiming five spots out of the top 10 (and 7 of the top 12). Top 12 finishers included Kristin Tattar and Keiti Tätte from Estonia; Eveliina Salonen, Henna Blomroos, Silva Saarinen, and Heidi Laine from Finland; and Lykke Lorentzen from Norway. FPO disc golf is thriving in Europe. On a related note, Silva is going to be truly great in a few years. And shout out to Lykke for an amazing final putt.
7. Standings Check-in
"The ice we skate is gettin' pretty thin; the water's gettin' warm so you might as well swim."
While tour points pale in comparison to the world title, this was a major and that means that 1.5x points were on the line. Winning Worlds earned Tattar a whopping 0 Pro Tour points (she maxed out her Major category by winning at Champions Cup and European Open), but there were plenty of other people clawing their way up the standings. In MPO, Gannon Buhr was actually able to gain ground on Isaac Robinson since he skipped European Open and didn't have to drop any points. Alden Harris (currently 16th in points) and Chris Clemons (25th) were both able to move up four spots thanks to strong finishes. In FPO, Holyn Handley's third place finish was able to move her into 4th place in points, jumping Ella Hansen and a sputtering Catrina Allen. But it was Lykke Lorentzen who was able to rocket up 8 places, currently earning her a spot in the finale.
8. MPO Player of the Year race
"Only shootin' stars break the mold."
I still think it's Calvin, but the Player of the Year race keeps getting more and more interesting. What do you value? Is it Calvin's two elite wins, silver win, and absurd consistency? Is it Buhr's 3 elite wins and 2 silvers? Or do Robinson's two major wins trump everything? Hopefully, the final few tournaments will bring some clarity. You have to consider those three as favorites at each stop. Then again…there's always the possibility that Simon, Ricky, and Eagle will string a few together and enter the conversation.
9. McBeth's streak comes to an end
"Disappears right before your eyes and you realize it's like magic; just like magic."
What Paul McBeth did over the past decade will never be done again. Paul finished in 1st six times and in 2nd four times over a 10-year span. It felt foolish to bet against him, even though you knew in your heart that it was a longshot. In the end, Paul played fine but was never truly in contention. Paul announced that this would be his final tournament of the year, no doubt taking time to continue healing and to prepare for the birth of his first child. I like to rip on McBeth as much as anyone, but it's hard to fault him for that. Well done!
10. Back to the playoffs
"Get your game on, go play."
This season structure is so bizarre. Start of the playoffs, abysmally attended Silver event, WORLDS!!!!!, another thin Silver, and then back to the playoffs. Doesn't make any sense to me. Oh, well. The clock is ticking as players try to make a last push for the DGPT Championship. Keep an eye on Lisa Fajkus, Sai Ananda, Emily Beach, Juliana Korver, and Holly Finley as they hover around the cut line. In MPO, players like Robert Burridge, Chandler Kramer, Paul Ulibarri, and Garrett Gurthie will look for a big performance to join Parker Welck in the finale. I can't wait to see how it all plays out on one of disc golf's most hallowed grounds, Maple Hill.
Thanks for reading, everyone! Let me know the storylines you think I missed. See you at MVP Open!