A Midwest stop before the West Coast swing.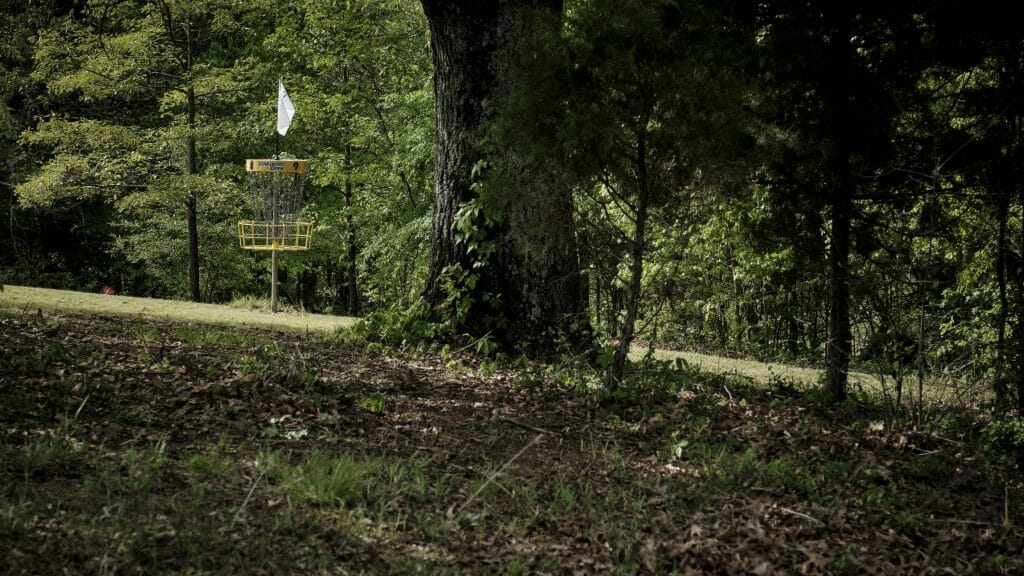 After a mentally exhausting week in Appling, Georgia, for the first Major of the year, players immediately had to pack up and head west to Jonesboro, Arkansas, for the 5th stop on the Disc Golf Pro Tour Elite Series.
The Jonesboro Open has been a staple on the Elite Series since the DGPT's first full season in 2017. After this weekend, players will get at least one week off before heading out to California for the OTB Open. For players like Chris Dickerson who choose to skip the west coast swing, this will be their last event for over a month until the tour returns to the midwest in June.
Kristin Tattar will look to continue her hot streak after winning her third career Major, while Calvin Heimburg eyes a return to form and his third win at this event. Other MPO players like Simon Lizotte and Kevin Jones have fared well here in the past but have yet to win on this track. Unfortunately, 3-time champion Ricky Wysocki and 4-time champion Paige Pierce are both working through injuries and are both expected to drop from this event.
Past Winners
| Year | Tier | MPO | FPO |
| --- | --- | --- | --- |
| 2022 | DGPT | Calvin Heimburg | Kristin Tattar |
| 2021 | DGPT | Ricky Wysocki | Catrina Allen |
| 2020 | DGPT | Calvin Heimburg | Paige Pierce |
| 2019 | DGPT | Paul McBeth | Paige Pierce |
| 2018 | DGPT | Ricky Wysocki | Paige Pierce |
| 2017 | DGPT | Ricky Wysocki | Paige Pierce |
Four Things We'll Be Watching
1. Coming off a 5 stroke win in Nashville, a 9 stroke win at the Blue Ridge Championship, and now a 14 stroke win at last weeks' Champions Cup, Kristin Tattar only seems to be separating herself even more from the rest of the FPO field. The Estonian has already won four of her first six events, as she is just now arriving at the location of her first win last year. Tattar took home a 1008-rated 10 stroke victory in Jonesboro last season and looked in complete control throughout the weekend. If Kristin notches another victory this weekend, it will be her first-ever repeat win on the Elite Series.
2. Simon Lizotte has played Jonesboro three times: he has never finished worse than 7th and was the runner-up in 2017. Lizotte shot a 13-under par bogey-free second round in last year's event, two strokes better than the next best round of the weekend. Kevin Jones finished in 4th place in 2021, and last year he had a chance to make the playoff on hole 18 with a birdie. Ultimately, he took a par and finished in 3rd place behind Calvin Heimburg and Paul McBeth. Jones did not play the Champions Cup last week due to the signup debacle, so he's had a little extra time to prepare for this event in his home state. If Jones putts as well as he did in Las Vegas earlier this year, he knows this course well enough to contend for the win.
3. Injuries are beginning to creep up across both divisions. Paige Pierce played through a shoulder injury last week and failed to cash at an FPO Major for just the second time in her career and the first time in a decade. Pierce, who is a 4-time Jonesboro champion, has already announced that she will not be playing this week. In 2018, she shot a 1059 rated opening round, the highest rated FPO round in history. Valerie Mandujano is yet to make her season debut, and although she's registered for this event, she has not given any indication that she has resumed practicing. Ricky Wysocki had to pull out of the Champions Cup due to injury and is no longer registered for Jonesboro.
4. One of the great controversies of the 2022 season was Paul McBeth's slip on the first teepad during his playoff with Calvin Heimburg. The turf pad slid forward when McBeth planted his front foot, causing his shot to veer off left into the trees. Heimburg was able to park the hole and claim his first win of the season as a result. Surely all of the teepads will get a thorough check before the event kicks off on Friday, and hopefully no such controversy arises this time around.
Course Notes
Established in 2013 and designed by Tournament Director Brad Pietz, the Disc Side of Heaven is a true disc golf destination. Set on more than 50 acres, the course is relatively open but still features large trees, elevation changes, and a pair of ponds and marshes that come into play throughout the round. Despite being a more open layout, OB comes into play on less than half of the holes. The course layout has been more or less the same for several years now and is unchanged from last year's event.
2023/2022 MPO: 9,995 Feet Par 64
2023/2022 FPO: 8,572 Feet Par 66
Extended Forecast
A 90% chance of rain on Thursday likely means slippery conditions for the opening round. Temperatures will be fairly moderate, but a mix of some rain and wind in the forecast should keep players on their toes throughout the weekend.
Friday: Mostly cloudy with highs in the low 70s. Winds 5-10mph.
Saturday: Cloudy with occasional rain showers, highs in the lower 70s. Winds 5-10mph. Chance of rain 40%.
Sunday: Mostly sunny with highs near 70 Winds 10-20mph.
Bonus Content for 2023 Jonesboro Open Preview: Phase II of the Season Begins is only available to Ultiworld Subscribers
Already have a subscription? Log in
Whether you visit Ultiworld for our reporting, our podcasts, or our video coverage, you can help us continue to provide high quality content with a subscription. By becoming a subscriber, not only do you receive benefits like bonus content and full article RSS feeds, you also help fund all of Ultiworld's coverage in general. We appreciate your support!