Both winners move to #1 in the DGPT standings.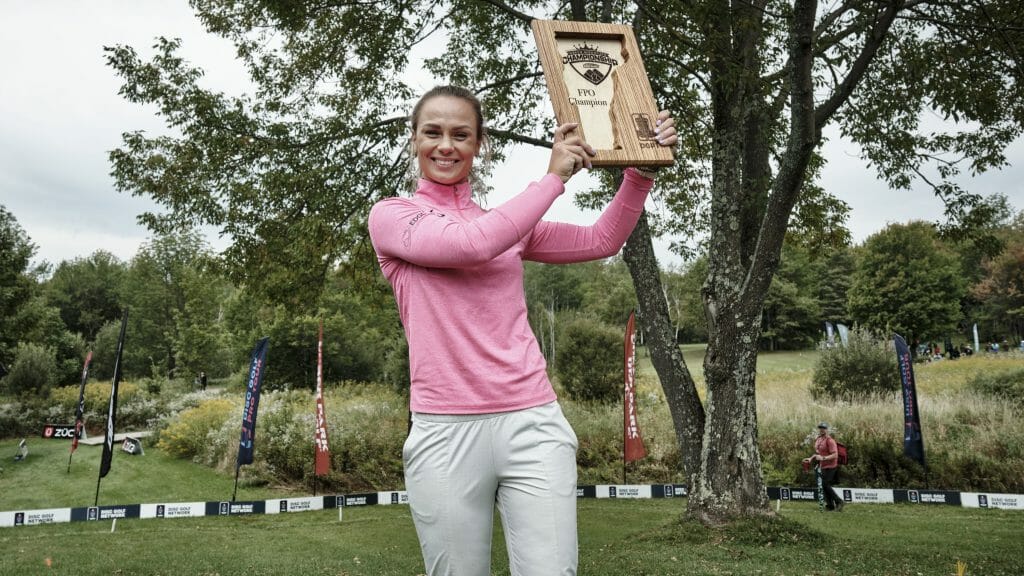 The competition tends to intensify once the playoffs begin, and the inaugural Disc Golf Pro Tour playoff event was no exception. The Green Mountain Championship displayed a variety of weather conditions, low scores, and a thrilling finish. Four-time champion Ricky Wysocki held a six stroke lead over Chris Dickerson, but it quickly vanished on the back 9 at Fox Run. Ricky held on, though, to win his 5th career GMC title and his first since 2016. In a World Championships rematch, Kristin Tattar continued her dominance over the FPO field by pulling away from Henna Blomroos on the front 9 and maintaining her lead through the finish.
Ricky Wysocki
Until the final six holes of the event, it was looking like Wysocki was going to walk in his 4th Elite Series win of the season. A double-bogey on hole 14 and a bogey on 16 allowed 2021 champion Chris Dickerson to tie it back up, but an in-bounds teeshot on hole 18 was all Ricky needed to seal the win. Wysocki finished the event 2nd in both strokes gained tee to green and strokes gained putting. Until his miss on hole 14, he had been perfect putting from C1 and led the field from C2 going 7-of-13. That doesn't include one 70 foot and two 80 foot throw-ins from outside C2. Ricky also led the field in scramble percentage, converting on 17-of-20 attempts! Needing to scramble 20 times is less than ideal, and Wysocki had to convert five times in just the opening six holes on Sunday. In total, he racked up six OB strokes in the rainy final round; he had accumulated just three total in the rounds prior. With the win, Ricky reclaimed the title of DGPT points leader.
Chris Dickerson
After a few birdies and some good fortune coming his way, Dickerson quickly went from a 1% chance to win following hole 12 to a 49% chance after hole 16, according to UDisc's win probability. Coming off four straight makes including 40 footers on holes 13 and 14, Chris chose to lay up a C2 putt for the lead on hole 17; a decision that will likely haunt him for some time. Dickerson came into the round with just two OB strokes on the tournament, but racked up six more on the final day, including two on the final hole. Chris finished the tournament 3rd in strokes gained putting and had just one miss from inside C1. Despite a disappointing loss, the points he earned from a 2nd place finish secured Dickerson's bye to the semifinals at the Tour Championship next month.
Matthew Orum
Earning his first runner up finish on the ES this season, Matty O now has six such finishes in his career. Orum earned his first four between 2006 and 2010, and he finished 2nd to Ricky Wysocki at last year's Texas State Championship. While he led the field in strokes gained tee to green, Orum finished 50th in strokes gained putting, making just 70% from C1X. On hole 11 in round 3, Matt threw a perfectly shaped 600 foot teeshot to convert an eagle that will surely be a candidate for shot of the year. With a 2nd ES top 5 finish on the season and two top 5 finishes in majors, Orum has now moved into 8th place in the tour standings. If Matty-O can hold onto that spot, he'll earn a two-round bye in the tour finale.
Isaac Robinson
Tying Dickerson and Orum for 2nd place, Robinson actually led the field in birdies with 40. Isaac finished 5th in fairway hits, 4th in holes parked, and had the 3rd best C1 in regulation. He also finished 3rd in C2 putting, going 9-of-17, and had two throw-ins. One weakness in his game compared to Wysocki was scrambling; Robinson ranked 45th and converted just 7-of-15 attempts. A 2nd place finish and his 2nd highest ES event rating is still a nice piece to add to his win in Idlewild. The points boost moved Robinson into 16th place in the tour standings, which would earn him a bye to the quarterfinals.
Paul McBeth
McBeth played very clean at the GMC, carding only two bogeys and one double bogey on the week. He also had the 2nd best scramble rate in the field but only had to throw from out of position nine times compared to Wysocki's twenty. Despite the saved strokes, McBeth wasn't able to score at the same rate as his closest competitors as he finished with the 20th best C1 in regulation, and 12th in birdie percentage. Usually when McBeth isn't playing his best, it's because he's giving himself too many looks from C2 rather than C1. In the final round, Paul hit a 66 footer to save par on the opening hole. He then went 1-of-3 from C1X, and 1-of-4 from C2 the rest of the day.
Gannon Buhr
Leading the field in C2 in regulation gives an excellent putter like Buhr opportunities to pick up extra strokes, and he took advantage, finishing 3rd in birdie percentage. While Gannon accumulated 10 bogeys, he did a great job of limiting penalties with only four OB strokes. The bogeys were largely a result of poor scrambling, Buhr converted just 2-of-9 attempts, good for 92nd in the field. Ever consistent though, Gannon took home his 10th top 10 finish on the ES this season and secured a bye to the semifinals of the DGPT championship.
Gregg Barsby
Isaac Robinson wasn't the only player to lead in birdies: the 2018 World Champ collected 40 of his own on the same courses where he won his lone major title. Barsby was hitting his patented long range putts early on, knocking down one 87 footer and another from 111 feet! Gregg had the 2nd best C2 in regulation in the field at 51%, but ranked just 72nd with four holes parked. His tournament started to unravel a bit on Friday when he collected five OB strokes in a six hole span at Fox Run. Outside of that slump, he played very well and earned his 2nd highest ES rating of the season and best career finish at the GMC. Barsby also moved up nine spots in the pro tour standings to 24th, that spot would qualify him for the tour finale without a bye.
Niklas Anttila
The Finn had a terrific final day, shooting the 2nd highest rated round of his career at 1075, and finishing the tournament with an 11-under par hot round. Niklas was 8th in strokes gained tee to green and carded just five penalty strokes, finishing 3rd in both fairway hits and C2 in regulation. Anttila started off very slow, collecting just 10 total birdies in the opening two rounds; he went on to card 23 more in his final two rounds. Perhaps one of the most significant movers of the weekend, Anttila jumped from 38th to 27th in the Pro Tour standings and is currently qualified for the tour championship.
Linus Carlsson
Another European who had a great overall week, Linus Carlsson finished 4th in strokes gained putting and had the 2nd best C2 putting percentage in the field, going 8-for-15. The penalty strokes held him back a bit, however, as Carlsson collected 10 throughout the week. Although seven of those came just in round 2, he still managed to shoot 5-under par on that day. Linus walked away with his first top 10 finish at an ES event; his previous best finish was 17th. Carlsson moved up seven spots into 40th place and will still need a good finish at the MVP Open this week to qualify for the tour championship.
Adam Hammes
While Hammes was only 16th in birdies, he led the field with only two OB strokes and finished 4th in scramble percentage. Adam has had a very up-and-down season with six top 10 finishes on the ES. In his other six ES events, his average finish is 49th. Hammes currently sits in 17th place in the tour standings and is the reigning MVP Open champion. A solid finish this week will push him into the top 16, earning him a one round bye at the tour championship.
Alden Harris
Harris was sitting at just 3-under par and tied for 56th place after two rounds on Friday. At that point, he flipped the switch and shot 22-under par, going bogey-free in the final 36 holes. Finishing 8th best in strokes gained tee to green, Harris had the 4th most holes parked and 5th best C1 in regulation. He also went 9-of-17 putting from C2, which ranked 3rd in the division. Alden is currently qualified for the tour championship and with a good finish at the MVP Open has a chance to earn a one round bye.
Silas Schultz
Fans of OTB Skins on the GK Pro YouTube channel should be familiar with Schultz, who took home 10 skins and the win in their most recent episode. Schultz was 4th in strokes gained tee to green but lost nearly two strokes to the field on the putting green, finishing 62nd in strokes gained. Silas' average ES finish this season was 72.66, so to come in with his first career top 15 in the playoffs is huge. Most importantly, this finish moved him up 20 spots into 71st, which qualifies him for this week's playoff event, the MVP Open.
Kristin Tattar
To nobody's surprise, Kristin Tattar took home her 4th win in a row and 4th ES win of the season in Vermont. What is surprising is just how dominant Kristin has been this past month, becoming the first FPO player to average a 1000+ rating in three straight ES or major events. Tattar led the field in strokes gained putting, OB rate, and finished top 6 in every major statistical category. She leads Paige Pierce in the tour standings by more than 65 points, which is remarkable considering she played just seven regular season ES events and only one major. Ledgestone is the only event that Tattar has not won since the Champions Cup, and in a 28 day span she shot the five highest rated rounds of her career ranging from 1023 to 1033. While three big events still remain, we can start considering her season being up there with some of the greatest in FPO history. If you compare Kristin's season to Juliana Korver in 1999, Valarie Jenkins in 2009, Catrina Allen in 2016, or Paige Pierce in 2017, there's an argument to be made that Tattar is on the verge of exceeding those.
Henna Blomroos
Once again Blomroos was dominant from tee to green, leading the field with 23.50 strokes gained, 9.25 more than the 2nd best player! Much like the 4th round of the World Championships, Blomroos was tied with Tattar to start the day but finished well behind the Estonian. Along with C1 and C2 in regulation, Henna also led in scramble percentage, going 9-for-16. Along with losing 1.55 strokes putting to the field, Blomroos also carded nine OB strokes, seven of which came in the final round. It's important to remember that she has finished runner-up twice in a row to a player who is performing at an incredibly high level. Henna has shot the two highest rated events of her career at Worlds and GMC, an achievement to build on and be proud of. The points boost moved her up nine spots into 16th place, a good finish at the MVP Open should easily qualify her for the tour finale without needing to play her way in.
Ohn Scoggins
Ohn Scoggins is playing the best disc golf of her career. Coming off an FP40 win at the Tim Selinkse U.S. Masters Championships, Scoggins now has five ES podium finishes this year and four in a row. She finished 2nd in birdie percentage, 2nd in strokes gained putting, and led the field in C1X putting at 88%. Even with the top players shooting higher and higher event ratings, Scoggins also put up her highest ES rating of the season at 985. One of the most interesting battles to watch at the MVP Open will be for the 4th spot in the FPO division. After her finish at GMC, Ohn now holds a razor thin 6.16 point lead on Valerie Mandujano.
Missy Gannon
With her 7th top 5 ES finish, Gannon has now made the top 5 in over 50% of her DGPT events this season. She finished 3rd in strokes gained putting, with the 2nd best C1X and C2 putting percentages. What really stands out in Missy's stats is that she had to scramble 27 times in 72 holes! It was a tale of two courses when it came to scrambling: she converted 9-of-13 attempts at Brewster Ridge but just 3-of-14 attempts over at Fox Run. Currently 6th in the pro tour standings, Missy would need both Scoggins and Valerie Mandujano to underperform significantly at the MVP Open in order to advance inside the top 4.
Eveliina Salonen
Not much to be surprised about here, Eveliina finished 2nd in strokes gained tee to green behind Blomroos and struggled on the putting green where she lost over 6 strokes to the field. Despite the poor putting, Salonen is normally a terrific scrambler who puts her approaches so close that it often takes putting out of the equation. This week, she struggled a bit in that regard, converting just 5 of her 16 scramble opportunities. Eveliina has now moved up to 12th place in the standings and is several spots ahead of the play-in pool.
Alexis Mandujano
Averaging her 3rd lowest event rating of the season, Alexis has performed well on wooded courses this year but didn't play to her potential at Brewster Ridge or Fox Run. Mandujano isn't always the strongest tee to green player, but she currently has the 3rd highest C1X putting percentage in the division. Unfortunately, she struggled in all areas last week, missing the cut and dropping to 13th in the tour standings. Alexis was qualified for the tour championship and in a nice spot prior to the GMC. Now she'll need a solid week at the MVP Open to avoid dropping into the play-in pool, or potentially out of championship contention entirely.