Ricky is the first to three wins this season; FPO now has seven unique Elite Series winners.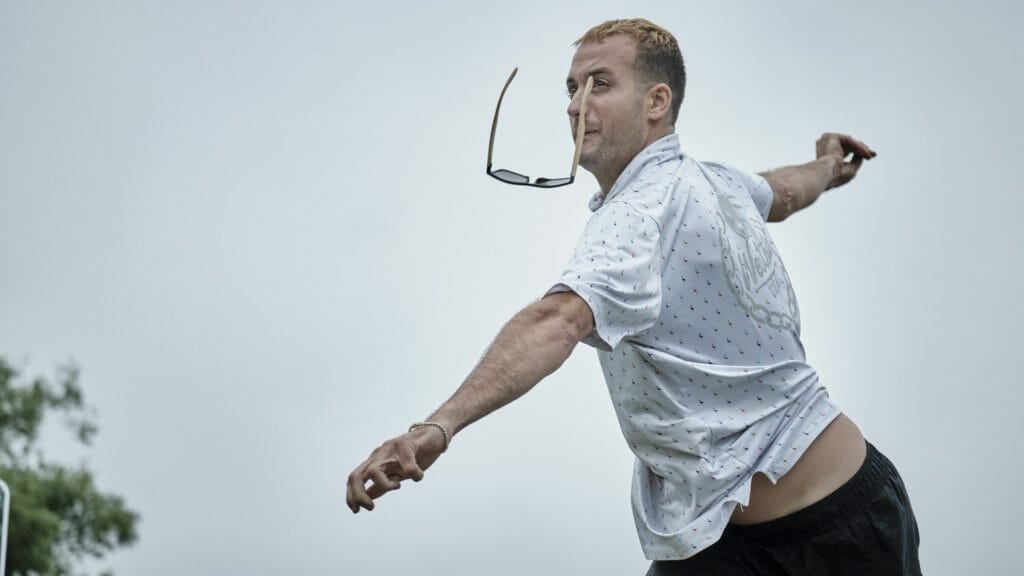 It was another weekend of very exciting disc golf at the 2022 Ledgestone Open! While the margins of victory may not be a good indicator, both the MPO and FPO divisions featured close battles that required all four rounds to settle. Each division featured lead card and chase card players who were in contention throughout the final round on Sunday, and a winner who took full control coming down the stretch. In the middle of the final round at Northwood Black, Missy Gannon pulled away from the pack to earn a six stroke victory. And over at Lake Eureka, Ricky Wysocki was able to follow a similar game plan and take home a four stroke win of his own.
Missy Gannon became the 6th different FPO player to win on the Disc Golf Pro Tour Elite Series this year, setting a new single-season record. The last five events have also featured five different MPO winners and five different FPO winners, the first time that has ever happened in the history of the DGPT.
Ricky Wysocki
No co-champions this year! Ricky Wysocki cleared the field by four strokes to take down his 3rd consecutive win at Ledgestone and his 3rd of the season. He's the first MPO player to three Elite Series/Major wins this year. This was actually Wysocki's lowest event rating in his last four Ledgestone appearances1. After the win this past weekend, Ricky has once again tied McBeth for the most DGPT ES MPO wins all-time at 16. Wysocki led the field in strokes gained tee to green, holes parked, and C1 in regulation. He also had the lowest OB rate in the tournament, taking just three penalty strokes. Perhaps most important was his scrambling, where he lead the field with 10-of-14 conversions. Ricky's scrambling ability is one of the reasons he has continued to find success at this tournament. Plenty of upshots on the Northwood Black course can feel like a scramble, even when the player is technically considered on the fairway. It should come as no surprise that he had the lowest combined score at Northwood, shooting 13-under par between the two rounds.
Paul McBeth
Paul made 90% of his C1X putts and 25% of his C2 putts at Ledgestone, so the fact that he finished 40th in strokes gained putting tells you just how good players have gotten on the greens, specifically from C2. Wysocki actually finished 55th in strokes gained putting, with McBeth coming in just behind him with the 2nd most strokes gained tee to green. So how did Ricky come out four strokes ahead of Paul? It all came down to the OB strokes: McBeth had 5 more than Wysocki. You can also point to his 50% scramble percentage; he failed to convert on eight scramble attempts while Ricky missed just four.
Gannon Buhr
Earning his 2nd podium on the ES this year and 5th top 5 finish, Buhr was very much in contention for the win but couldn't hold steady down the stretch. Even after a huge 277 foot throw-in from the drop zone on hole 9, Gannon wasn't able to channel any momentum and shot even par the rest of the way. Similar to McBeth, the penalty strokes became too plentiful as he racked up seven in the final round and ultimately carded five more than Wysocki on the week. Even with a somewhat disappointing finish, Buhr still collected the largest payout of his career at $5,425.
Anthony Barela
A really great all-around week from AB, who finished 5th in strokes gained tee to green and 11th in strokes gained putting. Barela made 90% of his C1X putts and 43% from C2: to this point in the season, he has averaged 82% and 27%, respectively. Penalty strokes got the better of Barela as well who carded 10 on the week including 6 in the final round. He ultimately came up six strokes short of Wysocki. The 4th place finish ties his best ES finish of the season, and increases his total career top 5 finishes on the DGPT ES to four.
Corey Ellis
Ellis made some noise on Sunday with a 10-under par hot round at Lake Eureka that surprisingly included three OB strokes. Corey has now earned two top 5 finishes in a row and has averaged a 1051 rating across those events. Corey played okay at Northwood but really struggled to keep the disc in the fairway during round 3, going just 10-of-21 during the penultimate round.
Matt Orum
In his 8th consecutive year playing the Ledgestone Open, Matty O walked away with his best finish and highest rating at this event. Orum had the 2nd best scramble percentage in the field and shone at Northwood Black where he shot five more strokes under par than he did at Lake Eureka. Orum also finished 3rd in strokes gained putting, and now has top 6 finishes in three of the five ES events he has played this season. He has not missed the top 15 at an ES or Major event since the 2021 Music City Open.
Kyle Klein
After a rough start to the season, Kyle Klein is finally rounding into form and playing very consistently, landing his 4th straight top 10 finish. Since the Preserve championship, he has averaged a 1047 rating in those events with no big high or low moments. Klein finished Ledgestone tied with Wysocki for the best C1 in regulation percentage, and finished 4th best in strokes gained tee to green.
Randon Latta
Currently rated 1006, Randon Latta has been on a bit of a hot streak these past few weeks. After a 997 rating at Idlewild, Randon averaged 1031 at DGLO to earn a top 15 finish and the largest payday of his career at $1,100. He then came to Ledgestone and averaged 1037 golf to collect a $2,700 check. Randon finished the event 2nd in fairway hits, 3rd in strokes gained tee to green, 4th in C1 in regulation, and 6th in C2 in regulation. Clearly, he was throwing the disc very well, but on the putting green he lost more than two strokes to the field and finished just 104th best. Latta has been rated as high as 1015 back in January 2020 and is scheduled to play Des Moines this coming weekend. He's currently sitting in 65th place in the DGPT standings and should earn an invite to the Green Mountain Championship, and possibly the MVP Open if he can earn a few more points this week or at GMC.
Calvin Heimburg
What a difference a day can make: after shooting 6-over par in round 2, Heimburg returned to Northwood Black for round 3 and shot 15 strokes better to set a new course record. Scrambling has never been the strongest part of Calvin's game and it showed in the woods, where he converted on just 1-of-9 attempts. Heimburg scored well throughout the weekend, finishing with just 1 fewer birdie than winner Ricky Wysocki, but there was no overcoming his 991-rated 2nd round. In 10 ES events this season, Calvin now has 5 finishes on the podium and 5 finishes at 10th or worse.
Andrew Marwede
For a second straight week, Marwede led the field in strokes gained putting, going 50-of-51 from C1 and 8-of-18 from C2. If you combine his putting stats from DGLO and Ledgestone, he made over 99% from C1 and over 54% from C2 in those events. A true threat in the woods, Marwede finished 3rd in scramble percentage and only carded two bogeys on Northwood Black, which included a clean sheet in round 3. Despite the impressive numbers, this was actually his worst finish at Ledgestone (16th) since 2018: he came in 11th or better each of the past three years.
Nate Sexton
Sitting below the cut line after a difficult round 2 at Northwood, Sexton came out firing in round 3 to move up 29 spots. He not only made the final day cut to extend his cash streak to 255 consecutive events but moved up another 13 spots to secure a top 20 finish. While he only finished 37th in birdies, Sexton carded just six penalty strokes on the week and finished 7th best in scramble percentage.
Missy Gannon
After a somewhat slow start to the season, Missy Gannon assured us that she isn't going anywhere anytime soon. Gannon led the field in birdies, fairway hits, and C2 in regulation to earn her 6th top 5 finish of the year and 4th in the last five events. She also finished 2nd best in strokes gained tee to green and earned the 2nd largest FPO margin of victory on the ES this season. Even as the field gets stronger, Missy continues to up her game, finishing the week with a career high 988 event rating. Gannon's career earnings have now surpassed $118,000 — and over $50,000 of that has come just in her last 6 wins!
Ohn Scoggins
Though she has yet to earn a win, Scoggins has now been the runner-up in three straight ES events and four of the last five! Scoggins led the field in strokes gained putting and C2 putting, making 12-of-27 from long range. She also led in scramble rate and was able to card eight birdies at Northwood in the final round, the most of any FPO player during the tournament.
Lisa Fajkus
Lisa's smooth straight-flying tee shots were a big advantage at Ledgestone, helping her stay clean and finish 3rd best in fairway hits. Fajkus finished the week 5th in both strokes gained tee to green as well as strokes gained putting. While she played very well at Northwood overall, Lisa converted on just 1-of-11 scramble attempts, an area in which she's normally quite proficient. She was still able to earn her first top 5 finish and podium finish on the DGPT ES this season, and her first DGPT ES podium finish since the 2019 Portland Open. It was also the 2nd highest rated event of her career behind the 2021 World Championships, where she also finished in 3rd.
Kristin Tattar
Kristin has played six full events since the Champions Cup earlier this year, and Ledgestone is the first event that she hasn't won in that span.2 It was also the lowest rating she's earned at a U.S. event this year, coming in five points below her player rating at 973. She still finished 4th in strokes gained tee to green and 8th in strokes gained putting but was unable to overcome seven OB strokes that she racked up at the Sunset Hills course. While it may have been a down weekend for the top rated player in the world, if she came out of it with her elbow feeling okay then consider the event a success. Amazingly, she has never missed the podium at a DGPT event, going 11/11 on the Elite Series dating back to 2019.
Paige Pierce
Going into the final round tied for the lead, Pierce struggled a little too much off the tee this weekend and wasn't able to dominate at Northwood the way she did last year. Shooting 9 strokes worse on an easier course layout from last year, Pierce converted 8-of-10 scramble attempts in round 1 to stay in the mix. In the final round, however, she was only able to convert on 2-of-7 attempts and struggled to get birdie looks. If there's a positive to take away from the weekend, it's that she still shot her highest event rating since winning the Preserve nearly two months ago.
Alexis Mandujano
In arguably one of the best performances of the season, Alexis shot a clean 7-under par final round at Northwood Black on Sunday. The 1008-rated round is the highest of her career, and only the second clean round at Northwood in the FPO division (the other was Sarah Hokom's 1-under opening round that featured 17 pars)). Alexis earned her 4th top 10 finish of the year and proved once again that there's more than one Mandujano who fans — and sponsors  — should be keeping their eye on.
Holyn Handley
Holyn earned back-to-back 10th place finishes at Ledgestone and now has top 10s at 6-of-10 events this year. She also finished 2nd in strokes gained putting, a really encouraging sign for a younger player with a ton of arm talent. Oh yeah, she also made history on Friday by becoming the first FPO player in DGPT ES history to card an albatross! If you haven't seen the incredible 333 foot throw-in over the water, check it out:
---
oddly enough his highest rating came back in 2019 when he finished 2nd to Paul McBeth who averaged a ridiculous 1084 rating ↩

She started but did not finish the Tyyni Open due to injury. ↩