Another playoff win for Calvin.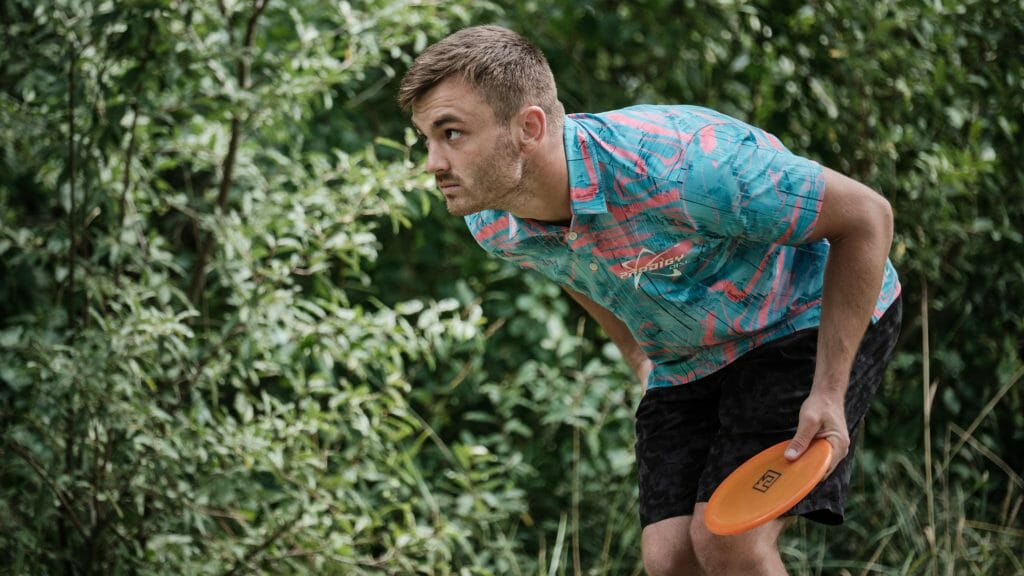 While it may not have been quite the spectacle that the European Open was, the 40th Discraft Great Lakes Open still delivered an exciting finish and large crowds of spectators. Favorable weather conditions and light winds resulted in good putting statistics and fairly consistent play across the weekend.
There have now been four different MPO winners and four different FPO winners in the last four Elite Series events. Believe it or not, that's actually the second such streak this season. Natalie Ryan's victory tied the record for most FPO winners in a single season. And Calvin Heimburg joined Eagle McMahon, Ricky Wysocki, and Paul McBeth as the only MPO players with multiple Disc Golf Pro Tour wins in multiple seasons.
Calvin Heimburg
Vinny once again had to force a playoff to earn this victory: he has now won a playoff in 3 of his 7 ES wins. The only other players with multiple playoff wins on the DGPT are Catrina Allen, Drew Gibson, and Jeremy Koling, none of whom have won two in the same season. Heimburg finished this event 2nd in strokes gained tee to green, leading the field in holes parked as well as C1 in regulation. He was one of just two players to park the difficult hole 13 on the final day1. Calvin kept his scorecard fairly clean with just two bogeys and one OB stroke, which he collected on the second to last hole of regulation play.
Corey Ellis
Nearly finding a way to pull out the W, Ellis made up two strokes on Heimburg in the final two holes but suffered an OB tee shot in the playoff first on the box. Finishing 3rd in strokes gained tee to green and 4th in strokes gained putting, Ellis led the field in C2 in regulation and didn't miss a C1X putt the entire tournament. Although he had a highlight reel 115 foot throw-in on Sunday and putted well from C2 in the opening round, Ellis went just 2-of-12 from C2 in the final two rounds. While his putting was superior, Ellis made C1 in regulation on eight fewer holes than did Heimburg over the course of three rounds. Corey's 1054-rated 3rd place finish at DGLO in 2021 was both his best ES finish and highest rated event coming into this week. He surpassed those marks with a 1056-rated weekend and his first runner-up finish on the DGPT. Coming up short is never the goal, but Corey took an important step in Milford just as Natalie Ryan did in Stockton earlier this year.
Ricky Wysocki
A very solid performance from Ricky, who finished 3rd in strokes gained putting and 5th in strokes gained tee to green. Wysocki had an unfortunate stumble on hole 17 in the opening round, taking two OB strokes and a double bogey. He went on to bogey the opening hole on Saturday, but played the final 35 holes bogey-free and 17-under par. In 57 DGPT ES events, Wysocki now has 15 wins, 9 runner-ups, and 6 third place finishes, surpassing a 50% podium rate.
Gavin Rathbun
Gavin Rathbun continued his encouraging return from injury at DGLO, finishing 2nd in strokes gained putting and taking no OB strokes in the tournament. His tee-to-green game actually started off a little shaky but continued to improve throughout the week. In round 1, Gavin only missed 1 putt and finished at 6-under par. In round 3, he missed 5 putts and finished the day 10-under par. Prior to his injury, Gavin was an excellent player on the tees and in the fairways but wasn't putting consistently. If he can get into scoring positions the way he did on Sunday and putt near the level he did in Milford, Rathbun will be competing for wins sooner rather than later.
Adam Hammes
After a poor performance in Finland, Hammes returned to the states and put together his 2nd highest event rating of the year on the ES. Adam finished 6th best in strokes gained tee to green as well as strokes gained putting; he not only played consistently but got better on each day. Hammes suffered OB tee shots on hole 17 in each of the final two rounds but was able to get up and down to save par both times. This is Adam's 2nd top 5 finish of the year and 4th top 10 ES finish in a row, a solid foundation to continue building on as the season gets into the final stretch.
Kyle Klein
Last year's runner-up just couldn't hold strong through the end of round 2, carding three bogeys in the final four holes and getting bumped down to the chase card. Kyle led the event from tee-to-green but took 5 OB strokes and finished just above average on the putting green. Similar to Hammes, though, Klein now has top 10 finishes in 3 straight ES events after having none prior to the Preserve. In those events, he has played above his rating, averaging 1053 at the Preserve and 1045 at Idlewild and DGLO.
Andrew Marwede
Another Michigan native, Marwede must have been feeling at home on the Toboggan because he put together the best putting performance I have ever seen. Andy missed just seven putts the entire weekend, going 42-of-42 from C1 and 12-of-19 from C2. He led the event with 13.33 strokes gained putting — 2nd best was Rathbun at 6.82 strokes. That big of a margin, and over 13 strokes gained from putting, simply doesn't happen with a field of this size and skill level. Marwede also carded no penalty strokes and played the final 45 holes of the event bogey-free. It should come as no surprise with those putting statistics that he led in scramble percentage as well, converting 15-of-16 attempts. He may not have been in contention for the win, but from a stats perspective, this was one of the most exciting performances of the entire season.
Paul McBeth
Another final round disappointment for McBeth, who just couldn't seem to get anything going on Sunday. Paul made C1 in regulation just three times in the final round, a trend that seems a bit too common for him this season. Over the course of the weekend, McBeth finished 5th in C2 in regulation but just 26th in C1 in regulation and only 59th in holes parked. Putting yourself outside the circle is less than ideal, and it's frustrating to continually have 50 and 60 foot looks for birdie. Paul also got bit a couple times by the iconic 5th hole, where he failed to card a birdie and finished the weekend 2-over par.
Brodie Smith
Brodie got off to a tremendous start on Sunday, shooting 7-under in the opening 10 holes before cooling off. Smith finished the event 7th in strokes gained tee to green and shot the highest event rating of his career at 1040. His putting started off a bit shaky but continued to improve each day: he only missed one putt in the final round. While his 2022 average ES event rating is technically lower than it was in 2021, he's now earned two top 10 finishes and we're starting to see glimpses of how high his ceiling could be.
Simon Lizotte
Always a showman, Simon started entertaining the crowd once he was out of contention for the win, so take his round 3 stats with a grain of salt. Overall, though, he put himself in good position after two rounds and finished the event 3rd in C1 in regulation as well as holes parked. Lizotte's biggest struggles came in the opening round, where he missed four circle 1 birdie putts. This is actually the first ES event in 2022 where Simon did not improve on his finish from 2021: he came in 9th at DGLO last year. But, again, take that with a grain of salt when you consider the tee shots he was throwing towards the end of the round.
Kevin Jones
Earning his best ES finish since Jonesboro, KJ struggled in the same way that McBeth did. Jones finished 5th in C2 in regulation but just 17th in C1 in regulation and 34th in holes parked. Kevin was also a bit streaky in Milford: he carded at least 4 birdies in a row during every round but would cool off for long stretches as well. He did a nice job of staying clean off the tee, avoiding the OB and not taking any penalty strokes.
Cole Redalen
One of the most up and down players on tour, Cole Redalen might just be showing us how high his ceiling is. Redalen came in with a course record 12-under par on Sunday and a 1080-rated round, the highest of his career. Having youth on his side was certainly beneficial for traversing this course and being forced to scramble 16 times in the opening two rounds. Maybe Cole got a little tired of that extra walking, because he only had to scramble twice on Sunday and converted both attempts. Redalen now has three top 15 finishes on the ES this year, including two in a row.
Natalie Ryan
Becoming the 13th FPO winner on the DGPT ES, Ryan finished the event 2nd in strokes gained tee to green and 12th in strokes gained putting. While her driving certainly helped, it was actually the putting that got Natalie over the hump and into the winner's circle at DGLO. Putting at 81% in C1X, Ryan had only been averaging 58% from that range on the season. This is now her 3rd top 10 finish in her last 4 events, and the 2nd highest rated event behind her runner-up finish at the OTB Open earlier this year. Natalie's 1007 rated 2nd round is also her best at an ES event and the 2nd highest of her career overall.
Ohn Scoggins
Back on the chase card, Ohn came in with a clean 8-under par final round for her 3rd runner-up finish in the last 4 ES events! It should not come as a shock that she led the field in both C1X and C2 putting, but Scoggins was also 9th best in strokes gained tee to green. Even with her lack of distance and three OB strokes, Ohn was able to get into scoring position and card plenty of birdies at a course on which many would not have predicted she had a chance to win.
Emily Beach
Though she was 4th in strokes gained putting and 12th in strokes gained tee to green, Emily was able to match Ohn's score by not carding any OB strokes. Beach did a great job of putting her approaches close to the basket. She was only 19th in C2 in regulation but finished 4th best getting to C1 in regulation. Incredibly, she had to scramble 25 times during the weekend and went 23-for-25! She did much of that work in round 2, going 10-for-11.
Paige Pierce
While Paige led the field in strokes gained tee to green, she just couldn't get the putter going on the Toboggan. Finishing 28th in strokes gained, she made just 68% of her C1X putts and lost a stroke to the field. Pierce lost the event by four strokes; she also missed four more putts than did Natalie Ryan. One big accomplishment, though, was carding a birdie on hole 18 to close out the tournament. From 2018-2021, no FPO player had ever birdied the Toboggan's finishing hole.
Valerie Mandujano
Playing DGLO for the first time, Valerie earned another top 5 finish and now has four in the nine ES events she has played this season. It's been less than a year since she earned her first top 5 finish on tour2. Finishing 2nd in C2 putting and strokes gained putting, Mandujano did not take any penalty strokes and played the opening 39 holes bogey-free before carding 3 in the final round.
Ella Hansen
It was a somewhat disappointing performance this weekend for Ella Hansen, who many people thought had a good shot to earn a win. Missing the top 5 for just her 2nd time in the last 7 events, Ella finished 15th in strokes gained tee to green and 17th in strokes gained putting, going just 1-of-19 from C2. She carded 5 OB strokes on the week and shot 2-over par on holes 1, 5, and 17. On Saturday, however, Ella became the first FPO player to ever birdie hole 18 at the Toboggan, sending a midrange up the hill and cashing a 50 foot putt.
---
the other was Nate Sexton ↩

August 2021 at the Ledgestone Insurance Open ↩