A groundbreaking win -- and a jumbled POTY race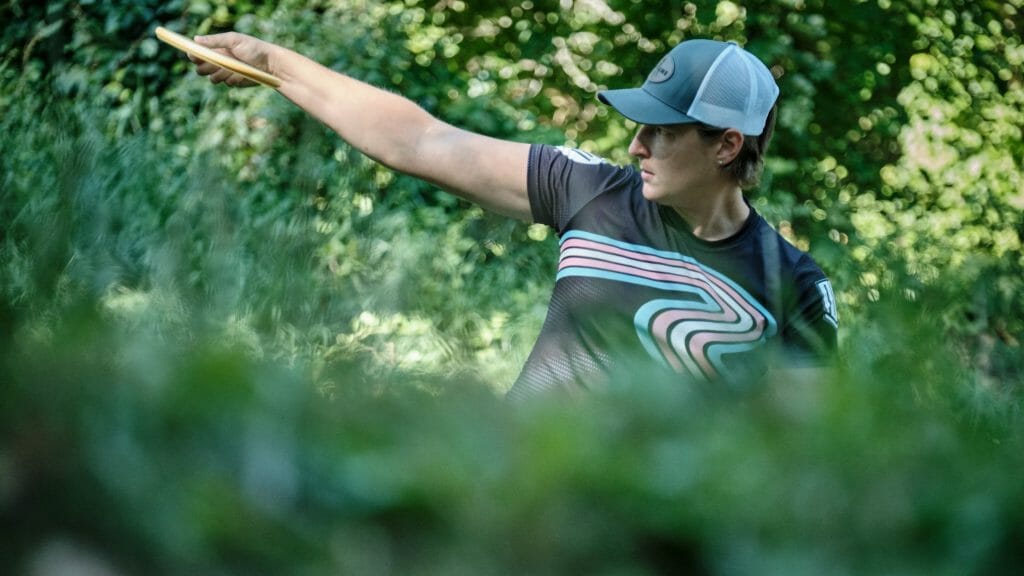 Alright, folks, it's been a minute, but we, just like the DGPT, are back in action after a pause for a couple majors.
Nathalie Ryan's first career DGPT win comes two months after she made history as the first publicly out, trans athlete to podium at a DGPT event when she took second at the OTB Open. Her win in Michigan is the first time a publicly out trans athlete has won a DGPT event.
Ryan has found herself as the perhaps accidental face of the trans community in disc golf and has conducted herself with dignity and grace both on and off the course. Ryan initially found herself at the center of the discussion of trans athletes in disc golf early in the season and has continued to persevere and compete at a high level all season long.
Ryan may be disc golf's first civil rights leader, and the DGPT, PDGA, and a handful of players have proven their commitments to equity and decency with their actions over the weekend. Three cheers to them, and hats off to Ryan.
***
Since joining the DGPT circuit back in 2018, the Great Lakes Open has traditionally marked the beginning of the final leg of the touring season, by which point at least a handful of players in both divisions have begun to separate themselves from the pack as the tour turns towards the East Coast and Rock Hill. This year, however, no single player in either division has been able to string together a consistent run of wins or, at least in MPO, top level finishes.
Personally, I have loved every second of it.
The open season has the lovely side effect of allowing us to more closely examine the meaning of and what should be considered when discussing Player of the Year.
In Ye Olden Dayes of Yore, we could just open a spreadsheet and see who got the most wins, if anyone has multiple majors, and just do a quick lil bit of objective consideration and go from there.
That is unlikely to be possible when voting time comes for the '22 season. Unless someone decides to make the tail end of the season their time to shine, and there is absolutely no reason to think that will happen, we will probably have two of the least winningest players of the year in disc golf history — and that is fine.
As Paige Pierce reminded us (of course, after she won), winning isn't everything; perhaps we should take that seriously. Ricky Wysocki, Simon Lizotte, and now Calvin Heimburg are the only MPO competitors with two Elite Series wins this season. Chris Dickerson has a major and two Silver Series wins. Eagle McMahon has one Major in seven starts. Paul McBeth has one ES win and a couple really cool rounds, but so do Bradley Williams, Isaac Robinson, and Drew Gibson. Of course, all of these players have missed significant time or been non-factors as often as they have been challenging for the podium.
There is, as the kids say, a lot of golf left to play and plenty of time for someone to make a compelling argument for a more traditional POTY crowning, especially with two majors and the east coast left to go. As things stand right now, if I was a voter, I'd go with the player who has most exemplified the best parts of disc golf: fun, inclusiveness, skill, and fun. As the big shakers and movers in the game have grown (rightly so!) rich and prosperous with the COVID-fueled explosion in popularity of the game, perhaps it wouldn't be such a bad thing if the 2022 winner was the player who most exemplified those qualities I outlined. Which player should that be? You decide.
The FPO POTY conversation is a little more cut and dry. Paige Pierce has six wins to her name thus far and has only missed the top 10 once. Her closest competitors — Catrina Allen, Valerie Mandujano, and Kristin Tattar — have all had excellent seasons and helped make this year one of the best for watching FPO in recent memory, but with two majors under the belt, it's Pierce's title to lose.
And you know what else, Pierce happens to check off the above boxes too.
The GLI
Don't worry, despite our multi-week absence, our crack team of ornithologists have been maintaining a constant watch on the Gooseness Looseness Index. At this point, we put the GLI at a 7.8. Seems high? Well, only if you are silly goose, and not a loose goose. Check this out. Since DDO and including DGLO, Gossage has only missed the top 10 five times, and only missed the top 20 thrice. He has 5 top 10 finishes, including a couple A tiers. By way of comparison, McBeth also has five top ten finishes, one finish outside the top 20, and two outside the top 10.
Stray Thoughts
The new and improved Nate Heinold Toboggan course just rules. Toboggan has always provided us with the most verticality on tour all season, a skill which is not tested nearly as much as it should be, but it was always a one note course and challenge, at least as a viewer. The changes — yes, including moving the tee back on 14 — don't do anything to change the essential character of the course but do force players to show off a fully-rounded game in order to be successful. This has led me to wonder aloud: is Nate Heinold an underrated course designer? What constraints is he under at Lake Eureka? Given the dastardly inventiveness he's shown at Northwoods, and the (mostly) ropeless work he's done at Toboggan, one has to assume he's mightily handcuffed by the parks department at the Lake? Right?
Ohn Scoggins is a monster — and a sneaky POTY contender. With her second place finish this weekend at DGLO, Scoggins claimed her 16th podium finish of the season across all events, and her sixth at an Elite Series or Major.
Joe Machen's Mid America Open is up next on the Silver Series and I have to wonder how many voicemails and letters Mr. Machen has received in recent months confusing him with the Senator from West Virginia.
With the DGPT playoffs about to start, it does seem strange that the Silver Series events have fallen off the schedule. For players on the cusp and fighting for a playoff spot, a good run of SS events would certainly be helpful in drawing eyes to the events, building storylines, and differentiating the Silver from the Elite Series.