We witnessed a wacky weather weekend in Waco, with winners from the west, wow!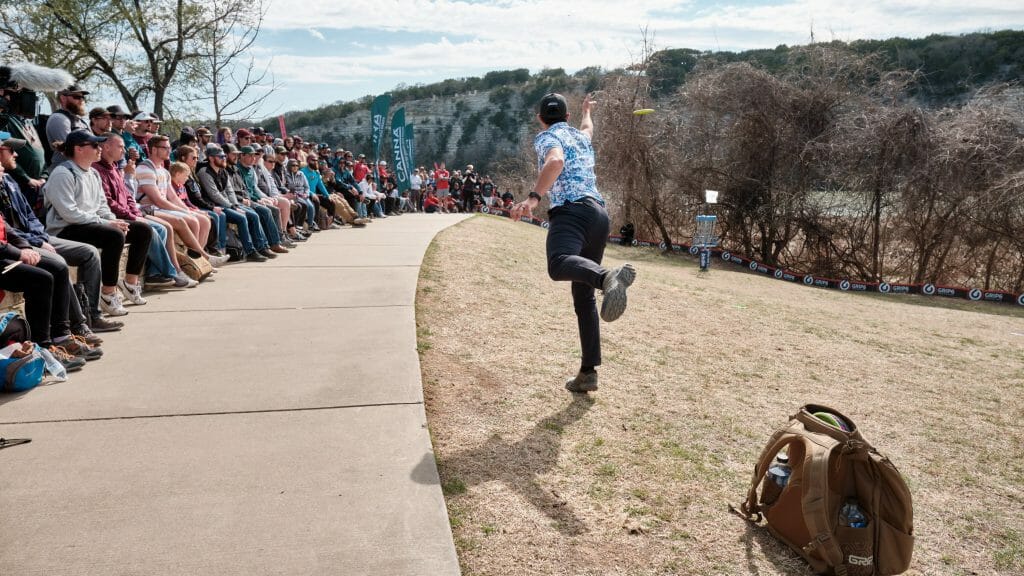 Paul McBeth and Valerie Mandujano took home the wins this weekend at the 2022 Waco Annual Charity Open. For McBeth, it is his 138th career win; for Mandujano, it's her 46th career win overall and 1st Elite Series victory. McBeth led the event wire-to-wire, while Mandujano had to fire off an inspired 1016-rated, 7-under par final round to come from behind and snatch the victory away from Eveliina Salonen while fending off Kristin Tattar.
FPO is now two-for-two this season on providing close and compelling action down the stretch, and folks are taking notice and tuning in so far. DGN Media Director Mahmoud Bahrani has been tweeting out viewership numbers this season; while FPO viewership is still lagging well behind MPO, viewership across platforms is on the rise for FPO.
Part of what has made the women's game a compelling watch is that as the field has grown in numbers, the level of competition has significantly improved. The gap between the podium and the tenth place finisher has shrunk. So far this season, there has been a 14.5 average stroke differential between the winner and 10th place in FPO. In 2021, the average differential, using only Vegas and Waco, was 22.5. We'll skip 2020 because Waco was cut short. In 2019, the differential was 20.5, and in 2018 it was 22.5.
Eight strokes isn't nothing, and while some of that difference is probably thanks to to Kristin Tattar, Eveliina Salonen, and Henna Blomroos playing as mortal locks for top 10 finishes, the emergence of and sustained quality of play from Missy Gannon, Ohn Scoggins, and Valerie Mandujano has helped to round out the field.
The action in MPO was less tense but still fun. McBeth led or had a share of the lead all weekend and separated himself in the final round for a three stroke victory. Perhaps most important for McBeth was the fact that his putter was working this weekend. He averaged 91% from inside 33ft on the weekend. The season is young, for sure, but he averaged just 83% C1X putting last season and, by wins, had one of the worst seasons of his career. If McBeth has his putter figured out this season while McMahon is injured and Wysocki is readjusting to his Trilogy plastic, we may be in for a McBeast type of year.
It has been stated multiple times over the broadcasts and various media outlets that Luke Humphries is playing well this season because he decided to practice over the offseason. And, surprise of all surprises, he is playing the best golf of his career to start the year. Humphries had a legitimate shot at taking the win this weekend, and had he not bookended his final round with double bogies, he would have either tied or beat McBeth outright. The main negatives? OB strokes killed Humphries in the final round, and he only hit a single putt from circle two all weekend.
Heat Checks
Ice Cold
Kona Panis has not had a very good start to her season by any stretch of the imagination. At Vegas, she shot worse each round, and at Waco she only carded two birdies all weekend. Panis scrambled well compared to the rest of her game, but it was an across the board tough weekend for her. She was not above 50% in a single statistical category. Ironically, her second best stat by percentage was 48%, but that was in C1X putting. Panis is off to her worst start since 2019. And, to be real, it's probably the bag change. It's a long season, but one also has to wonder if that big contract she got from DD over the offseason is weighing on her.
He's on Fire!
Thomas Gilbert has two top 10 finishes to start the season. This is a double first for Gilbert: the first time he's had two top 10 finishes at Elite Series events in a single season, and also (duh) the first back to back top 10s for Gilbert at ES events. He's not setting the stat sheet on fire, but he's playing solid golf and avoiding OB off the tee so far. Gilbert is in his second year with Prodigy and maybe is feeling more comfortable in general this season with his new plastic.
Stray Thoughts
Mandujano taking the win and Chris Clemons finishing in third made for truly a banner weekend for team Dynamic Discs. DD hasn't had a representative on the podium in both Open divisions since 2018, when Paige Pierce and Eric Oakley took home hardware at the Jonesboro Open. This was team DD's first FPO win at an Elite Series event since Paige Pierce in 2019.
Nathan Queen had a strange weekend. Shooting a 7-over par 70 round one, he improved by 16 strokes in round two and shot a 9-under par 54. In the final round, he bagged a more modest 1-under par 62, thanks in large part to back-to-back double bogeys on the final two holes of the event. Wild stuff from the reigning DGPT Champion.
The conditions on Friday were indeed (and to the surprise of absolutely no one) a major factor. In 2021, the leading round one score in MPO of 8-under would have been solid but not lead card material. In FPO, at least three shooters went below par in every round at Waco. This year, only Eveliina Salonen finished under par in round one.
Henna Blomroos improved on her dismal showing in Vegas, finishing in sixth and averaging 969-rated golf.