Paige Pierce still atop the FPO leaderboard.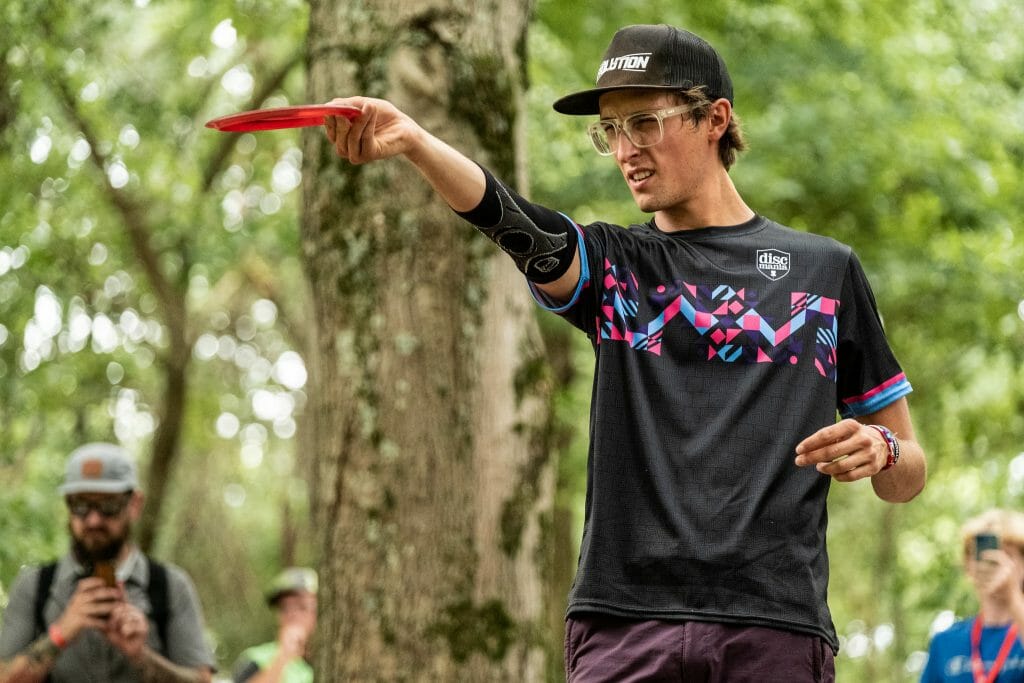 Eagle McMahon is the new top-rated player in the world after the March 2022 ratings update from the PDGA at 1055. It's McMahon's highest rating since last March, when he touched 1056, a career high.
McMahon took the top spot from Ricky Wysocki, whose rating ticked down one spot to 1053. Paul McBeth is in third place: his rating did not change in this update. His 1074-average performance through four rounds in a win at The Memorial was not included in this update because the ratings have yet to be finalized.
The biggest mover near the top of the MPO leaderboard was Gannon Buhr, who leapt 10 ratings points to 1037, a career high, after a 2nd place finish at the 2022 Las Vegas Challenge. It is his first time being rated above 1030. He is now the 11th highest rated touring pro. His rating has climbed 30 points since December 2020.
In FPO, Paige Pierce remains the highest rated player in the world at 980. She is just three points ahead of Kristin Tattar.
Eveliina Salonen and Catrina Allen saw the biggest upward moves in their rating among top 15 pros: a four-point increase. Henna Blomroos' rating fell five points following a disappointing performance at the Las Vegas Challenge.
Top 15 MPO Touring Players by PDGA Rating
| Name | PDGA # | Rating | Rating Change |
| --- | --- | --- | --- |
| Eagle Wynne McMahon | 37817 | 1055 | +2 |
| Richard Wysocki | 38008 | 1053 | -1 |
| Paul McBeth | 27523 | 1050 | - |
| Calvin Heimburg | 45971 | 1048 | +1 |
| Matthew Orum | 18330 | 1044 | - |
| Chris Dickerson | 62467 | 1043 | -2 |
| Adam Hammes | 57365 | 1041 | +1 |
| Kyle Klein | 85132 | 1040 | +1 |
| Kevin Jones | 41760 | 1039 | +2 |
| Drew Gibson | 48346 | 1038 | +3 |
| Gannon Buhr | 75412 | 1037 | +10 |
| James Conrad | 17295 | 1036 | +1 |
| Scott Withers | 38464 | 1036 | +1 |
| Cale Leiviska | 24341 | 1035 | -1 |
| James Proctor | 34250 | 1035 | +1 |
Top 15 FPO Touring Players by PDGA Rating
| Name | PDGA # | Rating | Rating Change |
| --- | --- | --- | --- |
| Paige Pierce | 29190 | 980 | +2 |
| Kristin Tattar | 73986 | 977 | +1 |
| Eveliina Salonen | 64927 | 976 | +4 |
| Catrina Allen | 44184 | 971 | +4 |
| Hailey King | 81351 | 970 | - |
| Henna Blomroos | 59227 | 968 | -5 |
| Sarah Hokom | 34563 | 965 | -3 |
| Ohn Scoggins | 48976 | 961 | -1 |
| Missy Gannon | 85942 | 957 | +2 |
| Jennifer Allen | 15354 | 954 | +1 |
| Valerie Mandujano | 62879 | 952 | +2 |
| Heather Young | 100965 | 950 | -3 |
| Kona Star Panis | 27832 | 948 | -1 |
| Jessica Weese | 50656 | 948 | +1 |
| Lisa Fajkus | 32654 | 946 | -1 |