What did we learn this weekend?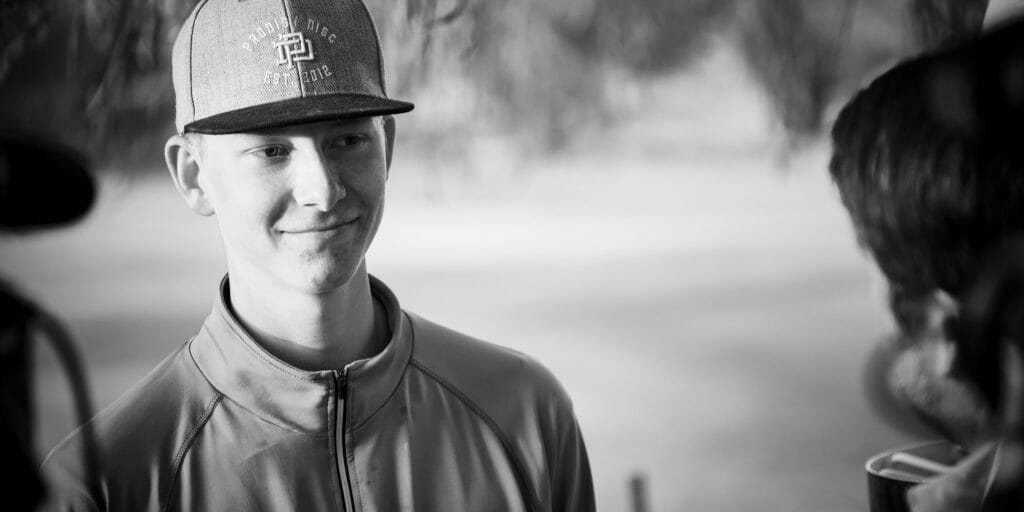 The first event of the 2022 Disc Golf Pro Tour is in the books. Drew Gibson and Catrina Allen will be leaving Las Vegas with wins, and we have plenty to talk about, so let's get to it.
Winner's Circle
Drew Gibson bags his second career Elite Series win on a series of courses that are almost tailor-made for his game. His last win came in 2019 at the Portland Open on a course that isn't exactly the polar opposite of what we saw in Vegas but is pretty darn close. Whereas Portland featured these weird plants that have bark and leaves which Gibson had to throw his disc around (can you imagine?!), Vegas featured no such obstacles, which meant we got to watch the Bama and Jordan stamped Destroyers fly.
The knock on Gibson's game has always been that his putter lets him down, but this weekend it was the difference maker for him. Gibson hit 84% from Circle 1, and an eye popping 45% from Circle 2, the latter number the best at the tournament. And it wasn't like he went 3-for-7 or something like that from deep: Gibson was 10-for-22 from beyond 33 feet. He was also 4-for-4 on bouncebacks, which meant that even when Gibson made a mistake, he was able to recover and card a birdie.
Catrina Allen was able to hold off Paige Pierce to win by a single stroke in FPO. Allen and Pierce had been tied for the lead after the first round and went back and forth over the course of the tournament, starting the final round tied up. Allen didn't play perfect golf by any stretch, but two eagles were enough to keep her above water. Pierce played more consistently over all four rounds, in fact she shot an eight under par in every round except the second round. She was also first in fairways hit and achieving circle 2 in regulation. Pretty impressive, so where did Allen separate? Catrina went out of bounds less. She had 8 OB strokes compared to Pierce's 13. Or, while it's silly to reduce a four round tournament to a single hole, you could look at the very first hole of the event being the difference maker. On hole one, round one, Allen threw it in from 66 feet, giving her the birdie and the single stroke she needed to avoid a playoff against Pierce.
FPO Is Getting Deeper
The FPO leaderboard is compelling stuff. The top ten featured Kristin Tattar, Eveliina Salonen, Missy Gannon, Hailey King, Ella Hansen, and, of course, Paige Pierce and Catrina Allen.
This group of players is going to include the favorites going into any event over the course of this season. It is worth noting that Henna Blomroos and Kona Panis both missed the cut for the final round, something unlikely to happen again (both because of their talents and because of the lack of cuts at most tournaments).
If there has been a knock on the FPO division that carries any water, it is that the field has not had significant depth, and the gap between Pierce/Allen and the rest of the field was significant. With the return of the Europeans, the rise of Gannon and King, and the impressive 2021 campaign by Ella Hansen, the FPO field is looking exceptionally deep.
Considering this depth and the field's ever-longer drives, I hope that course design for the FPO field will evolve beyond the "move the tee and slap a new par on it" method (or, at Las Vegas, simply slap a new par on it), to something more akin to what we see at Maple Hill Diamonds, a permanent and intentionally designed course with the top FPO talent in mind.
Gannon the Cannon
Look, if Jamie Thomas can mint a nickname, so can I.
Gannon Buhr has made an impressive opening statement to his sophomore year on tour. Buhr started the final round with a three stroke lead over Gibson, and was nine strokes under par through the first 11 holes but went cold over the final stretch, carding only a single birdie. That stretch left the door open just barely wide enough for Gibson to step through. Gibson shot four under par over the same stretch.
Buhr is an exceptionally talented young man, and at this stage in his career, he is still learning what it takes, both physically and mentally, to win at the highest level. It's tempting to draw comparisons to Eagle McMahon circa 2017, and sure, it's not a clean 1:1 comp yet, but there is plenty about Buhr's game that is reminiscent of McMahon's style, except for one thing: Buhr has a better sidearm at this stage in his development than did McMahon.
International Flavor
Heading into the weekend there was plenty to be excited for, as is the case at the start of every season, but the return of the international field was tops for many. The FPO power trio of Eveliina Salonen, Kristin Tattar, and Henna Blomroos was back in action together stateside for the first time since the 2019 World Championships. Seppo Paju was back for the first time since early 2020. And, of course, Jacky Chen made his US debut. (For those unaware, Chen won his first ever PDGA event, the 2020 Asia Open, over pros including Philo Brathwaite and James Conrad, debuting with a 1040 rating.) For almost two full years, fans across the world have been waiting to see these players mix it up on tour, and we finally got that this weekend.
Tattar and Salonen landed in the top five. For Tattar, who finished third, this marks 31 straight tournaments where she has ended her weekend inside the top five (and at all but one of those — the 2021 World Championships — she finished on the podium). The last time she missed the top five was 2019 Worlds, where she finished sixth. Salonen hasn't missed the top five at an events since the 2019 LVC (6th)! If you need a moment to process this information, please feel free to take a breather.
In MPO, Linus Carlsson finished in a three way tie for 17th, and Paju landed in 26th. Chen concluded his weekend way down the board in 82nd place with an understandable but disappointing two-under par.
It's hard to calculate and understand exactly how much we have lost as fans over these past two years without being able to watch the international players. How many final round battles between Tattar and Allen have we been robbed of?
Stray Thoughts
– Natalie Ryan was tied in third place with Kristin Tattar after one round but was forced to withdraw due to a hamstring injury. Ryan is one of the biggest throwers in FPO and has a tour scheduled out through the end of July. Here's hoping Ryan is able to heal up and we see more of her on coverage in the coming months.
– I never thought I'd get tired of seeing James Conrad throw it in on 18 at the end of 2021 Worlds, but here we are. Did we forget about Catrina Allen's shot? Were there no other remarkable shots from the past couple years? I may be in the minority here, but I think we should let that particular piece of content take a breather.
– Among those players who signed new sponsorship deals over the offseason, most looked fairly comfortable with their new, or new-again, plastic. Catrina Allen's DGA coming-out party was obviously a success; Hailey King's first outing with Innova was also quite strong. To the surprise of exactly nobody, Ricky Wysocki looked comfortable and at home throwing his Trilogy plastic, if still in need of some polishing. Kona Panis had a less than inspiring debut with her new DD bag, but it's a long season.