Nate Sexton rallied with four straight birdies to keep his streak alive.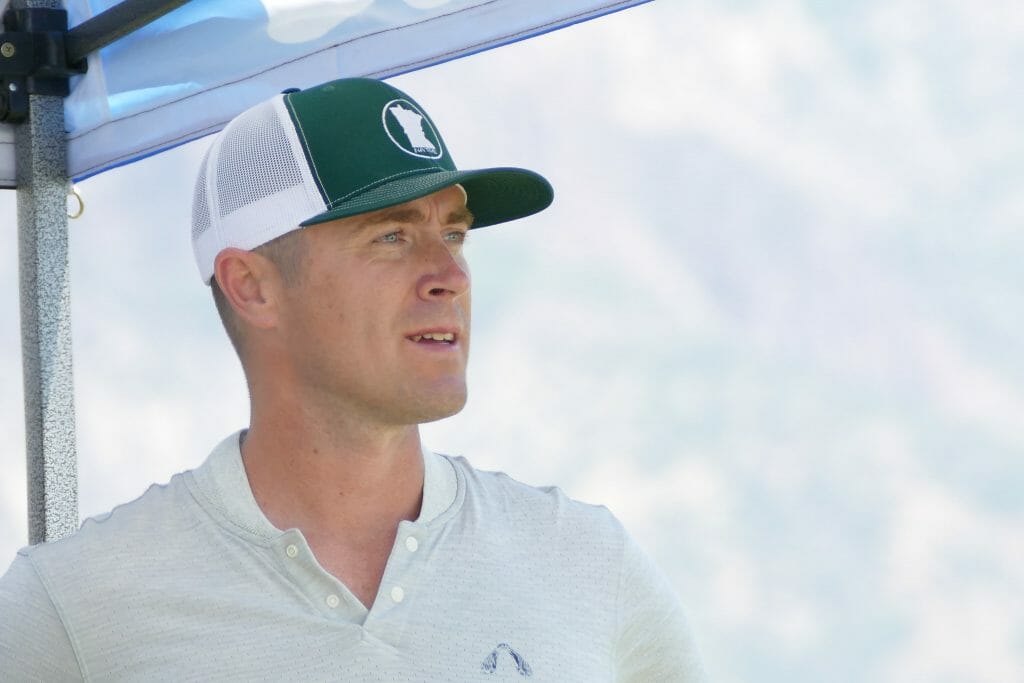 When Cale Leiviska woke up on Saturday, he hadn't missed cashing in a PDGA-sanctioned singles disc golf tournament in 4,850 days. Since November 16, 2008, Cale had entered 307 tournaments and earned cash in every one of them, the longest active streak in disc golf.
Leiviska started the day tied for 47th at the 2022 Las Vegas Challenge and needed to finish in 48th or better by the end of Saturday to make the cut line to the final day of the tournament and earn cash. On the same day, Nate Sexton woke up with a cash streak spanning 259 tournaments. Nate started the day one stroke ahead of Cale. Both of their streaks were at risk.
After 14 holes, neither had definitively secured or lost their streaks. The cut line shifted as the MPO field made their way through the course, but it was starting to become clear that 14-under par was the score to hit.
Sexton's streak was in serious jeopardy as he stepped up to the tee of hole 15. He had four holes to play and was sitting three strokes off the cut line. He needed to catch fire to secure his streak, and catch fire he did. He finished his Saturday round with four straight birdies, including parking hole 18's island green with his trusted Sexton Firebird. Nate entered the clubhouse at 15 under, extending his 10+ year cash streak by the slimmest of margins.
Unfortunately for Leiviska, his magic ran out down the stretch. He took two OB penalties in his final three holes to miss cashing by a single stroke. In the desert of Las Vegas, here lies Cale Leiviska's active cash streak: November 16, 2008 – February 26, 2022. Hats off to ironman, Cale Leiviska, and his very impressive 14 year campaign.
***
Nate Sexton will earn his 260th consecutive cash in Las Vegas this weekend. Nate's 5,095 day streak already eclipses Cale in duration, but he is 47 tournaments away from matching him in consecutive events. The only player anywhere near Cale and Nate's streaks is Chris Dickerson, who will earn his 214th consecutive PDGA cash in Las Vegas. Dickerson has historically entered 30-40+ tournaments a season, which puts him within 2-3 years of Cale's streak if he maintains that pace.
It's not unreasonable to think Leiviska, Sexton, and Dickerson are battling for a record that will never be surpassed. With the recent disc golf boom and consolidation of the elite series under the DGPT, the tour field has never been more competitive, and there are no signs that trend is going to slow down. Ken Climo's all-time cash streak record is 426 events, set between 1989 and 2013.
For reference, the all-time cut line streaks of the PGA and LPGA Tours are Tiger Woods at 142 and Jane Blalock at 299.
The evolution of a sport includes changes and advances that leave some records out of reach forever. Baseball's Cy Young pitched 749 complete games and tallied 511 wins. The present day record holder in both these categories among active pitchers is Justin Verlander with 26 complete games and 226 wins, respectively. In an era where pitchers get pulled 5, 6, or even 7 innings deep into a no hitter, let alone a regular game, Cy Young's records are almost certainly written in permanent ink.
StatMando, a disc golf statistics platform, has already started tracking the evolution of the cash streak record by limiting the eligible events to only Major and Elite Series tournaments. The top 10 active Major & Elite Series Cash Streaks for MPO and FPO heading into the 2022 season were: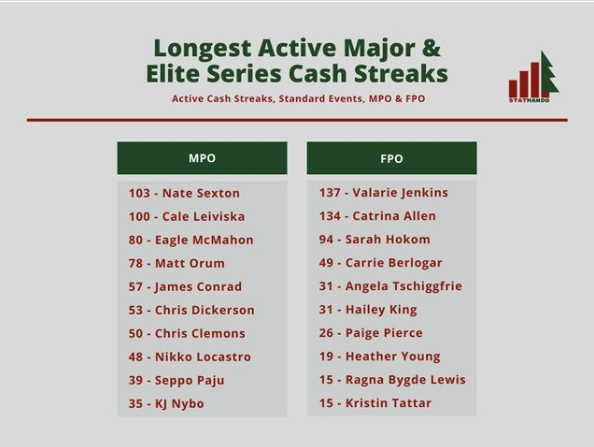 Both Cale Leiviska and Chris Clemons will fall off the active list after missing cash in Las Vegas. Nate Sexton, Seppo Paju, Sarah Hokom, and Heather Young all came within a few strokes of losing their streaks.
The most exciting insight of the Major & Elite Series Cash Streak is that Valarie Jenkins formidable mark of 137 is under threat from Catrina Allen, who is on pace to pass Jenkins at the inaugural PDGA Champions Cup Major in April.