A milestone media contract.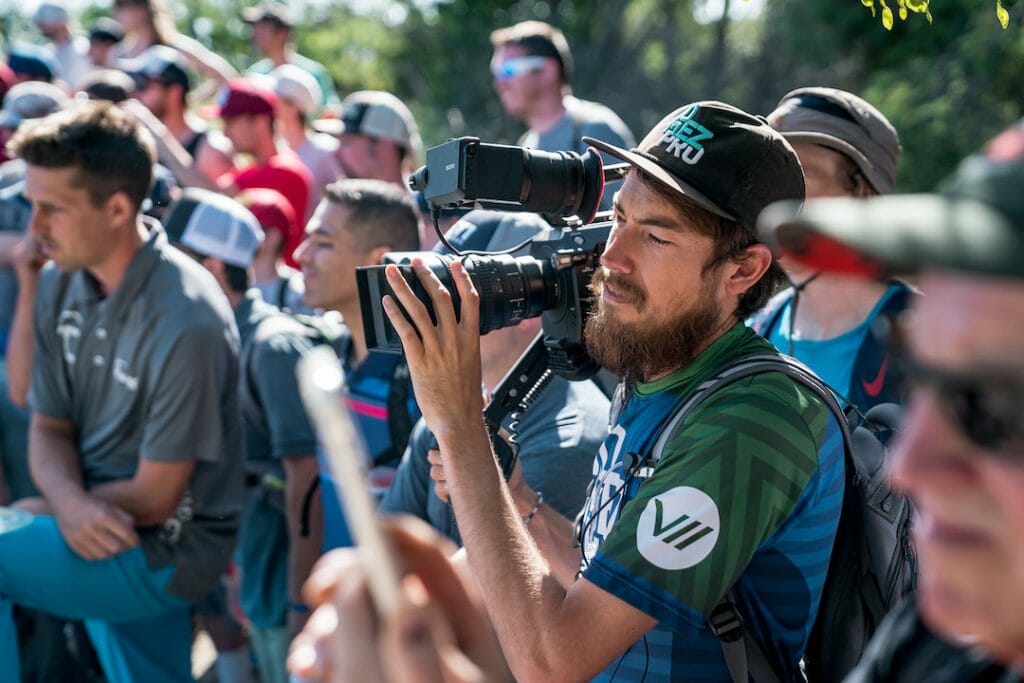 After six months of negotiations, the Disc Golf Pro Tour and JomezPro signed a contract yesterday, granting the YouTube media company rights to produce and distribute lead card MPO coverage at DGPT Elite Series events and select PDGA Majors for two years for a $500,000 fee.
"Our goal for the last few years has been to secure a multi-year deal with the Disc Golf Pro Tour," said JomezPro founder and owner Jonathan Gomez. "And we've worked really hard to get to this point."
JomezPro, which leads disc golf channels with more than 360,000 subscribers on YouTube, will produce next-day post-produced MPO lead card coverage at all DGPT Elite Series events in 2022 and 2023, along with MPO lead card coverage at PDGA Pro Worlds and the PDGA Champions Cup, both majors. They will return to the US Women's Disc Golf Championships to provide lead card FPO coverage as well.
This is the first time that Jomez has paid a significant sum for rights to film and distribute disc golf. Recent deals with the DGPT have been focused around advertising trade; past arrangements even included the PDGA and DGPT paying Jomez to cover their events. "We always knew there would be a time when we had to put up significant investment to secure rights to MPO lead card coverage," said Gomez, who noted that the effort that Jomez has put into elevating the profile of disc golf online helped turn the property into a valuable one.
"The terms that we agreed to with the Pro Tour was a really good middle ground for both parties," he said. "[The rights fee] really helps us show the sport how committed we are to ensuring the growth of the sport. And in terms of the DGPT, it helps them increase purse sizes and continue to elevate their strategy as well, which is why we're here."
"The value generated through media, in 2022, will be put right back into event support, continued purse growth, and another record-breaking DGPT Championship payout," said DGPT CEO Jeff Spring in a statement.
Gomez said that JomezPro now has nearly 20 employees and that this multi-year DGPT agreement makes it easier for the company to build towards a long-term media strategy and increase the quality of the product and content ideas.  "Things cost more, but, fortunately, the disc golf community continues to support us in larger numbers and even just by watching videos," he said.
The contract with the Pro Tour, who also controls media rights to select PDGA majors (but not the USDGC or European Open), also includes some advertising for the DGPT and PDGA.
The future of post-production coverage on YouTube remains uncertain. The DGPT is increasingly emphasizing its own live coverage platform, Disc Golf Network, which generates hundreds of thousands of dollars in subscription revenue. The DGPT is also working with producers GK Pro and Central Coast Disc Golf to put Silver Series post-produced content on its own YouTube channel in 2022.
"I'm actually really excited that I don't know what it's going to look like two years from now," said Gomez. "…All we know is that if we continue to feed our energy and resources into it, it's going to continue to grow." He added that JomezPro plans to be involved in disc golf media no matter what the landscape looks like.
Jeremy "Big Jerm" Koling, Nate Sexton, and Paul Ulibarri — dubbed 'Big Sexy Barri' by fans — are set to return as commentators for Jomez in 2022. As for any changes to the production? "People are just going to have to wait until Friday," said Gomez, referencing the release of the first round of Las Vegas Challenge coverage on YouTube.